Beaufield Mews - A Night with Vladimir Dinner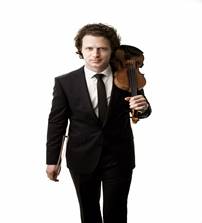 What: A Night with Vladimir Dinner
When: Thursday 26th June 2014 from 7pm

How Much: €50 for 3 course dinner including music from Vladimir
Come join us for a unique night of Viennese violins and violas and food in our Coachhouse Restaurant, located downstairs in The Beaufield Mews. As seen on "The Late Late Show", Vladimir will play some of your favourite music incorporating his famous "classical twist" from Johannes Brahms, J.S. Bach, Antonio Vivaldi, Johann Strauss and themes from The Godfather, Dr. Zhivago and Fiddler on the Roof as well as many sing along favourites.
Vladimir Jablokov has established himself one of the best young musical talents currently playing in Ireland. His 'Classical Twist' band showcases a small but dynamic band of Slovak and Irish musicians (two violins & viola) taking familiar pieces from the world of both the classics and rock-pop; and reworking them in into new, vibrant, exciting shapes.
Doors for this event will open at 7pm for drinks in our lounge and stunning rose gardens before being seated for a sumptuous 3 course meal in our Coachhouse Restaurant and enjoy the sounds of this unique musician and his fellow violinists.
Booking essential and tickets are currently being sold through our events team.
Click here to book/enquire or call 01 288 0375

Please quote "Georgina Campbell's ireland-guide.com" when booking or enquiring

Beaufield Mews Restaurant & Art Gallery
Woodlands Ave, Stillorgan, Co. Dublin.

Only 4 miles from the city centre and along the 46A bus route
Dublin's oldest restaurant is located in a characterful 18th century coachhouse and stables - surrounded by beautiful mature gardens where guests can have an aperitif on the lawn before dinner, or take coffee afterwards, as the gardens are lit up at ni ...
more...
Show Me All Special Offers