Cashel House Hotel - Gardening Courses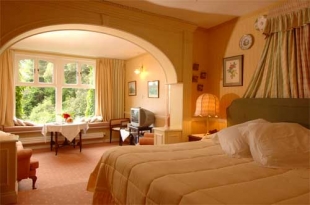 Kay and the late Dermot McEvilly were among the pioneers of the Irish country house movement when they opened Cashel House as a hotel in 1968. The beautiful gardens, which run down to a private foreshore, contribute greatly to the atmosphere, and the accommodation includes especially comfortable ground floor garden suites, which are also suitable for less able guests (wheelchair accessible, but no special grab rails etc in bathrooms).

Relaxed hospitality combined with professionalism have earned an international reputation for this outstanding hotel and its qualities are perhaps best seen in details - log fires that burn throughout the year, day rooms furnished with antiques and filled with fresh flowers from the garden, rooms that are individually decorated with many thoughtful touches.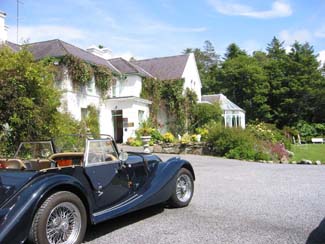 Experience the magic of Connemara and the mightiness of the scenery from the luxury of Cashel House Hotel. Climb a mountain, walk the strand or stroll in their 50 acre garden. They can arrange a guide to walk you through the beaches and bays or the rugged wonder that is Connemara.

Extremely comfortable rooms, the very best of Irish country house cuisine and 40 years of experience in knowing how to make our guests stay as enjoyable and as memorable as possible.

GARDENING COURSES -

Escape to Connemara and enjoy a Gardening Course in the beautiful gardens of Cashel House Hotel. Two and three day residential courses available. Their Gardening Courses include a variety of activities including workshops on planting and pruning, garden design and restoration, vegetable, herb and fruit growing; demonstrations etc.

Where better to learn about the art of gardening that in the unique woodland gardens of Cashel House beside the Atlantic Ocean. The guest lecturer at the various courses is Ciaran Burke - garden writer, lecturer and plant enthusiast. Ciaran runs the Garden School in the west of Ireland, which is accredited to the Royal Horticultural Society.

"All courses combine my presentations in the classroom, walks in the beautiful grounds and workshops. In the event of inclement weather, workshops and practical activities will take place indoors in the classroom. No need to get wet!
In addition to the particular theme, you can ask about your garden related problems and queries, I am always happy to help. There is always something beautiful to admire in the beautiful serene surroundings of Cashel House gardens. All the courses are suited to novice and more experienced gardeners alike. It is always great fun to meet fellow gardeners and learn in a relaxed atmosphere."

A Gardening Course at Cashel House Hotel is a great get away either on your own or with some friends. Remember if your partner is not a gardener, there are always lots of other activities to enjoy at Cashel House while you learn about gardening.

PACKAGES FROM AN AMAZING €299 INCLUDING:

• 2 NIGHTS BED AND BREAKFAST
• 2 x LUNCHES
• 2 x DINNERS AND AFTERNOON TEA


Click here to enquire or call + 353 (0) 95 31001

Please quote "Georgina Campbell's ireland-guide.com" when booking or enquiring


Kay and the late Dermot McEvilly were among the pioneers of the Irish country house movement when they opened Cashel House as a hotel in 1968. The following year General and Madame de Gaulle chose to stay for two weeks, an historic visit of which the ...
more...
Show Me All Special Offers