Foraging & Walking at The Dunraven Arms Hotel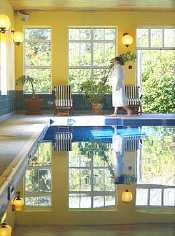 Our former "Hotel of the Year" has always led the way when it comes to value driven special offers, and this offer is no different. The Dunraven Arms Hotel is a large hotel - with all of the asscociated facilities such as a gym and leisure centre - that has managed to maintain the comfortable feel of a small, family run, village hostelry.

Bedrooms are spacious and luxuriously appointed and guests sitting rooms are dotted about the hotel providing an oasis of calm with open fires to read a newspaper or book, while the wife or kids are getting a facial or at the pool perhaps. A home from home indeed.

This is a remarkable achievement, particularly when considering that the standard of food and service are equally superb. So if you feel the need for a high quality break coming on - without breaking the bank - look no further than the Dunraven Arms Hotel.
2 Night Ballyhoura Walking Festival Offer (May 5th & 6th 2013)
The International Ballyhoura Walking Festival takes place this May Bank Holiday Weekend - 2 Nights B&B and 1 Dinner from €150 per person sharing.
Arrive Sunday May 5th and be prepared to be pampered in advance of your big challenge. Relax, take a jog or have a swim in our Leisure Centre to limber up the muscles before Monday's walk.
They have prepared a special dietary menu on Sunday night to help boost those carbohydrates. Indulge in a healthy breakfast on Morning morning, good and early to help fuel the system and get prepared.
Bus will leave at 8am SHARP. The first walk will begin at 10.30am (duration 2-3 hours) and the second is a historical walk at 2.30pm (duration 1.5 hours). Packed Lunch will also be included. Both walks are for experienced walkers at a slow pace.
Opt for a post walk massage in their Beauty Rooms (optional extra) or relax and unwind in the 17 Meter Swimming Pool to let the aching muscles unwind…. Time to savor the mammoth task you have achieved and relax in the bar and indulge in a nice glass of wine and some post walk analysis.
2 Night Mid Week Foraging Break (May 21st & 22nd)
Enjoy a two day foraging event, a total wild experience, learn to identify the plants and fungi, what to do with them once you find them, and dine on the best of wild and foraged foods, with "Wild Food Chef Mary Bulfin".
Join them for 2 Nights B&B, 1 Dinner & 1 Lunch from €150 per person sharing. Arrive Tuesday May 21st. Guests will meet at 7pm for Canapes and an informal chat.
After breakfast on Wednesday morning - Introduction at 9.30am and guidelines to picking food from the fields and hedgerows. Guests depart at 11.15am for a guided walk. Please bring walking shoes. Guests will use own transport for the 8 minute drive to Clorane Wood.
Lunch at 1pm featuring Foraged Food. Guests will depart the hotel at 2.30pm for a second walk around Adare River bank & Adare Manor (No cars required). Dinner at 7.30pm in the Maigue Restaurant with Wild Foods featured in each course.

Click here to book/enquire or call 061 605 900

Please quote "Georgina Campbell's Ireland Guide Offer" when enquiring or booking.



CONFERENCE CENTRE

Stand alone Conference Centre. This Centre can accommodate meetings from 10 - 150 with complimentary parking, wif access and room hire. The rooms are filled with natural daylight with views of the River Maigue but with all the latest AV equipment making this the perfect location for a conference. Please contact Mr. Louis Murphy for all your conference enquiries.

Click here to book/enquire or call 061 605 900

Please quote "Georgina Campbell's Ireland Guide Offer" when enquiring or booking.

Established in 1792, the Murphy family's large hotel in Adare has somehow retained the comfortable ambience of a country inn. A very luxurious inn nevertheless, and operated under the personal management of Bryan and Louis Murphy. The furnishing ...
more...
Show Me All Special Offers