Cookery Classes in Fiacrí Country House Restaurant & Cookery School in Roscrea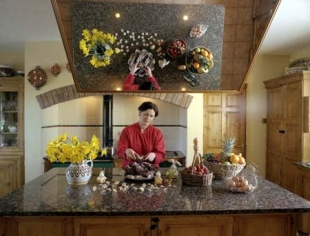 Fiacri Country House Restaurant & Cookery School have announced some new cookery courses:

Spring/Summer 2014 Cookery Classes
April 8th (Tues) Home Baking Night 7.30pm
Breads, Cakes, Sweet & Savoury Tarts €35
April 9th (Weds) Spring Favourite recipes
Starter, Main & Dessert ,served afterwards in Our Restaurant (7.30pm-9.30pm) €40
April 29th (Tues)
Spring/Summer Entertaining Night Starter, Main & Dessert ,served afterwards in Our Restaurant (7.30pm-9.30pm) €40
May 6th & 13th
Two night Summer Entertaining €80
BBQ Evenings with Music (Thurs) May 29th & June 19th €40

Click here to enquire or call 0505 43017

Please quote "Georgina Campbell's ireland-guide.com" when booking or enquiring
SAMPLE RECIPES

BROWN BREAD
1 lb Hearts Delight Wheatmeal
1 teasp. Bread soda Sieved
2 eggs, 2 ozs melted butter
4 ozs Wheatgerm
1 teasp. Salt, 1 pint fresh milk (approx.)
METHOD
Mix eggs, butter and milk together and add to dry ingredients. Pour into two greased 2 lb tins. Bake 1 hr at 160?C.
WINTER VELVET SOUP
Ingredients
1 large parsnip
1 onion
3 oz butter
1 clove garlic, crushed
1 tablespoon flour
1 teaspoon curry powder
2 pints chicken stock
Salt and pepper
¼ pint of cream
Method
1. Slice all the vegetables in the food processor.
2. Melt butter in saucepan.
3. Sauté the vegetables for about 10 mins until soft but not browned.
4. Stir in curry powder and flour, cook for 5 minutes.
5. Add chicken stock. Cover and cook for 20 mins.
6. Puree soup in food processor. Add cream or milk and check soup for seasoning.
Crispy Cooleeney Cheese with Sweet and Sour Sauce
8 ozs Cooleeney Cheese
Half tsp curry powder
Half tsp chilli powder
1 tsp sesame seeds/ 4ozs bread crumbs
1 rounded tablesp plain flour
1 egg, beaten in large bowl with some milk
Frying oil at 160 degree cel/320 degree F
Sauce
4ozs mixed peppers, diced
1 rounded tsp diced onions
Half tsp olive oil/ 2 rounded tsp brown sugar
Half tablesp dark soy sauce
Quarter pint vegetable stock/ 1tbsp wine vinegar
1 tbsp tomato ketchup
1 teaspoon corn flour mixed with 2 teaspoons of water
1tablesp shop bought cranberry sauce
Seasoning
Method:
First make the sauce. Heat the olive oil in a pot and sweat peppers and onion for about 1 min. Then add rest of the ingredients.
Simmer for a few minutes until it has reduced a little.
Check the seasoning; you can change the flavour according to taste. To make it a little sweeter add some sugar and to make it sharper add some vinegar. Simmer for 3- 5 mins and keep warm until ready to serve.
Mix the curry powder, chilli powder, sesame seeds and bread together and set aside in a wide bowl. Season the flour and set aside on a plate.
Cut cheese into slices and dip in flour, then in beaten egg mix and lastly in the spicy bread crumbs. Make sure it is well covered.
Deep fry until golden brown to serve drizzle the sweet and sour sauce around the deep fried cheese and serve with a green salad.
Fiacri House Pan Fried Fillet Steak with a Creamy Mushroom & Cognac Sauce
Serves 2 people:
2 x 8-12 oz fillet steaks
10 fl oz fresh beef stock
2 tbsp. cognac
4 oz mushrooms
2 cloves garlic crushed
1 shallot chopped
4 Fl oz cream
2 teaspoons freshly milled black pepper corns
Pinch salt
1 tbsp olive oil

First of all heat ½ oil in frying pan, over high heat, then fry the chopped shallot, sliced mushroom & garlic for about 6 minutes and remove to plate.
Add remaining oil to pan, season steaks with fresh pepper, but no salt as this encourages the juices to escape. Add steaks to hot pan. Cook steaks for 3 minutes each side for medium. 2 minutes for rare & 4 minutes for well done. Remove steaks to warm plate.
Return mushrooms, garlic & shallot to pan, add cognac & beef stock and reduce by ½. Then add cream and reduce by 1/3. Season & pour oven steaks.
Bread and Butter Pudding with Whiskey Sauce.
8 slices of white bread, buttered
115-150g mixed dry fruit
2.5ml nutmeg
150g caster sugar
2 large eggs
300ml single cream
450ml milk
5ml of vanilla essence
Light brown sugar for sprinkling
FOR THE WHISKEY SAUCE:
150g butter
115g caster sugar
1 egg
45ml Irish whiskey
• Preheat the oven to 180'C/gas4. Remove the crusts from the bread and put four slices, butter side down on the base of an oven proof dish. Sprinkle with the fruit, some of the nutmeg and 15ml of the sugar.
• Place the remaining 4 slices on top, buttered side down, and sprinkle again with nutmeg and 15ml sugar.
• Beat the eggs lightly and add the vanilla essence, cream, milk and remaining sugar and mix well to make custard. Pour this mixture over the bread and pour light brown sugar over the dish, if you like to have a crispy crust. Bake in the preheated oven for about one hour or until all the liquid has been absorbed and the pudding is risen and brown.
• Meanwhile make the whiskey sauce: melt the butter in a heavy pan, add the caster sugar and cook over a gentle heat.
• Remove from the heat and add the egg whisking vigorously and then add the whiskey. Serve the pudding on hot serving plates, with the whiskey sauce poured over the top.

MALVA PUDDING
INGREDIENTS
6 ozs Sugar
1 egg
1 tblsp apricot jam
6 ozs flour
1 tsp bread soda (sieved)
generous pinch of salt
1 tblsp Butter
1 tsp vinegar
1 cup milk
Sauce
1 teacup cream
6 ozs Butter
6 ozs Sugar
½ teacup hot water
METHOD
Beat the egg, sugar and jam together using an electric beater. Sift the flour, bread soda and salt into a bowl. Melt the butter and add the vinegar. Add the milk to the egg mixture alternatively with the flour. Add the vinegar and butter. Mix well. Pour into a dish approximately 20cm in diameter and cover with tinfoil. Bake for 45 mins – 1 hour at 350º F. The pudding is cooked when it is a consistent rich brown colour. If it is still pale in the centre or on top, it is not quite done.
Melt together the ingredients for the sauce and pour over the pudding as it comes out of the oven. If you reheat the pudding and it is still slightly dry, pour over a little boiling water.

Cookery School / Restaurant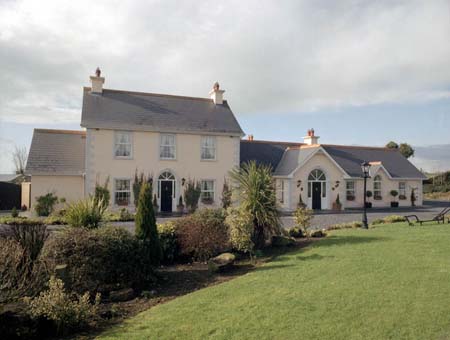 Enda and Ailish Hennessy's lovely country house style restaurant and cookery school is not the easiest place to find (it is sensible to get directions when booking) but, once discovered, what a welcome sight their neat pink-painted farmhouse pres ...
more...
Show Me All Special Offers