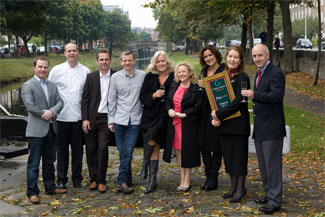 Raising a Toast to Those who Survive – and Thrive! At the 2011 Georgina Campbell Awards.
Representatives of the very best of Irish hospitality gathered at Bord Bia in Dublin today (12th October 2010), for the announcement of the 2011 Georgina Campbell Awards, associated with the respected Georgina Campbell's Ireland independent hospitality guides, and Ireland's most popular independent hospitality and travel website www.ireland-guide.com.
Unlike most other award schemes, the Georgina Campbell Awards are completely independent, and in no way affiliated with trade associations or marketing groups; it is this independence which has earned them special respect in the industry, and public trust.
more...