An Irish Chef in France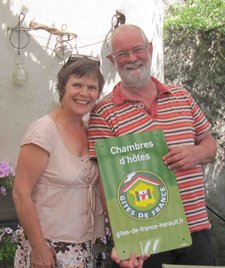 Euro-Toques chef Martin Dwyer, much missed in Ireland since he and his wife Sile sold their eponymous restaurant in Waterford and moved to France, begins a fascinating column about their new life in the Languedoc

Whenever we went to France on holidays there were two books which we always consulted. For eating we always checked with the Michelin Red Guide, not so much to eat in restaurants with Stars - normally much too expensive for us - but to find the more inexpensive options indicated by the symbol of two coins or, on special occasions, to eat at restaurants which had the Bib Gourmand symbol, which indicated a good quality restaurant, but moderately priced.

For our overnight stays there was no doubt that our bible was the Guide de Gites de France this organisation was the one which governed the standards in Bed and Breakfast establishments (Chambres d'Hôtes) and we never stayed in an establishment which was in that guide which fell below par.

But let me explain about the French concept of a Chambre d'Hôte; Chambres d'Hotes which serve evening meals become, officially, Tables d'Hôtes or Maisons d'Hôtes and this category of hospitality carry some traditions which make it different from the Irish B&B or Guest House.

The Table d'Hôte is a long standing tradition in France and long precedes the concept of a restaurant. In a Table d'Hôte the hosts eat dinner with the guests, everyone at the same table, and the price must be Compris – that is including all drinks. Profits from this are subject to taxation in the normal way but are not subject to VAT and the kitchen is not inspected by the health inspector - presumably on the sensible notion that you are eating the same food as the guests. We are however subject to a Taxe de Sejour of 50 cent per client which is paid directly to the local tourist office.

This year we felt confident enough to apply ourselves to Gites de France for inclusion. In March, of this year, they arrived for the inspection. They warned us in advance that there would be quite a few of them, there were. There were the two inspectors from the Gites de France, there was also a member of the board of that organisation who owned and ran a Chambre d'Hôte, and there was a young apprentice. Accompanying this posse was the local tourism representative for the village and the lady who ran the local regional tourist office. (It's a big deal as you can see). The inspection took two hours and was extremely thorough.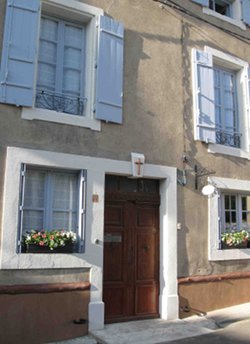 We had, we were warned, to have a full breakfast laid out for two on their arrival. We had set our table with freshly squeezed orange juice, compote of dried fruit and dates and bowl of vanilla and honey scented fromage frais. I produced my two homemade breads, little brown yeast rolls made with Howards Oneway (which I bring in specially) and my Pompe à l'Huile; a fruit and olive oil brioche, as well as the normal baguette and croissants from the village baker. With these I offered best Breton butter and five different jams, all faites maison. (Cherry, greengage, lemon with ginger and fig for the interested). Judging from their expressions they were impressed with this.

They then started on the bedrooms, all were measured as were the bathrooms, the beds were stripped and also measured, the quality of the sheets and indeed under sheets, and then the mattresses were minutely examined, as were the pillows and their covers, indeed even the under-covers of the pillows. Under the beds and on top of the wardrobes were carefully examined for dust, the very hangers in the wardrobes were inspected (They are all wooden, this is good, metal ones are not approved of).

They clucked disapprovingly at some things, the unevenness of some of our old floor tiles, the size of one of our wash hand basins, but mainly they seemed to approve, you could see they thought everything displayed proper taste and respect for the age of the house.
They had one outright demand, two of our bedrooms on the first floor at the front of the house needed safety guards as they were lower than regulation height and deemed unsafe for children. Then the eight of us sat down to coffee while they wrote out their reports.

These would then be put before the Board of Commissioners and, if we were fortunate enough to be accepted into this prestigious group, we would be sent all the necessary forms to fill in. We then waited for about six weeks for their judgement; it was a bit like waiting for the leaving cert results.

In the meantime we contacted a local artisan Ferronnier who made us a pair of beautiful wrought iron guards for the windows which looked as if they had been in situ for ever.

After about four weeks consideration we were telephoned by Madame, the Chief Inspector, who was delighted to tell us that we were accepted , she arrived chez nous the following day and made the formal presentation of the plaque.

So now we are properly a French Chambre d'Hôte – does it make a huge difference? The first plus was that the local correspondent for our daily paper, Le Midi-Libre did a little piece on us, and we have had quite a few enquiries from potential customers, but, I must confess the principal beneficiary is my own vanity; I get a terrific kick out of seeing the plaque on my wall!

-------------

Martin Dwyer started cooking professionally over 40 years ago in the legendary "Snaffles Restaurant" in Dublin. After a time in a Relais Chateau in Anjou and in "The Wife of Bath" in Kent he opened his own much acclaimed restaurant, "Dwyers", in Waterford in 1989. In 2004 he sold this and moved south to France where he and his wife Síle bought and restored an old presbytery in a village in the Languedoc. They now run Le Presbytère as a French style Chambre d'Hôte. Martin however is far too passionate about food to give up cooking so they now enjoy serving dinner to their customers on the terrace of Le Presbytère on warm summer evenings. Martin runs occasional cookery courses in Le Presbytère and Síle's brother Colm does week long Nature Strolls discovering the Flora and Fauna of the Languedoc.

Le Presbytère can be seen at: www.lepresbytere.net;
email: martin@lepresbytere.net