An Irish Chef in France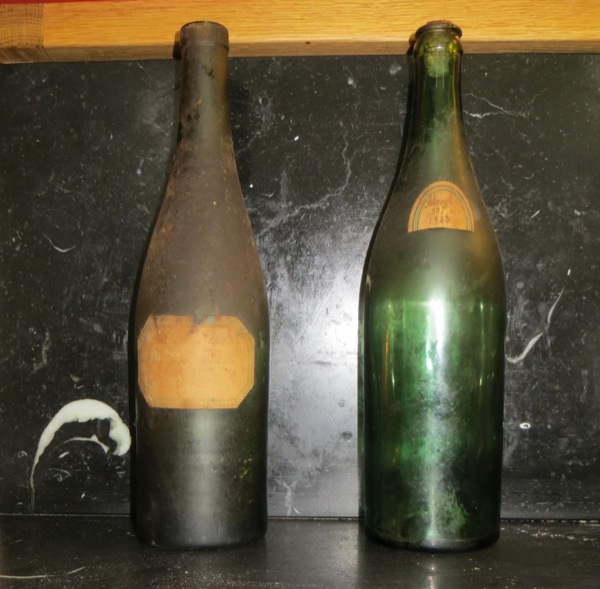 Euro-Toques chef Martin Dwyer, much missed in Ireland since he and his wife Sile sold their eponymous restaurant in Waterford and moved to France. They now live in the Languedoc, where they take guests - and feed them very well.
This month Martin shares a recipe for a very special drink with us: Vin de Noix
My love affair with Vin de Noix started about six summers ago here in Thezan when a couple with a house in the village, Patrick and Anne-Marie, who had befriended us, invited us to their house for apero's.
Their house had originally been a Maison de Vigneron for a vineyard belonging to her family so the original cave, now abandoned for many years lay untouched underneath. They showed us around this treasure trove and on one shelf I spotted a very dusty but still full bottle of (we thought) wine.
When we brought it out to the light of day we discovered it was a bottle of Vin de Noix with a date of 1895 still just about legible through the grime. The minute Patrick touched the cork with a corkscrew it dissolved into breadcrumbs so, he strained it through a muslin and we tasted it. It was totally delicious.
Like the generous Frenchman that he is he strained the nectar into two Perrier bottles, and gave us one and the original bottle (comme souvenir) as we were going. The Vin we brought back to Ireland with us and there, certain selected friends were allowed teaspoonfuls of this drink of the gods if they were particularly good. But, like all good things, it soon came to an end.
A few summers later Patrick and Anne-Marie again joined us for an Apero in Thezan. Patrick produced a bottle from a bag which he presented to me. It was labelled Eau de Vie, 90% , 1943. Patrick said he reckoned that it was being put aside to turn into some sort of Vin Spiritueux when the wine production stopped. He said (glancing at my stack of bottles of various home-made liqueurs) that I might manage to find a use for it. Er... em... Yes.
Now I continued to wonder for a long time what I should add to this spirit. It surely must be graced with a flavour of great quality to match the venerable age and indeed strength of the Eau de Vie.
We went on an outing to St. Guillhem le Desert about a month later.
There in the bookshop of the Cathedral I found a book of recipes for home-made liqueurs, and, while we ate crepes in the restaurant under the huge plane tree in the square, I came across a recipe for Vin de Noix.
But of course, the obvious solution was to use the alcohol as they probably originally intended and turn this relic of a former age into Vin de Noix. Fate obviously highly approved of this as, when we went back to the car park, what happened to be growing there but a walnut tree, covered by green under-ripe nuts. We helped ourselves to about 15.
The only rule that was mentioned about the Vin de Noix was that the green walnuts should be picked before St. John's Eve, so , as this was about ten days before, we reckoned all of the gods would be propitiated (we are after all practically in Catalan country where St John's Eve is celebrated with Bonfires on Mount Canigou).
Then I had merely to assemble all my ingredients, the following day, I had my alcohol and walnuts, bought my sugar and orange and selected which three litres of red wine I was going to honour with mixing with the holy Eau de Vie (I eventually gave the honour to our house Red, a St. Chinian from Roquebrun).
It got tasted for the first time a few weeks later (a little before its official 40 days were up it is true) it was indeed the finest nectar. It has since been sampled with great approval by Irish, American, Swiss and French Taste Buds.
Should you be lucky enough to find a walnut tree in Ireland I think you would still have a couple of week's leeway.
For my Eau de Vie my best solution would be some cheap Vodka or Rum from the German supermarkets.
Here is the recipe I adapted, you could of course make it in smaller quantities (but you may end up regretting it)
Vin de Noix
3 litres Bon Vin Rouge
15 (or so) Green Walnuts
1 Orange
1 kg. Sugar
75 cl Eau de Vie (Vodka or some other spirit)
The story here is that the walnuts for Vin de Noix should be picked before St John's Eve (June 23rd) but I reckon in Irish terms that gives you another fortnight.
Crush coarsely the whole walnuts in a pestle and mortar. (Or bash in a solid bowl with the end of a rolling pin). Quarter the whole orange.
Put everything into a large container with a lid and cover and leave for 40 days. (Stir from time to time to make sure the sugar has dissolved)
After 40 days you can filter and bottle off.
The French like it as an aperitif, to me it is much better as a digestif.

-------------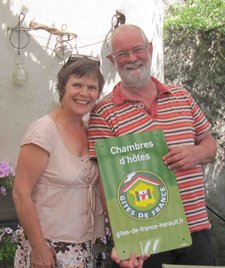 Martin Dwyer started cooking professionally over 40 years ago in the legendary "Snaffles Restaurant" in Dublin. After a time in a Relais Chateau in Anjou and in "The Wife of Bath" in Kent he opened his own much acclaimed restaurant, "Dwyers", in Waterford in 1989. In 2004 he sold this and moved south to France where he and his wife Síle bought and restored an old presbytery in a village in the Languedoc. They now run Le Presbytère as a French style Chambre d'Hôte. Martin however is far too passionate about food to give up cooking so they now enjoy serving dinner to their customers on the terrace of Le Presbytère on warm summer evenings. Martin runs occasional cookery courses in Le Presbytère and Síle's brother Colm does week long Nature Strolls discovering the Flora and Fauna of the Languedoc.

Le Presbytère can be seen at: www.lepresbytere.net;
email: martin@lepresbytere.net