An Irish Chef in France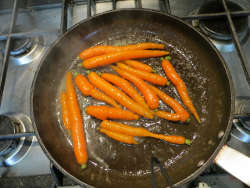 Euro-Toques chef Martin Dwyer, much missed in Ireland since he and his wife Sile sold their eponymous restaurant in Waterford and moved to France. They now live in the Languedoc, where they take guests - and feed them very well.
This month Martin reveals 'A Day in the Life…'
One of the things people are curious about our life here is how we manage our days, especially in the heat; the average temperatures here at the moment are bordering the early thirties.
The true answer is we manage them with some care. One of the most frequent remarks delivered to this couple is from people who say "My God, you are living the dream". If it is, then we live this dream very gingerly; we would hate to turn it into a nightmare.
Our day begins quite early, the church which is just outside our window, begins its hourly chiming with a reveille at 7.00 - no need for alarm clocks - and as it is quite likely that we will have been entertaining ourselves and our guests until around midnight there will be the usual round of morning groans as we haul ourselves out of the bed.
First job of the morning (and this we take in turns) is to buy the baguettes and croissants in the village for the guests; this involves a pleasant stroll down to the Boulanger and a stiff climb back with the spoils. Then the breakfast has to be sorted.
This will usually comprise of two sorts of fruit - at the moment poached apricots and also a melon and grapefruit salad, the bread from the baker along with my brioche – Pompe a l'Huile - made with olive oil and fruits, or occasionally my own brown bread made from smuggled in Howards Oneway.
We will also offer a homemade Granola, bowls of Fromage Frais and of course my homemade jams, at the moment Yellow Cherry, Apricot, Rhubarb and Ginger and two sorts of Marmalade. Nota bene - we do not serve any cooked breakfast and are constantly grateful to the French for not having included it in their Repetoire de Petit Dejeuner.
Breakfast, we have discovered, can be almost as social an affair as dinner and guests frequently dally over the dishes while imbibing several cups of coffee.
As they dally I decide my menu for the night's dinner. First thing is to check if there are any difficulties with the guests, vegetarianism, food allergies or dislikes and make sure I don't include these in the menu.
The system here in the Table d'Hote is much closer to giving a dinner party than running a restaurant. We offer no choices and ourselves join the guests for dinner. (The French authorities in their wisdom have decided that this would be safeguard enough against food poisoning and so we are immune from visitations from environmental health officers).
My next job is to do my shopping - this usually involves a visit to a farmers co-operative down the road which provides wonderful fruits and vegetables, a visit to the butcher in the village for the meats and then a trip to the supermarket, also in the village, for everything else. In this country at these temperatures a daily shopping expedition is essential.
Usually I try to get all of my preparations done by lunchtime so we can have the afternoons free - it doesn't always work though, especially in the high heat when everything happens at a slower pace.
While I tackle the kitchen, Sile is organising any change over days in the bedroom - fortunately she won't permit me to help her too much in this as she considers my standards much too low.
The afternoon is our time off and will frequently see one or other of us enjoying the excellent tradition of a siesta.
The evening starts with an aperitif (always known as an apero here) on the terrace, usually a sparkling Kir made with Blanquette de Limoux accompanied by various anchovy, olive nibbles. The meal itself is usually a large one but served with plenty of time between the courses while I busy myself in the kitchen and it will often be touching 11.00 before we clear the cheese and serve dessert.
Now as we eat and drink with the guests this turns out to be a totally different meal from that in a restaurant and can become very convivial indeed. (Did I mention that wine is also included - at the discretion of a very indiscreet host.)
So that's our day and then to answer the questions.
We do work hard sometimes, as in the present, in very hot weather. We have extremely long days but we also have marvellous rewards.
I love cooking the amazing foods of the Mediterranean, the fruit and vegetables are a joy. It is also a remarkably convivial life and the nightly parties on the terrace can be wonderful international soirées with jokes and discussions flying about in many languages.
I am fairly sure we made the right decision to finish off our working lives here.

-------------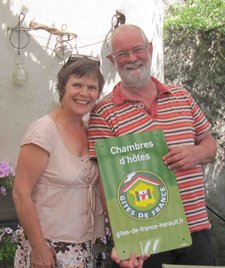 Martin Dwyer started cooking professionally over 40 years ago in the legendary "Snaffles Restaurant" in Dublin. After a time in a Relais Chateau in Anjou and in "The Wife of Bath" in Kent he opened his own much acclaimed restaurant, "Dwyers", in Waterford in 1989. In 2004 he sold this and moved south to France where he and his wife Síle bought and restored an old presbytery in a village in the Languedoc. They now run Le Presbytère as a French style Chambre d'Hôte. Martin however is far too passionate about food to give up cooking so they now enjoy serving dinner to their customers on the terrace of Le Presbytère on warm summer evenings. Martin runs occasional cookery courses in Le Presbytère and Síle's brother Colm does week long Nature Strolls discovering the Flora and Fauna of the Languedoc.

Le Presbytère can be seen at: www.lepresbytere.net;
email: martin@lepresbytere.net