At Home with Hake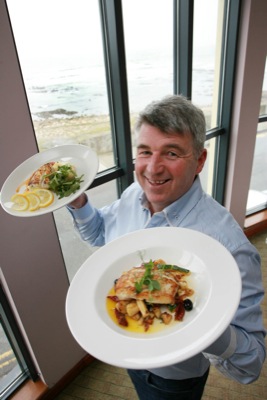 It seems an incredible amount of money but, according to recent figures from Bord Bia, Irish shoppers spent €3.5 million on fresh hake last year – which is a staggering an increase of 83% on 2011. But they also discovered that 42% of people who love eating fish when dining out don't have the confidence to prepare it at home.
Enter our piscine knight in shining armour, Martin 'Mad About Fish' Shanahan, who has come up with a new collection of tasty hake recipes to inspire the nation at meal times.
The following examples give the flavour, and you'll find more at www.bordbia.ie/fish along with tips for buying, storing and cooking fish.
Poached Hake with Mustard and Honey Dressing
We all know the health benefits associated with eating fish. This hake recipe is simple to cook, is low in fat and tastes great. (Cooking time 30 minutes)
Serves 4

Ingredients
4 hake fillets, about 175g each, skinned and boned
½ lemon cut into slices
Bunch of parsley
1 tablesp. black peppercorns
Salt
4 medium leeks, trimmed and sliced
2 carrots, peeled, cut into half lengthways and then into discs
Mustard and Honey Dressing:
1 tablesp. wholegrain mustard
3 tablesp. honey
3 tablesp. white wine vinegar
A little salt and pepper
100ml olive oil, extra virgin if available
Juice of ½ lemon
1 tablesp. chives, chopped
First make the dressing: Place the mustard, honey, white wine vinegar and a little salt and in a bowl. Whisk in the olive oil, lemon juice and chives. Taste for seasoning. Set aside.
To poach the hake: Pour approximately 200ml water into a shallow frying pan which is big enough to fit the hake fillets in a layer. You will need enough to cover the fish. Add in the lemon slices, sprigs of parsley, black peppercorns and a little salt. Bring to the boil. Reduce the heat and gently slide in the hake fillets. Simmer for 10 minutes.
Meanwhile, in a separate saucepan, heat some water, add the sliced carrots and salt and pepper. Cook for 2-3 minutes. Add the leeks and continue to cook for another couple of minutes until the vegetables are tender. Drain well.
To serve: Gently remove the fish from the water and drain on kitchen paper. Divide the vegetables between four warmed plates, place a fillet of hake on top and spoon over the dressing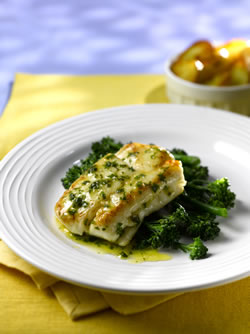 Pan-fried Hake with Lemon and Herb Butter Sauce
Of course this recipe is great with just parsley but experiment with a combination of soft fragrant herbs sauce as parsley, chives and tarragon or chervil depending on what's available. Steamed broccoli and sautéed new potatoes would be good accompaniments.
Serves 4

Ingredients
4 x 175g hake fillets, skin on and boned
1 tablesp. olive oil
Salt and freshly ground pepper
50g butter
½ lemon, pips removed
1 tablesp. chopped mixed herbs (parsley, chives and tarragon)

To Cook
Heat the olive oil in a large frying pan and add the seasoned hake fillets, skin side down. Cook for a couple of minutes until the skin is just beginning to crisp, then add little knobs of butter to the pan around each hake fillet and cook for another couple of minutes until the skin is crisp.
Turn the hake fillets over and cook for another 3-4 minutes until cooked through. This will depend on the thickness of the fillets. Transfer to warmed plates while you make the sauce.
Add the rest of the butter to the frying pan and allow it to gently melt over a moderate heat. When it has melted, add a squeeze of lemon juice and the herbs, swirling to combine. Season to taste. Spoon this sauce over the hake fillets and serve with steamed broccoli and some sautéed new potatoes.
Tips: Above all be careful not to overcook the fish. To check, gently prod the thickest part of the fish with a small knife. If it is cooked, the flesh will look opaque and the flakes will separate easily. If it isn't done yet, it will still have the translucent look of raw fish.
Other fish you could use: Whiting, haddock or trout fillets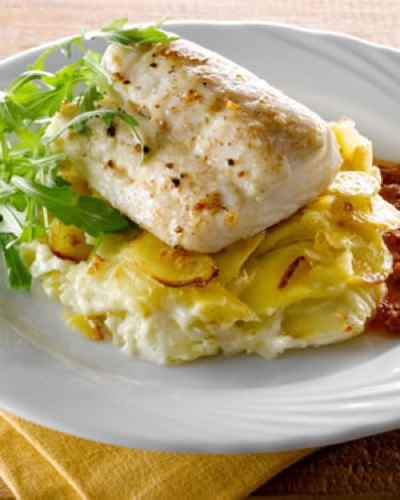 Grilled Hake with Garlic Potatoes and Sun-Dried Tomato Dressing
This is the perfect dish for a Saturday night dinner with friends and it couldn't be easier to prepare. (Cooking time, 1 hour)
Serves 4

Ingredients
4 hake fillets, about 175g each, skinned and boned
25g butter, softened
Garlic Potatoes:
900g potatoes, peeled and thinly sliced
150ml milk
300ml light cream
2 garlic cloves, peeled and sliced
A little grated nutmeg
Salt and freshly ground black pepper
Sundried Tomato Dressing:
100g semi sundried tomatoes
2 tablespoons pine nuts, toasted
1 clove garlic, peeled and chopped
8 tablesp. olive oil
Juice of ½ lemon
Salt and pepper to taste

Preheat the oven to Gas Mark 4, 180°C/fan 160°C (350°F).
Put the potatoes, milk, cream, garlic, nutmeg and a little salt and pepper in a large saucepan and bring to the boil. Reduce the heat and simmer for 3 minutes, stirring regularly.
Remove from the heat and transfer the potatoes and sauce to an ovenproof baking dish. Cover with foil and bake for 40 minutes. Remove the foil and bake for a further 15 minutes until the top is golden.
To cook the hake: Preheat the grill to hot. Place the fish, flesh side up, on a baking sheet which has been lined with foil and oiled, brush with a little softened butter and season with salt and pepper. Grill for about 8-10 minutes until the fish flakes easily.
Meanwhile place all the ingredients for the Sundried Tomato Dressing in a food processor and whizz until puréed.
To serve: Place a spoonful of garlic potatoes in the centre of the plate, top with the grilled hake and drizzle over some Sun-Dried Tomato Dressing. Garnish with the wild rocket salad.