Book Review - Food to Love by Edward Hayden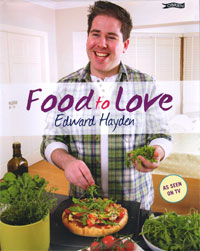 Young Kilkenny chef Edward Hayden is a busy man: not only does he have a regular cookery slot on TV3's popular Ireland AM programme and a column in the Sunday World, but the day job finds him teaching in the Cookery School at Dunbrody House in Co Wexford – and he also gives classes at Waterford Institute of Technology.

Yet he also finds time to keep a blog going on his website (edwardentertains.com), and to write books, the first of which (Edward Entertains) he even published himself. This time around he has a publisher, but what comes through is still very much the real Edward, who is bursting with energy and enthusiasm for 'home cooking' saying, quite rightly, that 'there's something very satisfying about spending time cooking and serving a delicious home cooked meal to family and friends'.

The aim is to give recipes that are not too labour-intensive, that use readily sourced ingredients, and that work well. A good aim as it's what most people want from a cookery book, and the sections are equally sensible, ranging from Light Bites, Super Soups and 'Not Just Your Daily Bread baking recipes to Mouthwatering Meat Dishes, Something Fishy and One Pot Wonders and then through to Versatile Veg, Spuds-U-Like, Sweet Temptations – and so on.

There's even a sprinkling of festive recipes, covering the all big food days like Christmas, Hallowe'en and Shrove Tuesday.

There's a distinctly personal and homely feeling to this book, which includes many familiar recipes but always with Edward's special delivery and his little twists and hints to make them a bit different. The food for Carol Marks' photographs has been styled by Edward himself, and here again the tone is very homely.

Nice details include a section of Menu Suggestions, a useful blue ribbon page marker – and also a bookmark featuring a recipe for Pumpkin Seed Bread.

On the downside, although the Contents section is very clearly laid out, there is no Index - an omission which I always find very irritating in a cookbook, although it may not annoy everyone.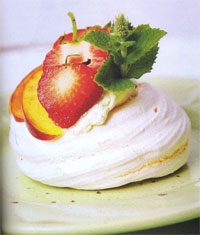 RECIPE: Peach & Strawberry Pavlova

Serves 6

"I think pavlova is an eternally popular dessert; it's always a great success. Also, for the calorie conscious it does have a considerably lower quantity of fat than other desserts (you might need to go easy on the cream though!)"

Click for recipe