Book Reviews - Apron Strings, Recipes from a Family Kitchen by Nessa Robins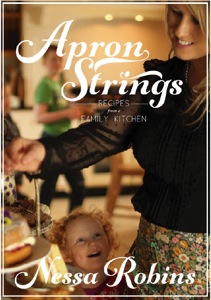 Apron Strings, Recipes from a Family Kitchen by Nessa Robins (New Island, hardback, €22.99/£19.99)
Blogging has changed the landscape of food writing in an amazingly short time - Westmeath nurse and mum of four, Nessa Robins, has a huge following for her blog Nessa's Family Kitchen which she only started in 2010 and it has opened up other avenues for her too, including columns in the Westmeath Independent and Easy Parenting magazine. And now, along comes this beautiful book - and not only written by her, but nearly all of the photography is Nessa's too.
I really love this book, and not just for the cookery and recipes but because Nessa has woven the food elements so seamlessly into other aspects of everyday family life and her experience as a nurse.
In a way it's reminiscent of the earliest cookery books, in that you'll find 'Thrifty tips for running a household' alongside a section on pregnancy and post-pregnancy diet, alongside children's party themes and recipes, and 'Natural Remedies for Common Ailments' along with practical ideas for picnics and tips on keeping hens.
There are loads of images of her four lovely, busy children (often helping in the kitchen or in the garden), touching tributes to her late parents and due thanks to husband Diarmuid, who sounds like an absolute rock.
And, through the highs and lows of this terrific family, we get a great insight into life in Westmeath, too - house prices will be rocketing.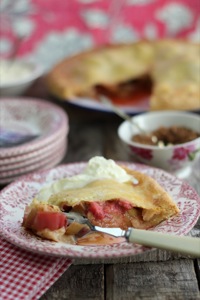 Sample Recipe: LIZ'S RHUBARB & STRAWBERRY TART
Pastry
450g plain flour
25g icing sugar
225g cold bulter
2tbsp cold water
Filling
900g rhubarb
225g strawberries, sliced
1tbsp cornflour
300g caster sugar
Egg wash - made with one beaten egg and a dash of milk
To Serve:
Soft brown sugar
Softly whipped cream
Preheat the oven to 200°C / fan 180°C / Gas Mark 6.
First, make the pastry. Sieve the flour and the icing sugar into a bowl. Rub in the butter then gradually add the water and bring the pastry together in a ball. Turn out onto a piece of floured greaseproof paper, flatten into a round wrap and chill. This pastry needs to be chilled for at least an hour.
Divide the pastry in two. To make the tarts, roll out the pastry 1 /8 inch (3mm) thick approximately, and use about 2/3 of each ball to line the tart tins. Divide the sliced rhubarb and strawberries between the two tarts, sprinkle over the cornflour and the caster sugar.
Roll out the remaining two balls of pastry to make a lid. Place over the fruit and seal the edges. Score a few times with a fork to allow the steam to escape while the tart is baking. Brush with the egg wash.
Bake in the preheated oven for approx: 45 minutes, until golden brown. Serve with a little sprinkling of soft brown sugar and a dollop of softly whipped cream.
Makes 2 tarts