Book Reviews - Georgina Campbell's Ireland, The Best of Irish Food & Hospitality & Dromoland Castle Cookbook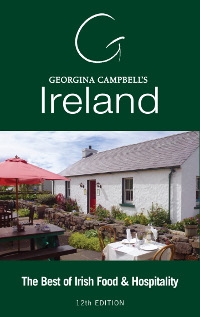 Georgina Campbell's Ireland, The Best of Irish Food & Hospitality
GCGuides, 576 pages, paperback with flaps; maps & colour images. ISBN: 978-1-903164-334; available from bookshops and online from Ireland-guide.com (p&p free in Ireland), €20/stg£16.99.
Not a review, of course, just a reminder that our famously informative "glovebox bible" Georgina Campbell's Ireland, The Best of Irish Food & Hospitality is back in print by popular demand. Having emerged from a spell as an online-only guide, this new print version is designed as a handy compact companion to Ireland's leading independent hospitality and food website, Ireland-guide.com.
Widely recognised as the definitive guide for the discerning traveller in Ireland, it leads readers to all of the best places to eat, drink and stay throughout Ireland – and this neat new edition also includes much else for food lovers to enjoy along the way.
Within its compact format, a wide range of categories - hotels, restaurants, cafés, pubs, country houses, guesthouses and farmhouses - plus information on local and artisan foods, ensures the best choices for the discerning traveller in all price ranges.
Brief, accurate descriptions summarise all the best establishments throughout Ireland, North and South, and are partnered by more detailed information on the Ireland-guide.com website and app. Producer entries highlight the quality and variety of Irish produce that visitors will find on leading menus and in the quality shops listed; many products are also available from the producers, markets and online.
The ideal reference for times when you're away from your desk and mobile coverage is infuriatingly absent, to keep in the car and beside the phone - and as a valued small gift - this quality production will be welcomed by fans of Georgina Campbell's guides, and is sure to earn many new ones.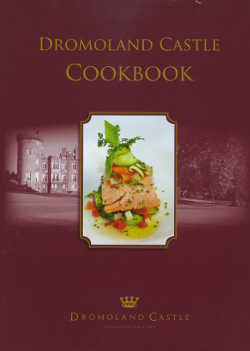 Dromoland Castle Cookbook (hardback, 194pp, colour photography throughout; price €30, available from Dromoland Castle, or online from dromoland.ie/dining (p&p varies). Recipes by David McCann, photography by David Crimmins.
50 years in business this year, the food-focused celebrations at Dromoland Castle in Co Clare have included the publication of the Dromoland Castle Cookbook, featuring not only a fine range of modern classic recipes by David McCann (Executive Head Chef since 1995), but also some insights into life behind the scenes at the Castle.
The wholesome fare offered in the weekly Staff Lunch Menu makes interesting reading, for example, culminating with roast beef and all the trimmings on Sunday, followed by rice pudding and raspberry jam - it took me back to student days in Paris when one of my brothers worked at the Ritz and I was sometimes lucky enough to be invited to eat (very well indeed) with the staff at their big long basement dining table…
There are some classic basic recipes with multiple applications, delicious baking that any home cook could undertake with confidence - and some handy Kitchen Tips: use bread soda paste for silver cleaning, for example, and warm garlic cloves before peeling.
A practical cookbook and a record of a kitchen where great pride is taken in a job well done and short cuts are never countenanced, this is a lovely souvenir for guests and will itself play an interesting role in the hotel's history in decades to come.
David McCann and long serving Restaurant Manager, Tony Frisby make a great duo, with Tony bringing the warmth of welcome and impeccable service that David's consistently excellent modern classical cooking deserves. Together they worked on another aspect of the 50th anniversary celebrations, the creation of an eight course "Nostalgic Tasting Menu" with fine wine pairings.
Inspired by the menus served when the hotel opened in 1963, it features upbeat recreations of popular dishes of the day, like smoked salmon Mimosa, fillet of sole Princess, tournedo Rossini and peach Melba - and, while the Cashel Blue in the blue cheese 'Melt' may have been only a distant glint in its creators' eyes at that time, the intentions are honourable and the whole meal is great fun.
The idea for the Nostalgic Menu came after the book so most of the old recipes don't feature, but you will find Dromoland Prawn Cocktail - which, when served in the tasting menu as part of the 'Assiette of Hors d'Ouevres', comes in a dainty little cocktail glass specially purchased for the occasion.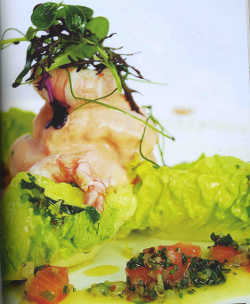 Dromoland Prawn Cocktail Salad
4 portions
INGREDIENTS
1 recipe court bouillon (see below)
20 large Dublin Bay prawns
2 heads of baby gem prepared & washed
1 recipe sauce vierge (see below)
4tbsp mayonnaise (house recipe given in book)
1 tbsp tomato ketchup
dash of Worcestershire sauce
dash of Tabasco
dash of brandy
squeeze of lemon
seasoning
METHOD
1. Bring the court bouillon to the boil.
2. Remove the heads from the prawns. Gently remove the centre tail fin and intestine (which is attached).
3. Plunge the tails into the boiling court bouillon, bring back to the boil and simmer for 40 seconds. Remove the prawns onto a tray, season with salt and pepper and allow to cool for 5 minutes.
4. Shell the prawn tails, keeping intact.
5. To make the cocktail sauce, place the mayonnaise in a bowl, add the ketchup and mix well. Next mix in the brandy, Worcestershire sauce and tabasco. Finish with the lemon juice and correct the seasoning.
6. Keep eight medium baby gem leaves whole, chiffonnade* the rest of the leaves.
7. To present, cup two whole baby gem leaves in the centre of each plate. Place the chiffonade on top neatly.
8. Toss the prawns in half of the cocktail sauce, place five prawns per portion on top of the lettuce and coat with the remainder of the sauce.
9. Spoon the sauce vierge around the salad.
Note: Dublin Bay Prawns are also known as Langoustine or Norwegian Lobster. *Chiffonnade is to shred or slice leaf vegetables, herbs or lettuce (Julienne)
COURT BOUILLON
Mainly used for shellfish and fish
Makes 2 litres
3 litres cold water
1 leek, 2 carrots, 3 onions, 2 celery sticks, ½ fennel
bulb or trimmings (washed & peeled)
1 sprig of thyme
2 bay leaves
5 parsley stalks
2 sprigs of chervil & tarragon
1 bulb of garlic, cut in half
1 tsp coriander seeds
2 star anise
12 white peppercorns
1 lemon (zest & juice)
pinch of sea salt
200ml white wine vinegar
1. Place all the ingredients except the wine vinegar in a large pot. Bring to the boil and reduce to a simmer for 30 minutes, next add the wine vinegar and return to a simmer for 5 minutes.
2. Pass through a fine sieve and reserve for use or freeze.
SAUCE VIERGE
4 portions
2tsp finely diced shallots
2 beef tomatoes skinned, deseeded & diced
1 sprig of basil leaves finely sliced
1 sprig of tarragon leaves chopped
1 tsp chopped chives
1 tsp crushed coriander seeds
juice of 1 lemon
100ml olive oil
seasoning
1. Heat the oil in a small heavy based pot, add the shallots and remove from the heat.
2. Add all the other ingredients except the tomato and leave to infuse and cool.
3. When at room temperature, add the diced tomato and correct the seasoning.