Book Reviews - Catherine's Italian Kitchen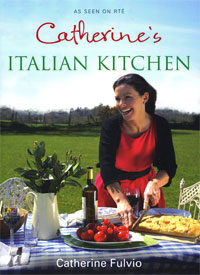 Catherine's Italian Kitchen by Catherine Fulvio (Gill & Macmillan paperback 254pp, €19.19)

Having full time experience running her lovely Co Wicklow farm B&B, Ballyknocken House, and the cookery school she has set up there, the delightful Catherine Fulvio is a practical cook as well as an inspiring one, so this is definitely won't be one of those books that languishes on the bookshelf and rarely gets used.

Catherine grew up with all the farm activities going on around her and fresh produce coming into her mother's kitchen, giving her an innate sense of the value of fresh local ingredients so using them at their best and in season comes naturally to her – as it does to Italians also.

Through her Sicilian husband, Claudio, Catherine became immersed in Italian food and it was an obvious topic for her first RTE TV series, Catherine's Italian Kitchen - which was so popular that she had to go back for more, and it's to be followed this autumn by Catherine's Roman Holiday.

Down to earth as ever, Catherine has chosen the popular dishes that Irish people enjoy for this attractive book, which gives very do-able but authentic versions of lots of old favourites and straightforward lessons in, for example, pasta and pizza.

But you'll also find the traditional Italian drinks and snacks that set the scene for an Italian night in - and some equally straightforward special occasion dishes, such as this lovely seasonal tart.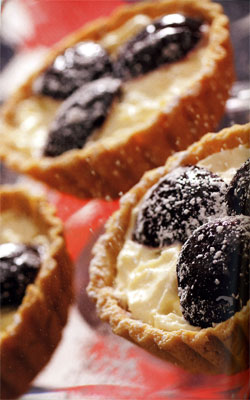 Plum and Mascarpone Tart
Crostata di prugne e mascarpone

Makes 1 large tart or 6 individual tartlets, serves 6-8

"Once the pastry is made, this is actually a particularly easy recipe. I also make this same tart with fresh strawberries or raspberries and it looks and tastes beautiful for a summer party."

Click for recipe