Cookery Feature - First Find Your Spring Chicken...
Georgina Campbell
Chicken is - for many reasons - one of the best examples of the disconnect that exists between the food on our plates and its origins. All of our foods have their natural season but we're so used thinking of chicken as an all-year product that seasonality doesn't come into it any more.
It may not have the relevance that it once did but, when you think about, it all birds reproduce in spring and those fluffy chicks we associate with Easter are ready for the table in about 12-14 weeks if traditionally reared.
So high summer is a very good time to ask your local butcher for traditionally reared free range spring chicken (organic if possible). Enjoy it simply roasted and served with the traditional accompaniments (hard to beat), spit-roast over a barbecue or perhaps in one of these favourite recipes from Bord Bia - not new, but they're lovely tasty dishes and colourful for summer.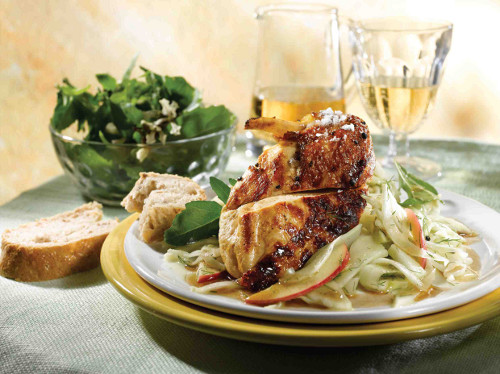 Chicken Breast with Fennel and Rocket Salad
Simple and special - takes only about half an hour to prepare and the salad can be prepared ahead. You might try using Irish rapeseed oil instead of the olive oil in the marinade.
Serves 4
4 chicken breasts, skin on
Juice of 1 lemon
1 tablesp. olive oil
Salt and black pepper
Fennel Salad
2 fennel bulbs, sliced thinly as possible
2 tablesp. olive oil
Juice of 1 lemon
1 tablesp. good quality mustard
Handful rocket leaves per person
To serve: Drizzle of olive oil, balsamic vinegar and black pepper
Set oven Gas Mark 4, 180°C, 350°F.
An hour or two ahead, if possible, place the chicken breasts in a shallow dish. Pour over the lemon juice, olive oil and seasoning.
Prepare the salad – put the sliced fennel in a large bowl, in another small bowl mix the olive oil, lemon juice and mustard together, taste for seasoning. Mix the fennel and dressing together – set aside.
Seal the chicken breasts on a hot pan until well browned. Then finish cooking in the oven for 10-15 minutes.
To serve: Slice the chicken, serve with a mound of the salad and the rocket leaves on top. Drizzle with a little olive oil and balsamic vinegar and a little black pepper.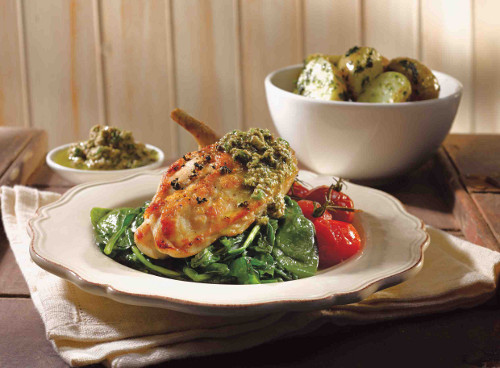 Pan-Fried Chicken with Walnut & Lemon Dressing
Easy to prepare and with good flavours, this might make a rather special mid week meal.
Serves 4

4 chicken breasts, skin on
Salt pepper and lemon juice
Dressing
100g walnuts
2-3 cloves garlic
Juice of a lemon
1 teasp. ground cumin
2 tablesp. coriander, chopped
125ml olive oil
Salt pepper and sugar to taste
4 scallions, chopped
To Cook
Season the chicken with salt, pepper and lemon juice. Set aside.
Set the oven to Gas Mark 4, 180°C, 350°F.
Toast the walnuts in a dry pan, then tip them into the processor with the other dressing ingredients. Whiz for a few seconds. Taste for seasoning, leave in the fridge until ready to serve.
Heat a pan or black grill pan. Cook the chicken skin side down for 4-5 minutes to get a delicious crisp skin. Turn over and cook for another 2-3 minutes. Finish the cooking for another 10-15 minutes in the hot oven.
Very good served with spinach, a few new potatoes and a spoonful of the dressing on top.
Any leftover dressing will last for a week in the refrigerator.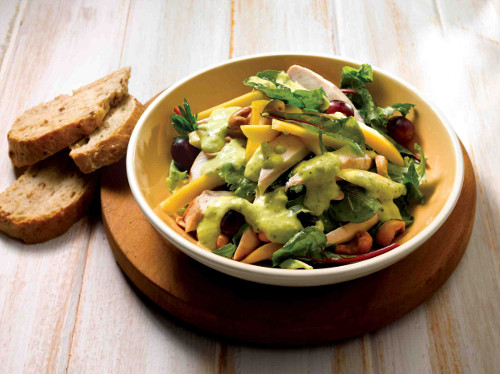 Warm Chicken Salad with Cashew Nuts and Mango Dressing
Ideally, roast a whole chicken with lots of garlic cloves, a few sprigs of rosemary, lemon wedges stuffed into the cavity and seasoned with salt, black pepper and cayenne pepper. Cook until the juices run clear.
Then an hour or two later, take the meat off the bone and make the salad. If you haven't time to roast a chicken then you can just grill a few chicken breasts, slice them up and make the salad.
Serves 4
4 chicken breasts, cooked and sliced
Handful salad leaves per person
1 mango, sliced
Handful seedless black grapes
50g cashew nuts
Dressing
1 mango, peeled and chopped
3-4 scallions, chopped
Handful of basil leaves
1 tablesp. rice vinegar
4 tablesp. olive oil
Salt, black pepper and a pinch of sugar
To cook
Start with the dressing, put all the dressing ingredients in the processor, give it a quick whiz, taste for seasoning.
Coat the salad leaves in a little of the dressing, arrange the leaves on individual plates or in one large bowl. Add the sliced mango, grapes, nuts and chicken. Drizzle over the dressing and serve with some good crusty bread.