Cookery Feature - Tastes of Autumn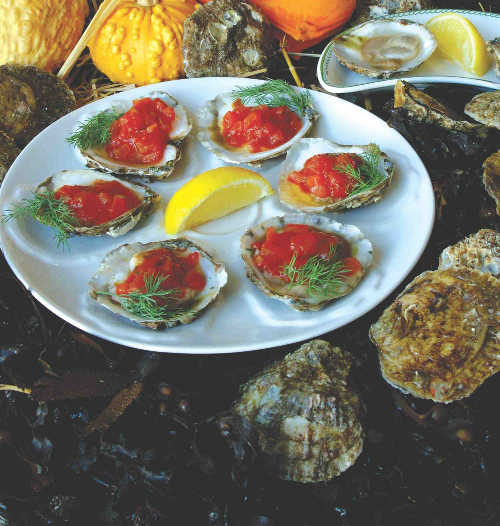 Georgina Campbell
With autumn comes the harvest, and so many treats to be enjoyed. This miscellany of seasonal dishes is from Irish Country House Cooking, The Blue Book Recipe Collection - inspiration perhaps for some relaxing travel while the country is at its best.
OYSTERS BLOODY MARY
Our native flat oysters have just come into season again after their summer break and many fans look forward to enjoying them 'au naturel' in the colder months (all of those with an 'r' in them). For those who enjoy trying something different, this recipe is from the King Sitric Fish Restaurant and Accommodation, at the head of the East Pier in Howth, Co Dublin, where Aidan MacManus uses native west coast oysters for this dish whenever possible. However rock oysters - which are farmed not far away in Carlingford Lough - can also be used; when using rock oysters, select them as small as possible.
Serves 1 as a light main course, 2 as a starter
12 oysters
6 tomatoes
1 tbsp / 11/4 US tablespoons of vodka
a dash of Tabasco
a double dash of Worcestershire sauce
the juice of half a lemon
1 red chilli pepper, chopped
a little cucumber, skinned and seeded
First make the Bloody Mary: Blanch the tomatoes, then skin them and discard the pulp. Finely dice two of the tomatoes and leave aside.
Put the rest in a liquidiser with the vodka, Tabasco and Worcestershire sauce, lemon juice and the red chilli pepper. Liquidise. Take the diced tomatoes and add an equal amount of diced, seeded and skinned cucumber. Add to the juice and refrigerate until required.
To prepare the oysters: Using an oyster knife, carefully open the oysters over a bowl to catch the juices. Loosen and turn the oyster in its shell, then strain any juices and return to their shells. Cover with about a tablespoon of the Blood Mary sauce and chill for about 30 minutes.
To serve: Arrange the oysters by the half dozen, on oyster plates if available. Serve with a wedge of lemon, and offer some freshly baked brown bread on the side.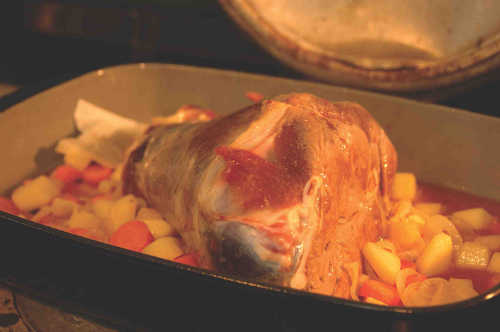 POT ROAST VENISON IN RED WINE
Coopershill House is a fine granite mansion at the centre of a beautiful 500 acre estate of farm and woodland at Riverstown, in Co Sligo. The O'Hara family have lived here since 1774 and, as well as welcoming guests to their wonderfully comfortable home, they are as well known these days for their excellent farmed Coopershill Venison.
The tender, lean meat from young fallow deer under two years old, it can be purchased from the house, in selected (mainly local) shops and online. Guests often have the opportunity to enjoy it for dinner and this tasty pot roast is ideal for gentle slow cooking. It is also suitable for wild venison, which begins to come into season in September.
Serves 6-8
1 leg venison (farmed or wild), about 4lb / 2kg
2oz / 60g / 4 US tablespoons vegetable oil
2 onions, sliced
1 small turnip, chopped
8oz / 225g / 2 cups carrots, chopped
bouquet garni
6 juniper berries
8oz / 225 ml / 1 cup good stock, either beef or chicken
Juice of a lemon
1 tbsp brown sugar
1 tbsp tomato purée
For the sauce:
1-2 tsp arrowroot, or cornflour, slaked in a little water
1 tbsp / 11/4 US tablespoons redcurrant jelly
4fl oz / 125ml / ½ cup full-bodied red wine
Preheat a moderate oven, 300°F / 150°C / gas mark 2
Heat a little oil in a flameproof casserole and brown the venison all over in it. Remove and set aside while making a bed of the onions, chopped root vegetables, bouquet garni and juniper berries, then replace the joint on top.
Mix the stock with the lemon, brown sugar, and tomato purée and use as much as is needed to half cover the joint. Cover securely and cook slowly in the oven. If it is farmed venison allow 20 minutes to the lb/450g, and 20 minutes over for medium cooked, or 10 minutes to the lb/450g plus 10 minutes over for pinker meat. Wild venison, unless very young, may need to be cooked for 30 minutes to the lb/450g.
When cooked to your liking, drain off the pan juices, cover the venison and keep it warm. Blend a little of the hot liquid into the arrowroot then add to the rest of the pan juices, along with the redcurrant jelly and the wine, and bring to the boil. Simmer for about 10 minutes, until the sauce clears and thickens.
Carve the joint and serve with braised red cabbage, green beans and roast or mashed potatoes.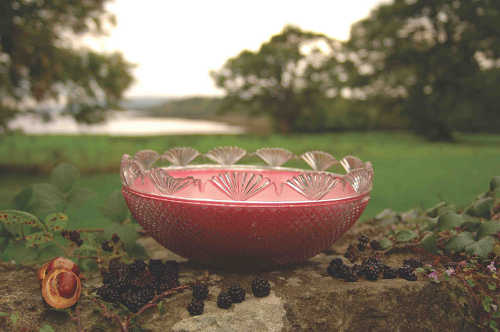 BELLE ISLE BLACKBERRY MOUSSE
It's a fantastic year for wild blackberries, which are exceptionally abundant and can traditionally be picked until Michaelmas (29th September) when 'the devil spits on them'. This dessert has the most wonderful colour and flavour, and is a favourite at Belle Isle Castle which dates back to the 17th century and is magically situated at Lisbellaw, Co Fermanagh, on one of eleven islands owned by the Duke of Abercorn on Upper Lough Erne.
Blackberries are there for the taking and they freeze well - simply spread out on a plastic tray and transfer to bags when frozen. This mousse loses none of its flavour when using frozen fruit.
Serves 4-6
1lb / 450g / 2 cups blackberries, fresh or frozen and defrosted
juice of a small lemon, strained
4oz / 100g / 1/2 cup caster sugar
3 tbsp / 4 US tablespoons cold water
1/2oz / 15g powdered gelatine
1/4pt / 150ml / 3/4 cup double cream
2 egg whites
To serve:
1/4pt / 150ml / 3/4 cup single cream
a few sprigs of mint
a few raw blackberries
Wash and pick over the blackberries and place in a saucepan with the strained lemon juice and the sugar. Place over a low heat, cover and simmer gently for about 10 minutes.
Meanwhile, put the water in a basin, sprinkle in the gelatine and leave to soak for 5 minutes. Draw the pan off the heat, add the soaked gelatine and stir until dissolved.
Pass the fruit and juice through a nylon sieve, into a large basin. Rub as much of the fruit through as possible and discard the pips left in the sieve. Set the purée aside until cool and beginning to set.
Beat the egg whites until stiff, and lightly whip the cream.
Using a metal soon, gently fold the cream and the egg whites into the purée until well blended, losing as little volume as possible.
Pour the mixture into a serving dish or into individual serving bowls. Chill until set.
Serve garnished with a few whole blackberries and a sprig of mint, and offer a little extra pouring cream.