Cultured Mushrooms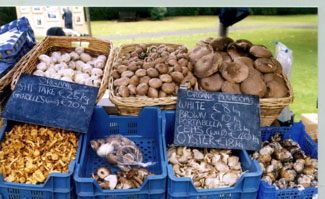 As the winter vegetables near the end of their season and the new season outdoor crops are far from maturity, food grown under protection comes into focus. And what more reliable or useful allies could we have in the kitchen than mushrooms, in all their variety.

Mushrooms are an important crop in Ireland, as they can be grown successfully almost anywhere under controlled conditions all year round, without dependence on good soil or predictable weather.

The edible fungi psalliota competris is widely grown on a commercial scale, and grows rapidly once given the right conditions. The three most popular mushrooms - button, cup and flat - are different stages of development of one mushroom type.

Other cultivated mushrooms include Portobello (big and beefy), Chestnut Mushrooms (immature Portobello mushrooms, good flavour), Oyster Mushrooms (named for their unusual colour, with a very mild flavour; originally wild but now cultivated) and Shiitake mushrooms (originally wild Chinese mushrooms, now widely cultivated).

Mushrooms of all the various types are widely available at farmers' markets and from all greengrocers and supermarkets, all year round.

They are among every cook's most versatile ingredients and can be used raw or cooked in a huge variety of ways; a staple of the traditional Irish breakfast, they're also delicious on toast, stuffed, in pies and made into soups.

Big breakfast mushrooms make a delicious quick lunch when topped with chopped garlic a dab of butter, seasoning and sliced black pudding – just bake or microwave and serve on toast.

Buy mushrooms as fresh as you can, put in a paper bag to avoid condensation, and store them in the fridge for up to four days. (If you keep them longer they may be past their best, but it is interesting to see that they continue growing in the cool, dark conditions!).

To prepare, wipe with a damp cloth and trim as required – avoid peeling if possible. Grill, fry, roast (with garlic butter perhaps), or use in a wide range of dishes.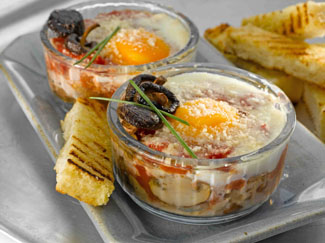 RECIPE: Baked Eggs with Smoked Ham and Mushrooms

Smoked ham and eggs make good partners – this tasty baked brunch or snack can be on the table in 15 minutes. Un-smoked ham may of course be used if preferred.

Serves 4

Click for recipe