Eggs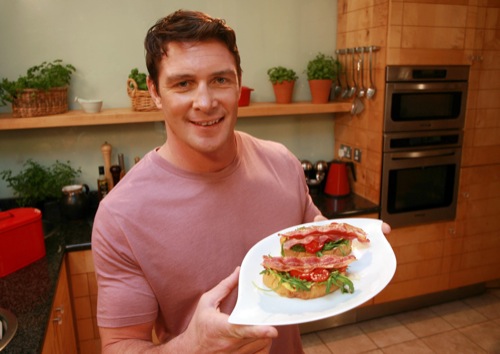 Eggs are synonymous with spring and they're Nature's convenience food - perfectly packaged and always accessible. They're also highly nutritious (a concentrated source of protein with a wide range of vitamins and minerals), great value and the most versatile food imaginable.
Chef Neven Maguire of MacNean House & Restaurant rustled up this handy post workout feed for the former Munster, Ireland and Lions legend, David Wallace, when he visited the Bord Bia Quality Kitchen to discuss how retiring from rugby has impacted on his eating habits. (Revealed: he now eats three meals a day like everyone else - instead of seven!)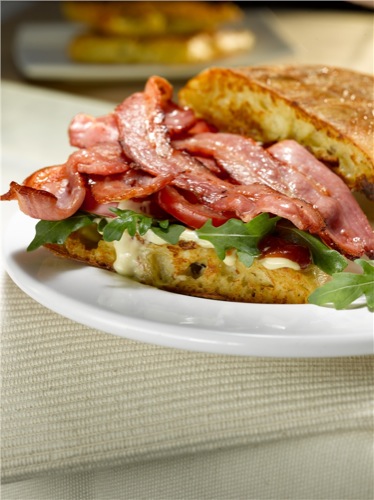 Eggy Bread BLT
This high protein brunch dish could be the ultimate bacon sandwich. It's a good idea to cook the bases of the ciabatta first so that you can start assembling the sandwiches whilst the tops are cooking. (Cooking Time: 15 minutes)
Serves: 4
Ingredients
4 eggs
2 tablesp. milk
Freshly ground black pepper
1 large ciabatta loaf
About 2 tablesp. olive oil
12 smoked streaky bacon rashers (Quality Approved), rinds removed
1 tablesp. good quality mustard
2 tablesp. of reduced fat mayonnaise
2 tablesp. tomato ketchup
25g rocket leaves
4 small vine tomatoes, finely sliced
Method
Crack the eggs into a shallow dish, add the milk, season and mix well to combine. Cut the ciabatta loaf into four even-sized pieces and then cut each one open so that you have eight separate pieces. Place each piece of the bread, cut-side down in the egg mixture. Leave to soak for a minute before turning over.
Heat a large frying pan and add half of the oil, then add the soaked bases of ciabatta, cut- side down. Cook over a medium to low heat -2 minutes until golden brown, then turn over and cook for another two minutes.
Meanwhile, preheat the grill. Arrange the bacon on a grill rack and cook for a couple of minutes on each side until really crispy. Keep warm.
Remove the ciabatta bases from the frying pan and keep warm. Add the remaining oil and then add the tops of the ciabatta. Cook as described above.
Mix together the mustard and the mayonnaise in a small bowl. Just before serving, spread half the mustard mayonnaise over the bases, next add a little ketchup, the rocket leaves, a layer of tomato slices and season with the black pepper.
Top with the bacon. Finish by spreading the remaining mustard mayonnaise on to the top half of the eggy bread.