Highbank Orchard Syrup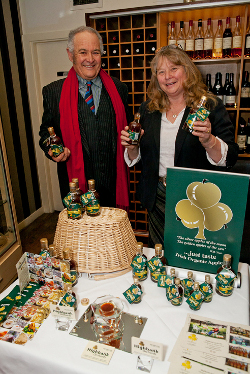 Apples grow well in many parts of Ireland and the limestone-rich soil of Co Kilkenny, where Rod and Julie Calder-Potts have farmed Higbank Organic Orchards since1969 (organically since 1994), is particularly suitable. Beginning with farm-gate sales of surplus apples, they produced fresh apple juice and apple concentrates to make wine - a product that attracted the interest of poteen-makers.
In creating their Orchard Syrup, Rod and Julie invented an intriguing product. Rod has a keen interest in balancing the three essential flavours of apples: acidity, sweetness and bitterness and, as he discovered, this is best achieved by blending traditional cider-apple varieties with dessert and culinary varieties.
One day, quite by accident, one of their concoctions became exceedingly concentrated on an ancient Aga cooker. After two years of fine-tuning this delicious syrup, a unique flexi-food emerged.
So Highbank Orchard Syrup was born; a versatile product that boasts a two-year shelf-life stored at room temperature. And, unwilling to waste the by-product, apple pulp, they found it could be used to make a fresh sparkling, non-alcoholic Driver's Cider. And, unwilling to waste the potential of natural wild yeasts, they also developed an alcoholic drink, which they call Proper Cider.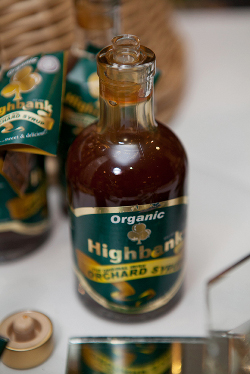 Highbank Orchard Syrup was one of the products recognised by the Irish Food Writers Guild at their 2013 Good Food Awards, and the development of the company has been assisted by the ongoing support of Bord Bia. For information and stockists visit www.highbankorchards.com
Highbank Ochard Syrup is a very versatile and delicious Irish-made product to use in cooking - anywhere where maple syrup is called for, for example, and for all kinds of glazes, and as a natural sweetener for cereals, yogurts and a hundred and one other applications
RECIPE: To celebrate St Patrick's Day, why not use Highbank Orchard Syrup in traditional style, with Irish bacon in Traditional Bacon and Cabbage with Mustard Sauce - "comfort food at its best"
Serves 6
1½ kg loin of Quality-Assured bacon, preferably dry-cured
1 carrot,
2 celery sticks
2 leeks
1 teasp. back peppercorns
Topping
1 tablesp. mustard (of your choice)
1 tablesp. oven-dried breadcrumbs
½ tablesp. Highbank Orchard Syrup, warmed
Knob of butter
Mustard Sauce
50g butter
25g flour
1 tablesp. mustard
250ml mixture cooking liquid and cream
1 kg cabbage, finely sliced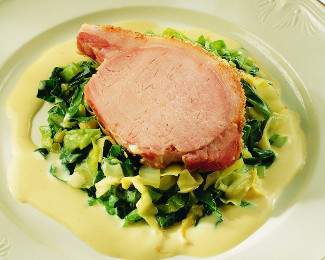 To Cook
Weigh the joint then place in a saucepan with the chopped vegetables and the peppercorns, and add enough cold water to cover. Bring slowly to the boil over moderate heat, then turn down and simmer gently for approx. 20 minutes per 500g.
Preheat a fairly hot oven, Gas Mark 6, 200ºC (400ºF).
After the estimated time, remove the joint from the saucepan. Reserve the liquid; remove the rind and score the fat. Place the joint on a roasting dish; mix the mustard and bread-crumbs, runny Orchard Syrup and a knob of butter and spread this mixture over the joint.
Finish in the hot oven for 15-20 minutes.
To make the sauce
Melt the butter in a saucepan, then blend in the flour and mustard. Cook gently for a minute or two, then whisk in the reserved cooking liquid and cream. Bring to the boil, stirring. Reduce the heat and simmer gently for 3-4 minutes, stirring frequently.
The sauce should have the consistency of thin cream. Taste for seasoning and keep warm while you cook the cabbage and slice the bacon joint.
To cook the cabbage
Just before serving, cook the cabbage lightly in another saucepan with some of the cooking liquid. Drain well and toss in butter. Season to taste.
To serve
Slice the bacon and serve on a bed of cabbage, with a little of the mustard sauce and, of course floury potatoes, colcannon or mash.