In Season - Cranberries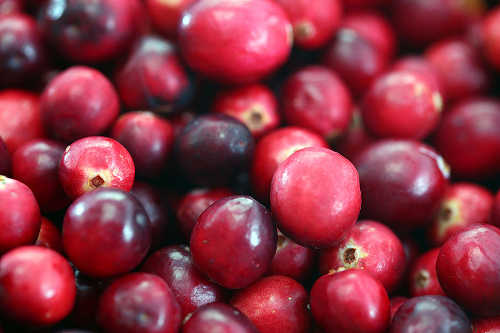 As much a part of our Christmas as the turkey or the plum pudding, cranberries are borne on evergreen dwarf shrubs or trailing vines (subgenus Oxycoccus of the genus Vaccinium).
A major commercial crop imported from North America, they thrive in acidic bogs and the sharply flavoured red berries have antioxidant qualities which have led recently to their reputation as a 'superfruit'.
Most of the commercial cranberry crop is water-harvested - the land is flooded and machines collect the berries off the surface of the water - for processing into juice, sauces, jams and sweetened dried cranberries, but a small proportion is hand harvested to be sold fresh.
The acid conditions of Ireland's boglands make it possible to grow such crops in the midlands and they are a speciality of Slievebloom Farmhouse Foods (+353 (0)57 913 1372; www.slievebloomfarmhousefoods.com), near Birr in Co Offaly, where Ciara Morris makes a range of preserves, chutneys and sauces, several of which – including a mulled wine & cranberry sauce – have achieved success at The Great Taste Awards.
Since 2006 she and her business partner, local farmer/fitter Michael Camon, have owned Ireland's only cranberry farm, which was first started by Bord Na Mona as a pilot project - and now successfully produces fresh fruit for supply to some of Ireland's top restaurants (and retailed in Ireland for the festive season) as well as Ciara's range of products.
Fresh cranberries are versatile and freeze very well for use throughout the year, while dried ones (which are sweetened and easily available) are especially useful in breads and baking and as an addition to salads, oatmeal toppings, granola and seed or nut snack mixes.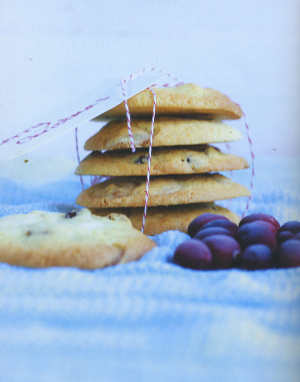 RECIPE: Cranberry and White Chocolate Cookies
One of Rosanne Hewitt-Cromwell's recipes from 'Like Mam Use To Bake' (Mercier Press, paperback €19.99), which is based on her popular blog of the same name.
These cookies from the Christmas chapter would make an attractive small gift, but they are equally appealing all year. "I find the window of opportunity to buy fresh cranberries in December very brief," comments Rosanne.
"Once I can stock up on enough to make some cranberry sauce for Christmas day I am usually happy. Using dried cranberries in these cookies means that they are not just for Christmas though, you can enjoy them at any time of year."
125g unsalted butter, softened and cubed
125g caster sugar
1 large egg
1 tsp vanilla extract
150g plain flour
25g cornflour
Pinch of salt
75g white chocolate, roughly chopped, or buttons/chips
75g dried cranberries
Preheat the oven to180°C/ 350°/ Gas Mark 4. Line two baking sheets with
parchment paper.
Cream the butter and sugar together using an electric hand-held whisk/stand-alone mixer until pale and fluffy (approximately 3 minutes).
Add the egg and vanilla extract and beat through.
Sift in the flour, cornflour and salt and fold through.

Add the white chocolate and cranberries and fold through.
Wrap the dough in some cling film and shape into a 15cm/6in sausage. Chill in the fridge for an hour.
Unwrap and cut the dough in half, cut each half in half again and continue doing so until you have 16 pieces of dough. Don't worry if the dough still feels a little sticky it will roll perfectly well.
Roll each piece between your hands to form a ball and place evenly spaced onto the baking sheets. Flatten each ball slightly and bake in the preheated oven for 5 minutes or until golden brown.
Remove from the oven and allow to cool on the baking sheets for 5 minutes before transferring to a wire rack to cool completely.