In Season - Plums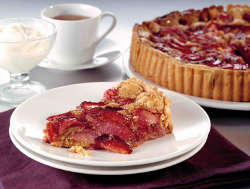 What Are They? Prunus domestica is a group of hardy trees and shrubs which bear edible fruits containing stones; the type generally grown in Britain and Ireland is a cross between a sloe and a plum. Gages, which are similar (and have excellent flavour), tend to need more favourable growing conditions.
Where Do They Come From? Many of the plums on sale in Ireland at this time of year come from continental Europe, but reliable all-rounders such as Victoria (red with dark speckling, good flavour for cooking and dessert use) grow well in Ireland.
Where Can I Get Them? You can grow your own of course (even in a tub, on a dwarfing rootstock); conveniently, Victoria thrives on a north or east-facing wall. Otherwise small shops may have supplies from local growers, and Irish grown plums should be available now in farmers' markets – and a range of plums from here and abroad is available in bigger shops and supermarkets.
What Can I do With Them? The plum is a very versatile fruit, delicious eaten raw (with cheese, perhaps) when ripe, or cooked in desserts such as the Plum & Almond Tart below. They are lovely poached (serve warm with ice cream), split and then grilled or barbecued, or cooked and pureed to flavour ice cream or other desserts – and, of course, they make wonderful jams and preserves. If you break the stones open you can even eat the kernels, which have a delicious nutty flavour - and a reputation as a superfood, with qualities that are said to help defend the body against cancer.
RECIPE: Plum and Almond Tart
This is a delicious, simple seasonal dessert, and easy to make. Irish plums are in season now (Aug/Sep) and, while almonds need a warmer climate, they have been an important ingredient in Irish kitchens since the 18th century. Serves 8-10
Pastry:
180g/ 6 oz butter
75g/ 3 oz icing sugar
2 egg yolks, preferably free rage
225g/ 8 oz plain flour
Filling:
100/ 4 oz g soft butter
150g/ 5 oz sugar
100g/ 4 oz amaretto biscuits
200g/ 7 oz ground almonds
4 egg yolks, preferably free range
16 plums, approx (halved, stones removed, sliced)
To make the pastry: In a food processor, mix the butter, icing sugar and egg together. Add in the flour and blend until it forms a ball of pastry. Gather up into some clingwrap and chill for an hour.
To make the filling: Also in the processor, mix the butter, sugar, biscuits, ground almonds and egg yolks.
Set the oven to Gas Mark 4, 180ºC (350ºF). Roll out the pastry and use to line a 28cm diameter x 3cm deep tart tin. Chill for 10 minutes.
Pour in the filling mixture. Place the plum slices on top and sprinkle with an extra tablespoon of sugar.
Bake in the preheated oven for 45-50 minutes, until completely set and nicely browned.
Serve warm with whipped cream, crème fraiche or ice cream.