Kilbeggan Organic Porridge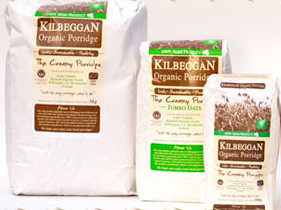 "Oats Produced from Ballard Organic Farm, owned and operated by the Lalor family since 1844" is the proud proclamation on the Kilbeggan Organic Foods website and it says a lot about the principles of stewardship that Pat Lalor values so highly, and which saw him start the conversion to organic certification in 1999.
Oats have always been an important crop on this Co Westmeath farm, initially for animal feed and then for supply to Ireland's biggest porridge oats company Flahavans, whose organic sales have increased dramatically in recent years. Then, in 2011, Pat took the leap and - while still also supplying Flahavans - he started producing porridge from his own oats, and Kilbeggan Organic Porridge was born.
The timing was good and this quality product - which is available as jumbo (whole) oats and oatlets (finer) - has been a huge success, already winning awards including the Best Organic Grocery category at Bord Bia's National Organic Awards in 2012. It's distributed to speciality stores all over Ireland and in demand for its special texture and flavour as well as the 'free from' advantages.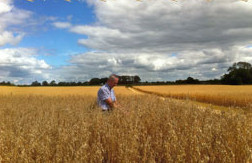 The health benefits of oats are now well understood and, while it's an all year product, the slow release energy of porridge is especially welcome in the colder months and it couldn't be easier: one cup of oats to three of water and a pinch of salt; leave overnight in a slow cooker or the slow oven of a range type cooker… Oats are also versatile in cooking, working very well in recipes that suit the Irish climate, including many of our traditional dishes.
Agri-tourism is another important element of life on Ballard Farm, which is also an open farm (March- October) with facilities for visiting groups of up to 45 people, with or without an agricultural background.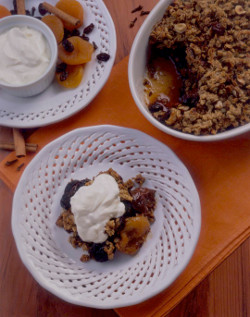 RECIPE Dried Fruit & Hazelnut Crumble
Dried fruit and nuts are complementary ingredients that make a natural partnership with oatmeal - as in this hot pudding that's as delicious as it is wholesome. This recipe goes back to the 1990s, when the Health Promotion Unit at the Department of Health and Children used to rope in every member of the Irish Food Writers' Guild to contribute a recipe to their Healthy Food magazine, which was a great combination of healthy eating and exercise guidelines, news and favourite dishes. Time to bring it back me thinks.
SERVES 4-6
9oz/250g mixed dried fruit salad, e.g. pears, peaches, apples, prunes.
2oz/50g sugar, or to taste
Natural apple juice or water, as required
1 inch/5cm piece cinnamon stick
Grated rind and juice of 1 small lemon
Crumble Topping:
7oz/200g oat flakes
Pinch of salt
3oz/75g butter, melted
3oz/75g Demerara sugar
1 level tsp. mixed spice (optional)
2oz/50g hazelnuts
A few tbsp. water
The day before cooking, put the fruit into a pan with the cinnamon stick, sugar and enough apple juice or water to cover. Bring to the boil, then remove from the heat, add the finely grated lemon rind and the juice, cover and leave to soak overnight. (If you don't have time for overnight soaking, use this microwave short-cut: in a Pyrex jug bring all to the to boil on High, then reduce to Low and microwave for 15-20 minutes or until fruit is plump and juicy).
Preheat a fairly hot oven 200°C/400°F/Gas Mark 6.
Butter a shallow baking dish.
To make the topping, put all except the last two ingredients into a mixing bowl and mix well. Mix a little water into the crumble mixture, so that it clings together slightly, then mix in the roughly chopped nuts.
Remove the cinnamon stick from the fruit, check prunes, etc., for stones, then arrange dried fruit on the base of the dish, with the juices.
Large pieces, e.g. half pears or peaches, may be cut to bite size if you like.
Scatter the topping over the fruit and bake in the pre-heated oven for 30-40 minutes, or until well-browned and crunchy on top.
Serve hot with chilled natural yogurt, whipped cream or ice cream.
NOTE: A mixture of oatmeal and wholemeal flour (or all wholemeal flour) may also be used. If using pre-soaked 'ready to eat' dried fruit, less water is absorbed, judge liquids by appearance - the fruit base should be nice and juicy.