The Darina Allen Column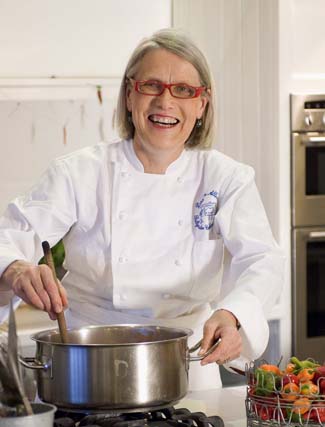 This month Darina writes about an aspect of 'cheap' food production that is rarely discussed - the human cost. And says it is time to ask questions
I was totally shocked by an article by George Arbuthnott in the Sunday Times Magazine recently on the human cost of our food. "They're the invisible army – modern day slaves, trafficked into Britain to work in the food factories and farms that supply our leading supermarkets. They live in squalor, are paid next to nothing and are often physically abused."
For a very long time, I've been deeply concerned about the relentless downward pressure on the price of many food items. The consequence has been to force down the price of the wrong foods. Living on the farm and being actively involved in the food business I know it simply can't be done.
It's impossible to produce any kind of food that is nourishing and wholesome for the retail price that's being charged for many items. The horse meat scandal should have taught us that, but after the initial shock the message is soon forgotten.
Someone has to be paying to supply us with the unrealistically cheap food we have now come to believe is our right.
In the 1980s we spent 27.7% of our income in real terms on food, nowadays its just 16.2%, so the reality is food has now moved a long way down our list of priorities.
When the supermarket offers 'Buy one, get one free' most of the general public are unaware that is usually the farmers or food producer who is supplying the 'free' one, consequently they are getting half the amount of money for their produce.
When the retailers need a product they ask their suppliers to source it at a certain price and on and on it goes through an increasingly convoluted food chain which often involves migrant workers, who have been hoodwinked by the promise of generous pay and good working conditions.
The human traffickers and gang masters who lure these vulnerable, uneducated people - who are often desperate to get work - prefer to target those who don't speak the language so they can't communicate with fellow workers. They work in many areas of food production, meat packing and processing and the supermarket buyers sometimes do not realise exactly how the product is achieved at the price.
But it's time to ask questions. Many large fruit and vegetables farmers are greatly dependent on migrant labour for harvesting, and there are many who treat their workers honourably and work with the gangmasters who do not engage in exploitation. But it's very much a live issue; BBC Farming Today Programme also looked at it recently.
Paul Broadbent the chief executive of the GLA (Gangmasters Licencing Authority) explained their modus operandi "The traffickers are locking people up for six, seven hours a day and then making them work 16 to 17 hours. The victims are absolutely trapped because they are financially tied to these people. They don't feel able to report it to the police because the enforcers have told them they will be deported."
"They take the passport, mobile phone and any form of identification off the victims and set up a bank account into which all their earnings are paid, it may be the case that victims either don't know what they are signing or the enforcer threatens and intimidates them into it.
The controlling man then uses the account to apply for bank loans and benefits and racks up thousands of pounds. Every conceivable fraud and deception is committed and they rule with an iron rod. They force people to live in squalor and pile them high."
Animal welfare issues are increasingly highlighted, and rightly so, but how about the human cost of our cheap food?

***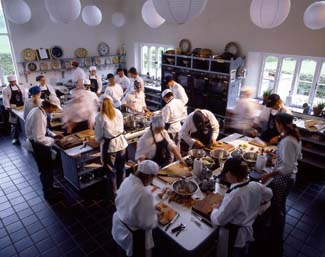 Once again this year, the Ballymaloe Cookery School in East Cork has a great programme of cookery courses for all interests and abilities running throughout 2013. Ranging from a relaxing visit to sit in on an afternoon cookery demonstration to a week long 'Intensive Introductory Course'.

Sitting in the middle of a 100 acre organic farm the Ballymaloe Cookery School provides its students not only with a life skill learnt under the expert tutelage of their very capable teachers but also a place to relax and unwind from the stresses and strains of normal everyday life. The cottage accommodation available onsite for residential courses consists of a collection of delightful converted outbuildings which have been transformed over the years by the Allens, and other accommodation is available locally for the short courses.

www.cookingisfun.ie