The Darina Allen Column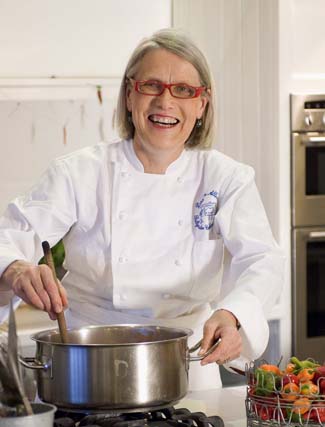 This month Darina takes a very long journey to the far north of Sweden - and it's rewarded with a very big treat
There is a restaurant way up in the tip of Sweden, 600 miles north of Stockholm that I have been longing to go to for quite some time – it's called Fäviken, I managed to get a booking a couple of weeks before Christmas. It's quite a mission to get there, you have to fly from Trondheim via Oslo, hire a car and drive two and half hours north through the snow and then Alleluia, there it is, a sign for Fäviken like a mirage in the dark.
We drove along a windy snow covered avenue, lots of fir trees and a collection of traditional Swedish timber houses painted in brick red. We're greeted by Robert a friendly young man who sounds as though he is from New York, turns out he's now from a local town who watches a lot of American TV!
The rooms are cosy and chic, beautiful linen, lots of timber, spruce I think and Swedish grey paint. The sauna and shower is just across from our bedroom. They've laid out a timber ice bucket with champagne, a Petit Chablis and several bottles of their home made beer, and then a little snack of wafer thin house-cured ham and pickled vegetables.
After a delicious sauna and lots of cold beer, we go down to the comfy drawing room at 6.30, we're determined to enjoy every second. There are several clusters of seats and a big log fire, Magnus greets us warmly like long lost friends, I'd forgotten that I'd sent him a copy of Forgotten Skills last year and apparently he loved it, he's planning to come to the LitFest in 2015. It would be brilliant to have him speak about opening a restaurant 600kms north of Stockholm out in the back of beyond; Ballymaloe is positively urban by comparison...
We had a couple of homemade Negroni, A couple from Sweden joined us and then delicious little bites started to come, the first was paper thin linseed crackers to dip in mussel sauce. Then a little crackly tartlet made from blood with trout eggs to be eaten all in one bite, next lingonberries and crow berries in a tiny bowl with a hot dashi like broth on top, all these bites came with instructions on how best to enjoy them.
Next, on a flat stone a beautifully arranged pickled herring that had been buried underground for two years. A heavily disguised piece of pigs head inside a crispy croquette on a little birch twig, delicious and we still hadn't got upstairs to the dining room – this is another timber lined room which doubles as a curing room for occasional hams and other cured meats. Fäviken serves only 14 people each night, it's always full and guests fly in from all over the world.
The meal itself started at quite a lively pace, one delicious morsel after another, there were 27 'courses' in all and exquisite handmade butter and sourdough bread. Altogether it was a memorable experience; the staff are all local and so sweet and knowledge and delighted to be part of Fäviken. After dinner, a selection of little sweet treats, homemade liqueurs and fresh herb infusions and Swedish snus for those who felt inclined.
Magnus came out of the kitchen and gave us a tour of the butchery and curing room and the underground Root Shed where they store all their root vegetables and pickles during the long cold Swedish winter.
Magnus only uses local ingredients with a couple of rare exceptions, they don't even use citrus or spices but use lots of preserved, pickled and fermented foods in the winter. Magnus has tremendous respect for inherited wisdom and tradition and an insatiable appetite to learn time honoured ways of doing things. He and his small team of chefs, five in total, kill their own deer, moose, elk and wild fowl and catch fat brown trout in the summer. They butcher them and use every scrap including the delicious nutritious blood.
Early in the morning we had a superb breakfast, one of the rare breakfasts that lived up to the dinner the night before. There were several unusual things, a smooth reindeer pâté, potted trout, a kind of special Swedish yoghurt and a Nordic porridge, also cloudberry jam and sour cream, homemade caviar and more of that wonderful butter. Sadly we had to rush it because our flight left Trondheim at noon.
As we drove back to the airport we fantasised about how Ireland could be the new centre of the gastronomic world, we certainly have the produce and without question, many of our young cooks and chefs have the skills, but do we have the combination of curiosity and respect for our traditional food culture and appreciation of what's unique in our landscape?
This is the special experience that brings people from all four corners of the globe on a daily basis to places like Noma in Copenhagen and Fäviken in Northern Sweden. Just shows, as the old saying goes you "If you make the best mousetrap, people will go out of their way to find it..." A lesson to us all...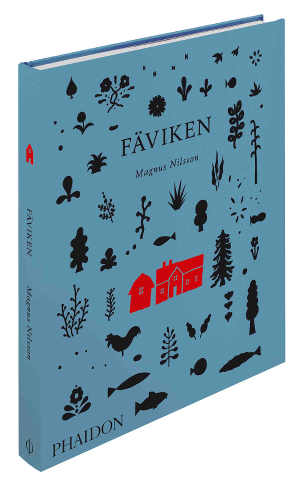 Magnus Nilsson's book Fäviken is extraordinary, published by Phaidon Press, it costs €45.00 and is worth every penny.
A recipe from Fäviken: Wild trout roe in a warm crust of dried pigs' blood
This recipe, together with the scallop over burning juniper, is the most iconic that this young restaurant has come up with. Served as an appetiser before the main meal, I love it for its deliciousness, and for the egg-yolk flavour of the trout roe and its popping texture.
It started when I was searching for a good vehicle for the different types of roe that are available from the clean, crisp mountain waters around Fäviken.
At first it was a little potato pancake, which turned into a blood pancake, which later turned into a crispy disc of fried Swedish black pudding (blood sausage). This process took about two years and the change to something closer to perfection occurred when I found an old croustade iron in a flea market. I bought it and started experimenting with the batter – a hellish task, as it turned out.
The idea is that you heat the whole iron in hot fat, then dip it into a very runny batter just long enough for some of it to cook and stick to the surface. When the iron is lifted out, the excess batter drips off the iron, which is once more dipped into hot fat to cook the thin crust formed on it.
You can probably imagine how difficult it was to find a recipe that didn't stick too much to the iron, especially when I started to substitute some of the egg for pigs' blood. At first it was just that, a thin crust of pastry containing blood, which we filled with trout
roe and a little salt on top.
After a while we added a kind of custard containing blood, which was piped into the crusts to fill them halfway and then baked at the last minute, topping the now custard-filled pastry with trout roe.
The dish took on its final appearance when I saw some dried blood on a plate in the kitchen; shiny and almost black, it had an extremely fragile texture when you touched it, and running a fingernail through it shattered it into tiny, almost glass-like fragments, which were delicious.
From then on we dipped the crusts in raw blood and baked them before piping the custard into them. This process is what gives the crust its very particular texture and appearance.
Serves 6
For the croustades
100g unbleached, wholemeal (whole wheat) flour
1 pinch salt
100g double (heavy) cream
50g pig's blood, plus 100g for dipping
1 egg yolk
10g melted butter
fresh, unsalted trout roe, taken out of the fridge about 2 hours before serving
neutral oil, for deep-frying
salt
For the custard
100g pigs' blood
100g whole eggs
25g butter
Mix together the flour, salt, double cream, 50g pigs' blood, egg yolk and melted butter to make a batter and leave it to rest in the fridge overnight. If you rush this you will get bubbles in your croustades.
Heat the oil with the croustade iron in the casserole. When it is nice and hot, take the iron out and dip it quickly into the batter, then put the whole thing quickly but carefully back into the oil and cook until crisp. Loosen the little croustades from the iron and place on a paper towel.
When all the croustades are cooked, dip them one by one into the blood and place them upside down on a rack so the excess blood runs off. Turn them right way up again and place on a baking tray. Cook at 150°C (300°F) until the blood is dry and completely coagulated. Repeat until the desired thickness is achieved - it depends on the thickness of the blood, but 3 times is usually enough.
To make the custard, place all the ingredients in a Thermomix and process at 80°C (175°F) until thick and silky smooth. Place in a piping (pastry) bag and keep it at room temperature until later.
When the croustades are ready, halfway-fill them with custard and warm them through in the oven at 150°C (300°F). When warm, spoon a nice mound of roe into each croustade and place them on preheated stones or plates. Finish with a tiny pinch of salt on top of each one.


***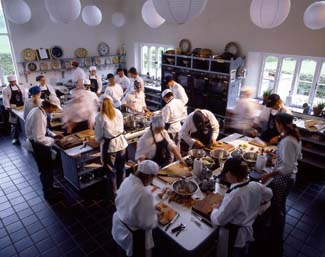 Once again, the Ballymaloe Cookery School in East Cork has a great programme of cookery courses for all interests and abilities running throughout 2014. Ranging from a relaxing visit to sit in on an afternoon cookery demonstration to a week long 'Intensive Introductory Course'.

Sitting in the middle of a 100 acre organic farm the Ballymaloe Cookery School provides its students not only with a life skill learnt under the expert tutelage of their very capable teachers but also a place to relax and unwind from the stresses and strains of normal everyday life. The cottage accommodation available onsite for residential courses consists of a collection of delightful converted outbuildings which have been transformed over the years by the Allens, and other accommodation is available locally for the short courses.

www.cookingisfun.ie