The Darina Allen Column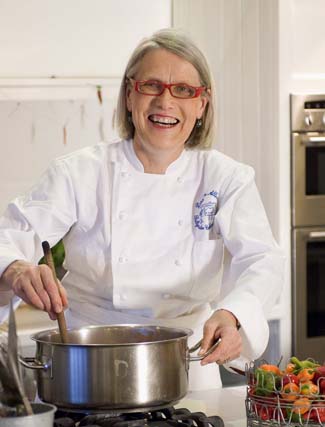 This month Darina Allen comments on the food trends that are sweeping the world
IT'S a hugely exciting time to be in food. Farmers are more optimistic about the future than they have been in years and a high percentage of start-up businesses are food related.
There's innovation at every level so it's fun to ponder on emerging food trends in different sectors. For dedicated food trend-spotters, it's always worth studying what's hot in the US and UK because much of that will be coming our way in the not-too-distant future.
In the US, according to Conagra Foods, 62% of consumers want to support companies that have ethical policies and donate to important social causes.
Customers are fast becoming more educated about supermarket practices and products, they want more sustainable packaging and less plastic wrapping.
On the other hand there is a definite small shop revival in many cities — a counter reaction to the super-convenient, increasingly impersonal shopping experience.
There is a growing realisation that the 24/7 snacking habit is here to stay. According to supermarket guru Phil Lempert there are lots of opportunities to capitalise on that by supplying 'better for you' and 'on the go' options.
Food waste continues to be an issue but using up leftovers and making the most of lesser known fish and cuts of meat has never been so trendy.
As allergies and food intolerances continue to rise 'Free From' foods gain more and more shelf space and create opportunities for food entrepreneurs.
Every year there seems to be a new super food, for 2013 it was kale — so what's coming up? Some predict the humble cauliflower and kohlrabi, I certainly saw lots of cardoons on fancy restaurant menus in the US last year.
Ancient beans and grains like freekeh, faro, teff and the humble pearl barley are definitely causing renewed excitement. We'll see even more adventurous use of spices, chilli and exotic flavourings in home kitchens, not just to jazz up increasingly bland ingredients, but for their health benefits — turmeric for example has antibacterial properties and is a powerful antioxidant.
Tea has been predicted to be the new coffee for quite some time now but it's been slow in coming. However things are hotting up: Starbucks has joined forces with Teavana in the US to open the first Tea Bar in New York.
Check out The Tea Shop on MacCurtain Street in Cork city which offers Ireland's biggest selection of loose leaf teas and the Palais des Thés on 31 Wicklow Street in Dublin.
The cronut, Dominique Ansel's cross between a croissant and a donut was the hottest food item in New York last year and they're still queuing around the corner of Spring Street.
Ramen shops popped up everywhere and now at last we have a Ramen restaurant in Cork on 21 Angelsea Street, (www.ramen.ie ; 021-4317116).
We're slurping noodles in every shape and form. They are hot and getting hotter. Check out Koya Udon noodle restaurant on 49 Frith Street in London.
Burgers continue to endure but the ones that are making waves are boasting higher fat and better provenance. Last year was the year of the innovative bun, lots of new twists and flavours and even brioche. The big success story in the fast food area in the US was Wendy's Bacon Cheeseburger on a Pretzel bun.
Our love affair with bacon continues but now for top chefs and cooks it's about house-cured bacon, hams, sausages and salami. Fermenting and pickling continues to excite both cooks and diners. Home smoking is a growing trend. Top restaurants are seeking out hand-made, traditional and cultured butter and cream.
Artisan and local foods are still very strong, sustainable fish and home-made, or as they say in the US, house-made ice cream, granitas and sorbets made with seasonal ingredients.
Vegetables are gradually edging their way to the centre stage. Vegan is becoming more main stream and we will see more veggie dishes in non-vegetarian restaurants. The Grain Store in London continues to cause a stir and we're noticing more salads as an art form.
Small plates, sharing dishes, and small plate desserts are huge hits with restaurant customers. Top chefs are growing their own on rooftops and balconies and more chefs own their own farms, and are employing foragers and incorporating seasonal wild foods into their menus. Supermarkets like Wholefoods in the US are putting vegetable gardens and tunnels on their roofs.
The interest in hand-made and craft items, farmhouse cheeses and artisan foods endures and there's a renewed interest in 'ethnic' cheeses, queso fresco, halloumi, paneer, heirloom varieties of tomatoes, speciality salt, urban honey, raw honey, leaves, banana, taro and kaffir lime leaves. At a recent meal that I enjoyed in Faviken in Sweden Magnus Nielson steamed potatoes in autumn leaves.
New ethnic flavours continue to excite, the sales of Sriracha, the Thai hot sauce are catching up on ketchup.
There's also huge excitement in the drinks area — craft brewers and micro-distillers are popping up everywhere. Chefs are making house-made lemonade, sodas, bitters and ratafias. Natural wines are exploding – orange wine is a cult. Cocktails, mocktails and liqueurs are ever more exciting and inventive and there's lots more but I've run out of space.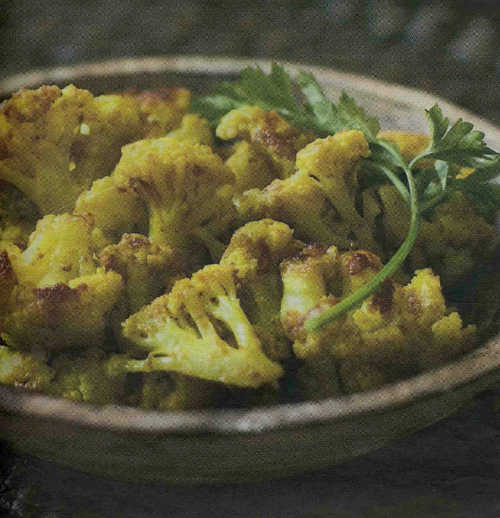 RECIPES: Rachel Allen's Roasted Cauliflower with Gremolata
Gremolata is an Italian condiment made from a mixture of garlic, parsley and lemon peel that is traditionally served with braised veal but is equally at home sprinkled over fish and provides a lovely tangy foil to roasted cauliflower, as here.
By roasting cauliflower the florets take on a charred crispness while the flesh remains soft and yielding.
Serves 4–6
2 cauliflowers, cut into florets
110ml (4fl oz) olive oil
Salt and freshly ground black pepper
For the Gremolata:
Finely grated zest of 2 lemons
2 cloves of garlic, peeled and crushed or finely grated
4 tbsp finely chopped parsley
2 tsp olive oil
Preheat the oven to 200C (400F), Gas mark 6.
Place the cauliflower florets in a large bowl and mix with the olive oil, then season with salt and pepper.
Place on a baking tray and roast in the oven for about 20 minutes, stirring halfway through the cooking time, until the cauliflower is tender and just browned at the edges.
While the cauliflower is roasting, make the gremolata by simply mixing all the ingredients together and seasoning with salt and pepper to taste.
When the cauliflower is cooked, lightly mix with the gremolata and serve.
Ottolenghi's Kohlrabi and White Cabbage Slaw with Lemon Zest, Tarragon, Dill and Sesame Seeds
Serves 4
1 kohlrabi bulb (300g/10½oz)
200g (7 ozs) white cabbage
30g (1¼oz) parsley, chopped
30g (1¼oz) dill, chopped
30g (1¼oz) tarragon, chopped
70g (2¾oz) dried cranberries
2 tsp grated fresh ginger
2 tbsp grated lemon zest
120ml (3¾fl ozs) lemon juice
2 tbsp maple syrup
60ml (2½ fl ozs) olive oil
2 tbsp sesame oil
4 tbsp toasted white sesame seeds
2 tbsp black sesame seeds
Salt and black pepper
Peel the kohlrabi, slice thinly and cut into matchsticks. Slice the cabbage as thinly as possible.
Place together in a mixing bowl all of the ingredient, mix well, taste and add salt and pepper accordingly.
Smoked Gubbeen and Pearl Barley Salad with Toasted Almonds, Apple and Pomegranate Seeds
Pearl Barley is inexpensive and fantastically nourishing — lots of protein, vitamins, and minerals — some varieties are also high in Lysine.
In tandem with other grains it's having a revival of interest in gastronomic circles. We also use it for pilaffs and to add to winter stews as casserole like our Grannys did!
Serves 4-8
6½oz (165g) pearl barley
1½ litres (2½ pints) water
1 tsp salt
2 dessert apples, Cox's orange or Gala, cored and diced
Freshly squeezed lemon juice of 1 lemon
Seeds from ½-1 pomegranate, depending on size
2½oz (65g) halved toasted almonds
Coarsely chopped diced smoked
Gubbeen cheese
Dressing:
125ml (4fl oz) extra virgin olive oil
3 tbsp Forum Chardonnay vinegar or cider vinegar
1 clove garlic, peeled and crushed
Sea salt and freshly ground pepper
Flat parsley leaves
Put the pearl barley and water into a saucepan and add salt. Bring to the boil and simmer gently for about 20 minutes.
Drain very well. Whisk the extra virgin olive oil and vinegar and crushed garlic together, season with salt and freshly ground pepper.
Toss while still warm. Spread out to cool.
Meanwhile, quarter and dice the apple. Squeeze a little lemon juice over the top, and add the pomegranate seeds, well toasted almonds and diced smoked Gubbeen cheese.
Add the remainder of the dressing. Toss gently and combine with the pearl barley. Taste and correct the seasoning.
Transfer to a serving dish and allow the flavours to meld for an hour or so.
Scatter with flat parsley leaves and serve.
'30 Years at Ballymaloe' - Bord Gáis Avonmore Cookbook of the Year 2013
Good Food Ireland Cookery School of the Year 2012/2013
Ballymaloe Literary Festival of Food and Wine from 16 - 18th May 2014

***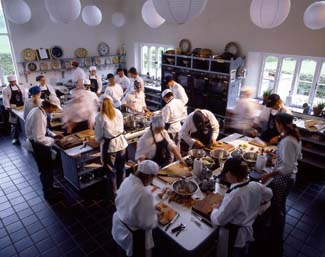 Once again, the Ballymaloe Cookery School in East Cork has a great programme of cookery courses for all interests and abilities running throughout 2014. Ranging from a relaxing visit to sit in on an afternoon cookery demonstration to a week long 'Intensive Introductory Course'.

Sitting in the middle of a 100 acre organic farm the Ballymaloe Cookery School provides its students not only with a life skill learnt under the expert tutelage of their very capable teachers but also a place to relax and unwind from the stresses and strains of normal everyday life. The cottage accommodation available onsite for residential courses consists of a collection of delightful converted outbuildings which have been transformed over the years by the Allens, and other accommodation is available locally for the short courses.

www.cookingisfun.ie
Apps and Books
iPhone App (Free)

Quickly and easily find all the very best places to eat, drink & stay across the island of I ...

more...

iCook with Neven

Join Neven Maguire in the kitchen with 60 of his favourite recipes - old & new - on his very ...

more...