Top Tips for Beer & Food Matching - Beer & BBQ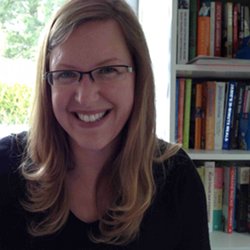 In the fifth of a series which shows how to get the best from some particular food and beer pairings, our expert columnist and food blogger KRISTIN JENSEN gives her tips on matching Beer and BBQ - a partnership that will repay some careful thought...
Ireland is hard to beat on a warm, sunny summer's day. If only we had more such days, I hear you sigh. We begin every June full of optimism that this year will be the one that makes up for all the washouts of the past few summers and that our weekends will be spent presiding over the barbecue instead of the hob, inviting friends or neighbours around for impromptu burgers and beers.
Barbecue and beer is an intuitive match. Hot weather, cold beer and flavourful food – it's a no-brainer. But precisely because barbecued food has so much flavour, so you want a beer that not only can stand up to the food, but enhance it too. This is where craft beer beats its bland big brand counterparts, hands down. Here are a few suggestions:
• Burgers: Pale ales and IPAs stand up well to the meaty intensity of a burger.
• Chicken: A red ale will complement the charred flavours of barbecued chicken.
• Pork: The caramelised malt in red ales is a good pairing for sweet, grilled pork, especially sausages. Or try a good, crisp, cold craft cider – apples and pork have a natural affinity for each other and cider is a favourite summer drink.
• Seafood: Lighter beers like a wheat beer, pilsner or blonde ale are good choices for more delicately flavoured seafood.
If you're slathering everything with the same barbecue sauce, which will probably be both sweet and acidic, then a crisp lager would be a good overall choice and is always a popular beer at barbecues. Steer clear of hoppy IPAs though – the flavours of the barbecue sauce and the beer will compete with each other instead of contrast or complement, which is what you're aiming for when matching beer and food.
Chef Rozanne Stevens has just written an entire book, Relish BBQ, dedicated to barbecue recipes that will tempt you no matter what the weather – look for it in all good bookshops or buy direct from Rozanne's website, www.rozannestevens.com. She has shared her black pudding burgers recipe from the book here, they match beautifully with an ale or even a stout.
But no matter what you're grilling or what kind of beer you're drinking with it, here's hoping for plenty of barbecue-worthy weather this year. Sláinte!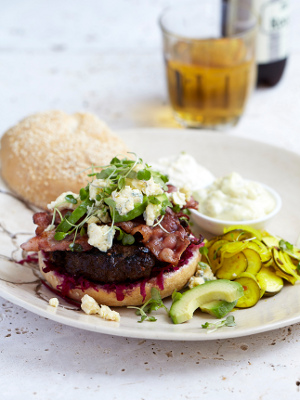 Black Pudding Burgers
Recipe and photo from Relish BBQ by Rozanne Stevens
Makes 4 burgers
The earthiness of the black pudding in these burgers means a stout or porter is a perfect complementary pairing, especially if the weather on the day of your barbecue is colder and rainier than you'd hoped for. To contrast flavours, try an ale, which cuts through the hearty meat.
500g steak mince
280g black pudding, crumbled
1 small red onion, finely diced
burger buns, to serve
Mix the mince, black pudding and diced onion together with clean, wet hands, but don't overhandle. Shape into 4 firm, round burger patties. Cover and chill in the fridge for 1 hour to firm up.
Cook under the grill, on a pan or ideally a BBQ. Cook evenly on both sides for 8–10 minutes, until cooked through. Serve in a lightly toasted bun with a topping of your choice.
Rozanne's favourite toppings for black pudding burgers:
• Bacon, avocado and blue cheese: Add crispy rashers, slices of ripe avocado and Cashel Blue cheese.
• Pickled cucumber: Thinly slice 1 large cucumber and place in a heatproof bowl. Put 125ml white wine vinegar, 1 clove of peeled garlic, 1 bay leaf, 2 tablespoons fresh chopped dill, 2 teaspoons sugar, 1 teaspoon salt and 1 teaspoon mustard seeds in a small pot and bring to the boil. Pour the pickling mixture over the cucumbers, allow to cool and serve.
• Pickled or roasted beetroot: Grate fresh, peeled, raw beetroot into a bowl. Cover generously with balsamic vinegar and season with salt and pepper. Add a few fresh rosemary sprigs and allow to 'pickle' for 20 minutes.
• Blue cheese mayonnaise: Mash together 1 clove of crushed garlic, 4 tablespoons mayonnaise, 1 tablespoon blue cheese and freshly ground black pepper.
• Horseradish crème fraîche: Mix 4 tablespoons crème fraîche with 1 clove of crushed garlic, 1 tablespoon horseradish sauce, a good squeeze of lemon juice and some salt and freshly ground black pepper.