Top Tips for Beer & Food Matching - Beer & Seafood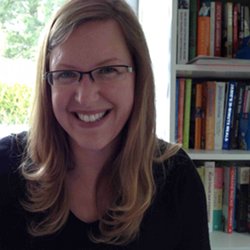 In the latest of a series which shows how to get the best from particular food and beer pairings, our expert columnist and food blogger KRISTIN JENSEN gives her tips on matching Beer and Seafood - a partnership that offers far more than the usual pairing of stout and shellfish
Seafood is the ultimate fast food – often taking only minutes to cook, which makes it the perfect choice for hot summer evenings when you don't want to turn on the oven or spend too much time in the kitchen – and a cold beer is a perfect partner for it.
There's more to seafood and beer pairings than just the classic oysters and stout. The key thing to remember when matching seafood and beer is that seafood tends to be less robust than other meaty dishes, so you need to pick a beer that won't overwhelm its lighter, more delicate flavours.
Good beer styles to match with a wide range of seafood are wheat beer (especially shellfish), blonde ale and pilsner. An IPA is a good match for smoked fish, spicy seafood dishes or deep-fried fish, where the hoppy bitterness helps to cut through the oiliness. And of course a stout is a classic match for oysters, but it also matches well with scallops, crab and lobster too.
I've included a recipe for one of my favourite recipes this summer, prawns pil pil, a zippy little dish that hits the spot as a light summer supper. If you want to serve an IPA with this spicy dish, try to choose one that isn't too hop forward, or it will overwhelm the flavours of the food.
One of my favourite beers to pair with this dish is Dungarvan Brewing Company's Helvick Gold Irish Blonde Ale. Or you might also like to try one of the newest Irish craft beers, Mountain Man Brewing Company's Green Bullet, an American-style pale ale.
But whatever you choose, remember that as with all beer and food matching, it's all about experimenting and having fun.
Sláinte!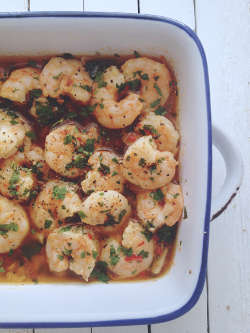 Prawns Pil Pil
Serves 2 as a light main course or 4 as a starter
You could also add a squeeze of fresh lemon juice at the end of the cooking time if you'd like a little acidic edge to the dish.
50g butter
100ml olive oil
3–4 large garlic cloves, sliced
1 red chilli, finely chopped
1/4 teaspoon smoked paprika
24 prawns or gambas, shelled and deveined (about 250g prepared weight)
handful of fresh flat-leaf parsley, finely chopped
salt and freshly ground black pepper
crusty bread, to serve
Place the butter and olive oil in a large frying pan, ideally one that's big enough to accommodate all the prawns later on. Add in the garlic, chilli and smoked paprika and gently melt the butter over a medium-low heat. Remove from the heat and set aside for 30 minutes to allow the flavours to infuse.
When you're ready to cook, return the pan to a medium heat. When the butter is sizzling, add the prawns to the pan in a single layer (you may need to do this in batches, depending on the size of your pan).
Cook the prawns for 2–3 minutes, then turn them over and cook for 1–2 minutes more, until the prawns have curled up and are just firm and cooked through.
Stir through the parsley and season with salt and pepper.
Serve with plenty of crusty bread to mop up the spicy, buttery sauce.
Kristin Jensen is a freelance editor specialising in cookery and food books and has worked with many of Ireland's top food writers and chefs. She writes the Edible Ireland blog and is a co-founder of the Irish Food Bloggers Association