Top Tips for Beer & Food Matching - Beer & Stews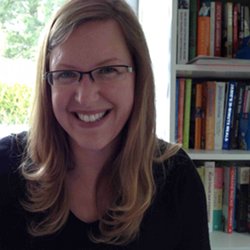 by Kristin Jensen
A warming bowl of stew, a chunky soup or chowder or a golden, steaming pot pie all beg for a beer to be served alongside them. And if they can be enjoyed together while sitting in front of a fire in the pub on a cold, rainy March day, then so much the better.
But beer is also fantastic when added directly to the dish itself, especially when you cook with a craft beer. The depth of flavour you find in an artisan beer goes right into the pot, adding that much more complexity to the food. In the same way that you should only cook with a wine you'd want to drink, use a top-quality craft beer to get the best results in a stew.
Beers like porters, stouts and ales lend themselves particularly well to hearty dishes, such as beef, chorizo and ale stew; beef, stout and blue cheese pot pies; or a sausage and bean hotpot with red ale. This is because the caramelised, roasted flavours of these darker beers pick up on the similar flavours in the roast meat. For something lighter, like a seafood chowder, try adding a bit of pilsner.
The most popular beer and stew combination is, of course, a beef and stout stew. Walk into any pub in the country that's serving food and there's a good chance they'll have it on the menu. It's a classic dish that features strongly at this time of year, when everyone's looking for something traditional and tasty to serve on St Patrick's Day. My version has a secret ingredient – some dried porcini mushrooms and their soaking liquid for an extra umami hit.
For an unbeatable version, make your next beef and stout stew with an Irish craft stout and be sure to buy an extra bottle to sip alongside. As the saying goes, there's both eating and drinking in it. Sláinte!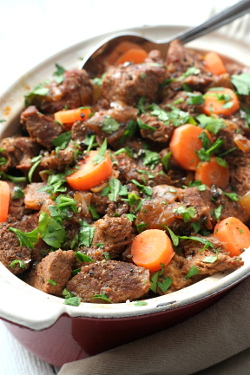 Classic Beef and Irish Stout Stew
Serves 4
To make this into a one-pot meal, add some whole baby potatoes right into the stew along with the stout, beef stock and herbs instead of serving with mashed potatoes. Like most stews, this one actually improves in flavour after a day, so the leftovers are even better.
Craft beers to try with this recipe are Dungarvan Black Rock Irish Stout, Eight Degrees Knockmealdown Porter, O'Hara's Leann Folláin Stout or Whitewater Brewery Belfast Black.
olive oil
1 kg stewing beef, cut into 1-inch pieces
25 g flour
salt and freshly ground black pepper
10 g dried porcini mushrooms
4 carrots, cut into thick slices
2 onions, roughly chopped
3 large garlic cloves, chopped
2 tablespoons tomato paste
1 tablespoon Worcestershire sauce
1 tablespoon dark soy sauce
1 tablespoon chopped fresh thyme
500 ml stout
500 to 750 ml beef stock
freshly ground black pepper
2 bay leaves
champ, colcannon or mashed potatoes, to serve
chopped fresh parsley, to garnish
Preheat the oven to 180°C.
Heat some olive oil over a medium heat in a Dutch oven or a large, heavy-bottomed pot. While the oil is heating up, pat the beef dry with paper towels and toss it in the flour seasoned with some salt and pepper, making sure all the pieces have a dusting of flour.
Tap off any excess flour, then brown the beef in batches in the pot for about 5 minutes per batch, turning occasionally. Don't crowd the pot, otherwise the beef will steam instead of brown, and don't be tempted to raise the heat too high or the flour will stick to the bottom of the pot too much. Transfer the browned beef to a plate and set aside.
While the beef is browning, put the dried mushrooms in a bowl and pour over 125 ml just-boiled water to rehydrate them. Set them aside to steep, since you'll be using the soaking liquid later on.
Once all the beef is browned, add the carrots and onions to the pot along with a pinch of salt to keep the onions from browning. Cook for 10 minutes, until the vegetables are softened.
Add the garlic and cook for 1 minute. Strain the mushrooms from their soaking liquid (save the liquid!) and finely chop them, then add them to the pot along with the tomato paste, Worcestershire sauce, soy sauce and thyme, stirring to coat all the vegetables. Cook for 1 minute more.
Add in a little of the stout to deglaze the pot, scraping up as much of the browned bits as you can. Add in the rest of the stout, the mushroom soaking liquid and 500 ml of the beef stock, then add the beef back to the pot along with any juices from the plate and a generous grinding of black pepper. Stir to combine everything, then drop in 2 bay leaves.
Cover the stew and bring it to a boil, then either transfer it to the oven and let it cook for 1 1/2 to 2 hours, or else reduce the heat to medium and simmer it, uncovered, on the stovetop. Either way, stir it from time to time and add in any or all of the remaining 250 ml of beef stock if you think it needs it. The stew is done when the beef is fork tender and the liquid has reduced and thickened a bit.
To serve, spoon off any fat that may have risen to the top of the stew and taste for seasoning. Spoon some champ, colcannon or mashed potatoes into individual shallow bowls or plates, making a well in the centre. Ladle the stew on top of the potatoes, garnish with the chopped parsley and serve.
Kristin Jensen is a freelance editor specialising in cookery and food books and has worked with many of Ireland's top food writers and chefs. She writes the Edible Ireland blog and is a co-founder of the Irish Food Bloggers Association