2013 Award Winners RESTAURANT OF THE YEAR 2013
The Greenhouse, Dublin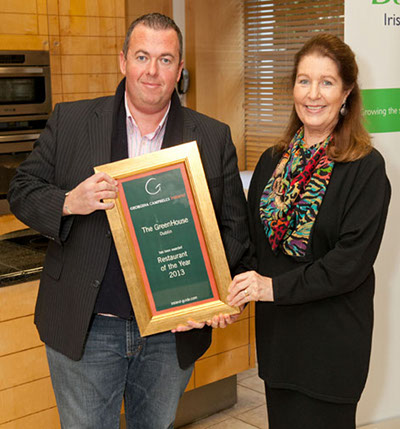 Smart-casual dining may be very on-trend, but fine dining is far from dead. This year's awards shortlist proves yet again that many of the country's most creative chefs are continuing to produce sublime classical food in the fine dining style – and our Restaurant of the Year is an exceptional example.
When a gifted European chef with a great Irish track record teams up with a savvy Dublin restaurateur to open a top end restaurant in the depths of recession, foodies' antennae go into over-drive. And with good reason, as the culinary fireworks in Dublin's newest fine dining restaurant seem almost too good to be true: 'Can it work?' has been the question everybody's been asking.
Well, yes actually, it can work extremely well, is the answer. Our gifted chef takes well-gambled risks but, while invariably exciting, the daring cooking is just one part of the jigsaw and it's set in a carefully crafted framework designed to make it succeed against the odds. The setting is both impressive and relaxing, the menu structure has been skilfully honed to maximise appeal and the front of house team works like a dream, with up-and-coming sommelière Lorraine Harmon, in particular, making a great contribution towards the enjoyment of a special meal here.
It's a great achievement, and hearty congratulations are due to Eamonn O'Reilly, Mickeal Viljanen and The GreenHouse team.
Sometimes things look good enough to eat, but in the case of The GreenHouse, the food almost looks too good to eat. Each dish is a visual thrill, with dramatic colours, delicate garnishes and quirky details that beg to be admired at length before they& ...
more...
---
Show me all 2013 Award Winners