2010 Award Winners RESTAURANT OF THE YEAR AWARD 2010
Campagne - Kilkenny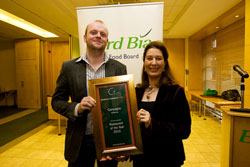 The capital's leading restaurants tend to hog the spotlight at awards and, while the size of the population means more top rank restaurants to choose from, excellence is no respecter of location. Former winners of our highest restaurant accolade have included exceptional out-of-town establishments like
The Tannery
, Dungarvan (2004),
Casino House
in West Cork (2005) and
MacNean House & Bistro
(2007).
When Garrett Byrne, former head chef at Dublin's celebrated
Chapter One
, returned home to Kilkenny and opened his own restaurant with his partner and restaurant manager, Brid Hannon, it was obvious that something exciting was about to happen in the Marble City.
And indeed it has. The restaurant itself – in a new build, tucked away beside the old arches of the disused Kilkenny/Portlaoise railway line – is testament to their confidence and good taste: no expense has been spared to ensure a quality setting for Garrett's cooking, but it's a bling-free zone, with low key yet atmospheric decor (dominated by a series of brilliant paintings depicting rural life, by Kilkenny artist Catherine Barron), and great attention to the comfort of diners.
Simply laid white-clothed tables and discreet service set the tone for an experience focused on Garrett's superb food. No fancy big plates, no extravagant flowers, nothing at all showy - just exceptional attention to detail (gorgeous sourdough bread, for example), well-judged flavour combinations and perfect French-inspired modern cooking.
Add anticipatory, charmingly informed service under Brid's direction, a wine list tailored to match the food, and a quiet air of confidence.
Result: result an exceptional dining experience, and worthy recipient of the title Restaurant of the Year.
Set in the corner of an attractively paved area beside the old arches of the disused Kilkenny/Portlaoise railway line (effectively back lit at night), a smart pea green canopy over matching green woodwork and half frosted full-length glass windows will ...
more...
---
Show me all 2010 Award Winners