2013 Award Winners SEAFOOD CHEF OF THE YEAR 2013 SPONSORED BY BIM
Billy Whitty, Aldridge Lodge, Duncannon, Co Wexford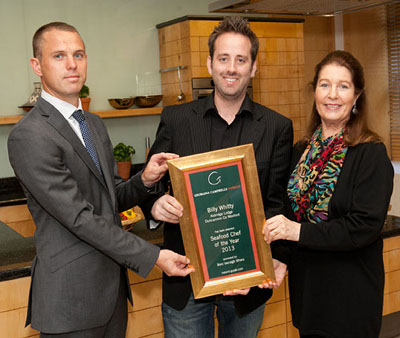 Great seafood cookery takes a special expertise - and a growing number of talented Irish chefs are happy to take up the challenge.
Aldridge Lodge was our Newcomer of the Year in 2006 and we clearly chose well, Billy Whitty and his partner Joanne Harding have since earned such a well-deserved reputation for their excellent food and warm hospitality that many fans make a point of heading here when visiting the South-East - and, given the location overlooking the picturesque fishing village of Duncannon, they often have a seafood dinner on their minds.
Fish comes from nearby Kilmore Quay and Dunmore East, where a wide variety of catches is landed all year, and Billy's father Tommy brings crab and lobster up from Duncannon harbour in season. Billy, who is a Euro-Toques chef, is exceptionally expert with seafood; his timing is perfect and his ability to combine flavours and textures is a constant source of delight – and it's highly unlikely that you would need to adjust the seasoning of any dish.
He's also renowned for offering great value - even lobster, when available, is offered on the dinner menu with no supplement charged - a real treat when grilled and served with confit garlic & lemon butter... Deelish.
Overlooking the picturesque fishing village of Duncannon, Aldridge Lodge is a modern stone-fronted dormer house with lovely views of the beach and mountains. It was our Newcomer of the Year in 2006 and, since then, Euro-Toques chef Billy Whitty and his ...
more...
---
Show me all 2013 Award Winners