Kerry Lamb Pie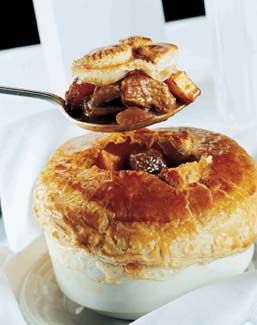 The meats of any area are very much a product of the environment, and traditional Kerry black-faced mountain lamb reflects the rugged conditions and natural production methods of the area. It is a seasonal treat – the prized meat of these hardy, lean animals has the special flavours of the heather, wild herbs and grasses they feed on and is available late season (July-November approx).

Another particular speciality is the Blasket Island lamb. The product of the salt-sprayed heathery pastures of this small group of uninhabited, but much-visited, islands 3km/1.5m off Dingle peninsula (www.blasketislands.ie), the meat is comparable to the famous pré-salé (salt marsh) lamb of Normandy and Brittany, with yet an extra 'je-ne-sais-quoi'; supplies are very limited, so catch it if you can when in the area.

This very modern take on the traditional Kerry pie is light years away from the original that inspired it, but very tasty nonetheless - and it was chosen to be included in Ireland for Food Lovers because it is true to the spirit of the original dish while having contemporary appeal. It is adapted from the cookbook Roly's Bistro, The Restaurant and Its Food (Gill & Macmillan), and has been a favourite dish at the perennially popular Dublin restaurant for many years.

Kerry lamb pies – or, more particularly, Dingle Pies – were modest little mutton pies, not unlike Cornish pasties; the shortcrust pastry was made with mutton fat and the pies were often boiled in mutton stock, rather like dumplings.

Today's modern versions are lighter (and probably more palatable); Piog Pies, of Dingle, include a Kerry lamb & vegetable pie in their handmade range.

The filling for these pies could be made ahead and cooled, leaving only the pastry and oven baking to finish before serving.

Serves 4

10 button mushrooms
2 onions
2 carrots
4 sticks celery
750 g / 1 lb 9oz diced leg of lamb
1 dessertspoon tomato purée
700 ml / 11/4pt good chicken stock
1 teaspoon gravy browning
200 ml / 7 fl oz white wine
bouquet garni
4 saucer-sized discs of puff pastry, to cover four oven-proof soup bowls
15g / 1/2 oz butter
1 large or two small parsnips, diced and roasted in butter
1 egg, beaten
Salt and freshly ground black pepper

Cut the mushrooms in half and sauté in a little oil for about 10 minutes. Prepare the vegetables and chop into chunky pieces.

Seal the lamb in a hot saucepan with a little oil, and then season with salt and pepper and cook gently for 4-5 minutes. Add the onion, carrot and celery and cook with the lamb for a further 5 minutes.

Add tomato purée and cook for a further 2-3 minutes, then pour in the chicken stock, gravy browning and white wine. Bring to the boil and simmer gently for about an hour until tender.

Towards the end of the cooking time, add the bouquet garni and the cooked button mushrooms.

Pre-heat the oven to 200ºC/400ºF/Gas 6.

Roll out the pastry discs, making them slightly bigger than serving bowl. Pan-fry the parsnips in some butter until tender. Ladle the lamb pie filling into the bowls, top with parsnips and cover with the pastry.

Brush with beaten egg and bake for 20 minutes, until the pastry is golden brown. Serve immediately, with seasonal vegetables on the side.