Irish Country House Cooking - The Blue Book Recipe Collection (Hardback)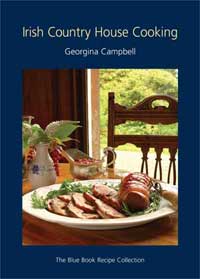 LATEST 5th EDITION

Press Quotes - Georgina Campbell - Irish Country House Cooking
• "Irish culinary icon Georgina Campbell has released the cr?me de la cr?me…this is the ultimate Irish coffee table book, chock full of enticing recipes and inspiring destinations" Book of the Month, Food & Wine Magazine
• "For those of you in search of the true taste of Ireland – here it is" Aer Lingus Cara Magazine

• "Absolute magic for foodies who love to browse as well as cook" Irish Examiner

• "A fascinating book…celebrates the natural riches of Irish land and sea…recipes are surprisingly simple and family orientated…" Irish Examiner
About the book:
From the homely to the very grand, these delicious dishes celebrate the diversity of Irish country houses, castles and a number of top restaurants, with recipes clearly explained for the home cook to recreate with confidence.
Best loved recipes from over 40 Irish country houses, castles, country hotels and restaurants. The recipes celebrate the natural riches of Irish land and sea; local seafood, freshwater fish, game, fruit, vegetables, herbs and farmhouse cheeses are all featured, often from their own gardens, farms and rivers.
This new edition now includes a selection of recipes from three top Dublin restaurants, bringing a fresh cutting edge dimension to the cookery style.
Dishes are typical of each house or restaurant, demonstrating great variety in style, and clearly described for home cooks to make with confidence.
Original photography by acclaimed photographer Rai Uhlemann.
Establishments featured are members of Ireland's premier association of country houses, the Irish Country Houses and Restaurants Association (known as "Ireland's Blue Book"), which is committed to the highest standards of accommodation, food and hospitality. Ireland's Blue Book is a member of the European Federation of Historic Houses.
Key Features:

* The 5th edition of this popular cookery book features a collection of best-loved recipes from over forty historic Irish country houses, special hotels and restaurants throughout Ireland, with many new recipes and photographs since the 2005 edition.

* Establishments featured are members of the premier association of country houses, The Irish Country Houses and Restaurants Association ('Ireland's Blue Book'), which is committed to the highest standards of accommodation, food and hospitality. The Blue Book is a member of the European Federation of Historic Houses

* In most cases recipes celebrate the natural riches of Irish land and sea that surround the country houses: local seafood, freshwater fish, game, fruit, vegetables, herbs and farmhouse cheeses are all featured, often from their own gardens, farms and rivers

* New to this edition: as well as 'new' country houses such as Kilgraney House, Co Carlow and Newforge House, Co Armagh, the book now features a number of prestigious hotels around Ireland including Cashel Palace, Co Tipperary; Glenlo Abbey & St. Cleran's Manor in Co Galway; Hayfield Manor in Cork City; the Merchant Hotel in Belfast; and The Merrion Hotel, Dublin. Three top Dublin restaurants – L'Ecrivain, Restaurant Patrick Guilbaud and Chapter One – bring a cutting edge dimension to the cookery, in contrast to the more traditional country house fare ('country classics - city chic')

* Recipes selected are typical of each house and vary greatly in style, yet all are clearly described for home cooks to make with confidence

* Original photography, of the houses and their food, is by the acclaimed photographer Rai Uhlemann,

* High quality production
€25.00 (ex. VAT) * (free p&p in Ireland)