Meals for All Seasons - The Best of Contemporary Irish Cooking (out of print, Hardback)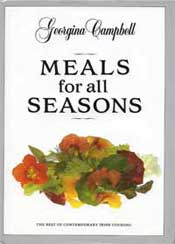 This vintage cookbook is out of print and only available here. Georgina Campbell's outstanding and comprehensive cookbook published in 1992 contains recipes and dishes for year-round use and quality contemporary cooking.

As well as starters, side-dishes, main courses and desserts; it includes baking and preserving, 'basics' and 'sauces' sections, seasonal fresh produce listings, sensible and clear instructions on preparation and cooking and imaginative ideas on serving.

In fact, everything the cook needs for all-season cooking.

Meals for all Seasons is a comprehensive cookbook with over 500 recipes and dishes to select from for year-round use.

One of Ireland's most popular writers on food and cooking now and in 1992 when this book was published. Meals for All Seasons is a cookbook that gives lie to today's popular notion of different foods being good or bad for you. In this book all food is shown to have the potential of being good food.

For Campbell 'variety is the spice of life' and variety is at the very heart of her year round recipes; the wonderful variety of our seasonal produce, fresh, vibrant and healthy; variety of menu; variety of approach to each dish and its ingredients, preparation and presentation.

This quality general cookbook covers baking and preserving as well as presenting a comprehensive collection of recipes for the cooking seasons - Spring, Summer, Autumn, Christmas and Winter. There is a valuable 'basics' section and a 'sauces' chapter, an intriguing miscellany of useful information, listings of seasonal produce, and menu suggestions.

Writing in a commonsense way, Georgina Campbell also manages to demystify a good deal of the cooking process and yet includes little-known facts such as what to leave out of stock and guidelines on how flavours and textures complement each other.

There is a refreshing and sensible emphasis on balance and economy throughout.

Hardback, Published 1992, out of print and only available here.
€40.00 (ex. VAT) * (free p&p in Ireland)