FOOD LOVERS - TEN OF THE BEST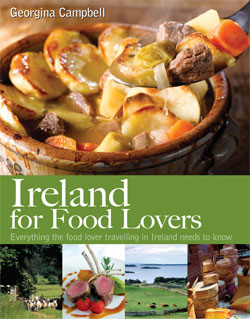 Ireland for Food Lovers is divided into seven tourist regions and lists just 20 special places to eat and stay in each one – except the South-West, which is so important in both tourism and food terms that Cork and Kerry are given extra coverage, with each counting as a sub-region.
The Eat & Stay recommendations are selected for their dedication to showcasing the very best of local produce, and also chosen to represent the range of styles and price ranges offered in the hospitality of each region, so you may expect a choice ranging from restaurants, pubs and cafes to grand hotels, country houses, guesthouses, B&Bs and farmhouse accommodation.
The selections in the book aim for a balance - geographical, price and style – and there are many more equally desirable destinations to be found on Ireland-guide.com.
The following establishments are great places to stay and especially known for their delicious home produced and local food.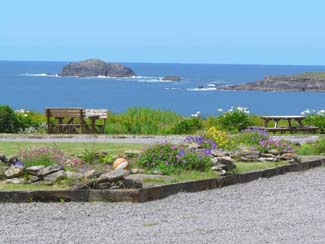 SOUTH-WEST/CO KERRY: Gormans Clifftop House & Restaurant
Glaise Bheag Ballydavid Dingle Peninsula Co Kerry

Sile and Vincent Gorman's house is beautifully situated on the Slea Head scenic drive and Dingle Way walking route. Commanding superb sea views from the restaurant (sunsets can be spectacular), warm Dingle Bay prawn salad, potato cake & Annascaul black pudding, local fish and the ever-popular sirloin steak (Irish Hereford beef) taste even better in this setting, with salad and summer vegetables from their own organic garden.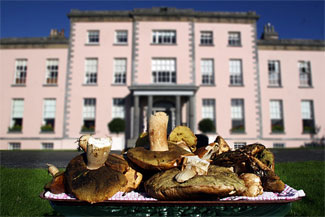 SOUTH-WEST/CO CORK: Longueville House
Mallow Co Cork

Overlooking the River Blackwater, the location of the O'Callaghan family's estate is truly lovely. Home- and locally-produced food is at the heart of all of owner William O'Callaghan's cooking, including an artisan product range made for sale. The river, farm and garden supply fresh salmon in season, the famous Longueville lamb, all the fruit and vegetables; in autumn, mushroom hunts yield an abundance of fungi. Extensive orchards produce abundant supplies of apple juice, which they serve fresh to guests and also use to make the delicious Longueville House Cider - and even their own apple brandy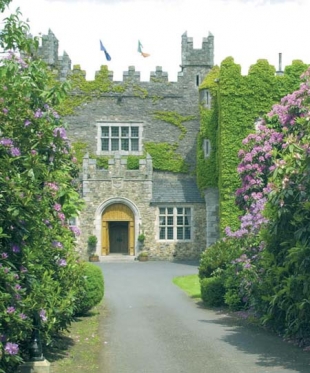 SOUTH-EAST: Waterford Castle Hotel & Golf Resort
The Island Ballinakill Waterford

Idyllically situated on its own wooded island (complete with 18-hole golf course) and reached by a private ferry, this atmospheric hotel dates back to the 15th century and meals are served in an impressive, richly panelled dining room. Menus are not long but outstanding food is intelligently sourced and spankingly fresh and local, displaying chef Michael Quinn's Euro-Toques and Slow Food background. Each concisely-worded dish tells the story of its origins: O'Flynn's beef tongue and cheek salad; seared Kilmore Quay scallops; tian of Mrs Bate's crab; Paul Crotty's organic chicken breast; local cheeses, including Knockalara Sheep's and Crozier Blue. Magic.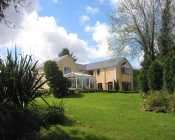 SOUTH-EAST Hanoras Cottage
Nire Valley Co Waterford

The Wall family's gloriously remote guesthouse and restaurant is a very special place, offering country air, comfort, genuine hospitality and great food - notably their legendary breakfast buffet, a gargantuan feast designed to see you many miles along the hills before you stop for a little packed lunch (prepared that morning), and ultimately return for dinner... Keen supporters of small suppliers, Euro-Toques chefs Eoin and Judith Wall offer imaginative menus using local produce - fresh fish from Dunmore East, free-range chickens from Stradbally and local cheeses, for example. [Closed Christmas, but open for walking breaks over New Year]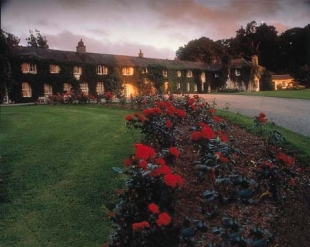 EAST: Rathsallagh House
Dunlavin Co Wicklow

Breakfast could well be the most important meal at the O'Flynn family's gorgeous, rambling country house as they've won a superfluity of awards for a magnificent Edwardian breakfast buffet offering every conceivable good thing, including reminders of yesteryear like smoked salmon kedgeree, and devilled kidneys in silver chafing dishes. But brilliant as breakfasts are, dinner is the main meal and a real treat it is too, with interesting daily-changing menus based on local and seasonal produce, much of it from Rathsallagh's own farm and their beautiful walled gardens – which garden lovers will adore.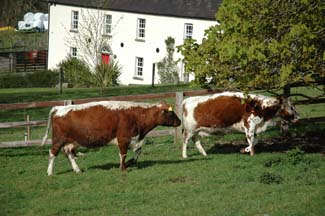 MIDLANDS Lough Bishop House
Derrynagarra Collinstown Co Westmeath

In a beautifully scenic area awash with lakes, gentle hills and rich farmland, Helen and Christopher Kelly's organic farm comes complete with Irish Draught horses, and offers a warm welcome in a genuine Irish family home - with excellent home-cooked food, showcasing the fine foods the area has to offer. Breakfast includes delicious home baked bread, fresh fruit and apple juice from the orchard and, if dining in, it's one of very few places in Ireland where you'll get a chance to eat purebred traditional Irish Moiled beef as well as home produced lamb, free range eggs and fruit. Lough Bishop House is a former winner of our Farmhouse of the Year award, and they also scooped the Farmhouse category in our Irish Breakfast Awards.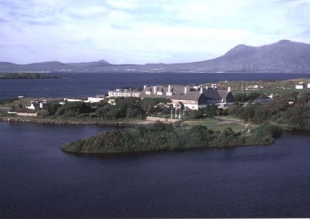 WEST: Renvyle House Hotel
Renvyle Co Galway
Remote and romantic, the Lutyens-esque house at the heart of this unusual hotel has a fascinating history. Snuggling down for shelter amidst the magnificently rugged scenery, it feels cosy with its dark beams and rug strewn floors – and a snug conservatory where guests can contemplate healthy outdoor activities while enjoying the scent of a turf fire and a comfortable armchair. All this, plus head chef Tim O'Sullivan's excellent food, can be magic. Menus (in both bar and restaurant) feature Connemara produce, including Renvyle rack of lamb, local lobster and vegetables in season.... And it's all in Tim's cookery book, too. [Closed 1-21 Dec & 7 Jan - 8 Feb]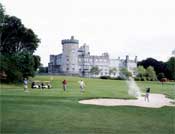 WEST : Dromoland Castle
Newmarket-on-Fergus Co Clare

The ancestral home of the O'Briens, this is an enchanting place, where wide corridors lined with oak panelling are hung with ancient portraits and scented with wood smoke, and it has all the crystal chandeliers and massive antiques to be expected in a real Irish castle. Dining here is always a treat. Executive Head Chef David McCann's offering is predictably glamorous, with both wine list and service a match for the food. Although the style is basically classic French, the sourcing of ingredients is immaculate and some dishes highlight local ingredients and are more Irish in tone. The Fig Tree Restaurant at Dromoland Golf & Country Club is also excellent.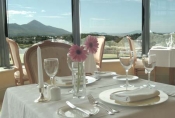 NORTH-WEST: Knockranny House Hotel & Spa
Knockranny, Westport, Co Mayo

This spacious and well-appointed privately owned hotel has earned a reputation for genuine hospitality – and outstanding food, served in a restaurant blessed with views over handsome Westport town towards Croagh Patrick. Acclaimed head chef, Seamus Commons – a local man, returned to delight visitors with his sophisticated yet playful cooking - takes local ingredients (lobster, Clew Bay prawns, sweet Mayo lamb, samphire, oyster cress…) and classic French technique as his starting point and develops its own individualism, taking a particular delight in contrasts of flavour, texture and colour. An 8-course Tasting Menu sees this gifted chef at his best. [Open all year except Christmas.]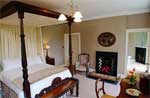 NORTH: Newforge House
Newforge Road Magheralin Craigavon Co Armagh BT67 0QL

Although less than half an hour's drive from Belfast, John and Louise Mathers' lovely Georgian country house feels like worlds away, in a wonderful setting of mature trees, gardens and green fields on the edge of the quiet village of Magheralin. Built around 1785, and in the Mathers family for six generations, the property is substantial – and elegantly restored for guests. John is the chef, and he takes pride in presenting meals based mostly on home grown or local and organic produce – and his style of refined simplicity sits well in the fine dining room. [Closed Christmas - early Jan]