A Taste of Mayo's Gourmet Greenway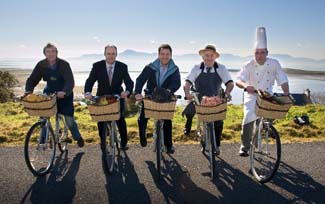 As Lucy Madden mentions in this month's Insider View, the magnificent Great Western Greenway in Co Mayo opened in 2010.

The longest off-road walking and cycling trail in Ireland, it meanders 17.5km along the line of the famous Newport/Mulranny Railway, which closed in 1937. Its route runs from the back of Mulranny Park Hotel (formerly the railway hotel) to Newport, and it's a wonderful outdoor experience.

Mulranny Park Hotel and several food producers in the Mulranny/Newport/Achill area have devised a food trail, the "Gourmet Greenway", to showcase the wonderful artisan food producers located near to and along the route of the Great Western Greenway.

To launch this wonderful intiative, The Mulranny Park Hotel recently hosted a showcase 'Meet the Producers' dinner, with Head Chef, Ollie O'Regan, featuring the food of these producers, who also attended the dinner.

These enterprising food producers - who are amongst the best in Ireland - are Jerry Hasset (Keem Bay Fish Products), Sean Kelly (of the renowned Kelly's Butchers in Newport), Michael Flanagan (Achill Island Turbot, Ireland's only turbot farm), Andrew Pelham Burn (Carrowholly Cheese, Westport), Tom Dougherty (Curran Blue Trout Farm in Mulranny, Ireland's only organically sea farmed trout) and Padraig Gannon (Croagh Patrick Seafoods, Newport).

The restoration of this former railway hotel in 2005 and the recreation of the disused Great Western Railway line into the Greenway is a great example of the regeneration of local heritage. Under the Gourmet Greenway banner, local producers will now use the Greenway as a catalyst for wider local regeneration, notably the promotion of local businesses and the provenance of the excellent local foods, and to encourage more visitors to a non-traditional destination.

Visits to each producer can be arranged with prior notice and a pocket-sized Gourmet Greenway guide featuring a map, information and contact details for each producer – including GPS coordinates – is available through various tourism offices, at the premises of each Gourmet Greenway producer and at Mulranny Park Hotel. A pdf version is also available on www.mulrannyparkhotel.ie. This handy guide will encourage visitors to visit, sample and purchase the fare of the local food producers and build this gastro experience into their planned outdoor activities in an area of unrivalled beauty.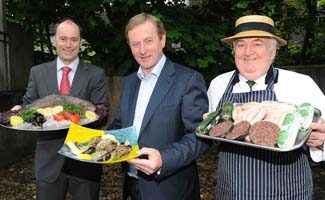 Taoiseach, Enda Kenny, welcomed the launch of the Gourmet Greenway food trail in his home county, commenting, "I strongly welcome the Trojan efforts of the Gourmet Greenway Food Trail initiative currently underway in County Mayo. This is just one of the many benefits arising from the creation of the Greenway on the former railway and how it may be used to increase tourism as well as providing a boost to local businesses."


RECIPES:

A trio of fish dishes, reflecting the strong emphasis on local seafood on the Great Western 'Gourmet Greenway' trail, and the area in general.

Wild salmon with sorrel sauce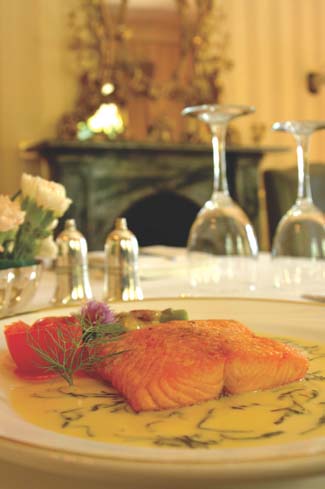 Food lovers planning to take in a visit to the riverside town of Newport when exploring the "Gourmet Greenway" food trail would enjoy dinner - and perhaps an overnight stay - at the beautiful Newport House, which is acclaimed for its fishing, genuine hospitality and excellent simple cooking by long serving chef John Gavin.

He has created a distinctive cuisine based on fresh produce from their own fishery, garden and farm; fruit, vegetables and herbs come from a walled kitchen garden that has been worked since 1720, and fresh fish in the restaurant includes their own wild salmon and also a wide variety of sea fish from Achill Island. Home smoked salmon is a speciality.

This lovely Newport House dish comes from Irish Country House Cooking (Epicure Press, €25); it brings together a classic combination of ingredients that are in season together in the Irish countryside and rivers.

Serves 4

Click for recipe


Turbot or Brill in Tarragon and Soured Cream Sauce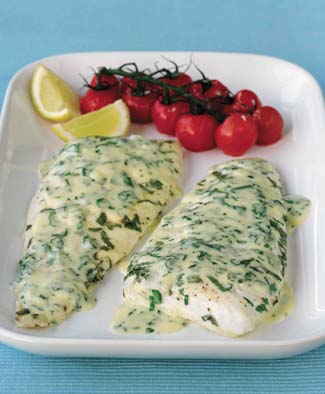 Turbot and brill are interchangeable for cooking purposes and both are extremely good fish; turbot is now available farmed by Achill Island Turbot (details from Ireland For Food Lovers, Epicure Press, and www.achillislandturbot.ie).

As with all flat fish, choose larger fish if possible, so that you get nice chunky fillets. It is quite difficult to distinguish a large brill from turbot but running your finger over the skin will soon tell you which is which, as turbot have little lumps on their skin.

This attractive dish from the award-winning book From Tide To Table (Epicure Press, out of print) is simple, light and summery.

Click for recipe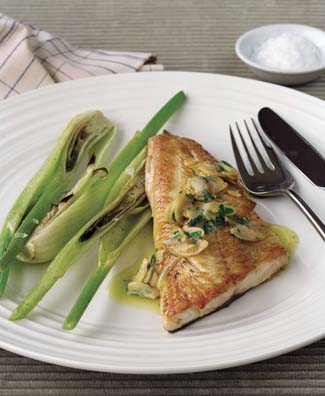 Trout, Salmon or Charr with Lemon Butter and Flaked Almonds

This simple, classic dish from From Tide To Table (Epicure press, out of print) is good with flat fish and any of the salmon family - salmon, trout (sea or river trout) or arctic charr.

SERVES 4

Click for recipe