An Irish Chef in France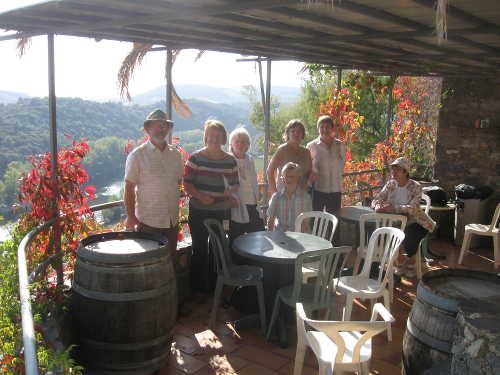 Euro-Toques chef Martin Dwyer, is much missed in Ireland since he and his wife Sile sold their eponymous restaurant in Waterford and moved to France. They now live in the Languedoc, where they take guests - and feed them very well.

This month Martin whets our appetite for a visit to the Languedoc with an introduction to their strolling breaks, "A Taste of Languedoc Nature".
My wife Sile's family have always been much more aware of nature than I ever was. One of my first memories of when I was first in their house, over 40 years ago now, was her mother remarking that the wind had changed.
All her family inherited this remarkable affinity with nature but none more than her younger brother Colm. Colm is a qualified horticulturist but also passionate about animal life and contributes to learned magazines papers on such esoteric topics as the habits of dragon flies and solitary wasps.
Going for a walk in the country with Colm was always part stroll and part lesson on natural history, every short while he would pause to listen to some birdsong which he would then identify, or for him to find a plant on the way (which I would certainly have trodden on) and tell us it was rare trefoil or orchid.
One of the constant surprises for us of living in the Languedoc is the great richness of the plants and flowers here. Plants that are cultivated, nurtured and treasured in sheltered gardens and hot houses in Ireland here grow happily, untended in the wild.
At the moment the countryside is awash with great frothy trees full of almond blossom, very soon any tilled earth will be scarlet with poppies. There are wonderful carpets of sweetly scented white flowers (which I need Colm to identify) which have sprung up overnight between the vines and soon the hills to the north of us will be covered with cherry blossom which, unlike the Irish varieties, will actually produce harvests of cherries in May and June . (there is a particular yellow variety called Napoleons which have higher acidity than the reds and make a wonderful jam)
It must have been about three years ago that I got the idea of Colm running short nature appreciation courses out here in the Languedoc. It is a very simple formula, he takes the group off for their stroll in nature every morning, here we are blessed with a great variety of habitats living as we do between the high hills of the North Languedoc which form the beginning of the Massive Central and the Mediterranean which is about fifteen minutes to the south.
Colm's courses, we call them "A Taste of Languedoc Nature" are very much more strolls than hikes and have proved remarkably popular, so much so that people keep coming back to repeat them and this year we are running four of these courses, two in May, which is the best time for the beautiful wild flowers of the Midi to be in bloom and another two in Autumn when the fruits and nuts of the hedgerows are ripe.
These strolling holidays are not of course all devoted to the appreciation of nature, as our strollers come home each evening and enjoy a dinner of the produce of the area, fish from the Mediterranean and mountain lamb from the Aveyron, the excellent wines of the Languedoc and even occasionally some Samphire from the shores of the Med or some Pomegranates from the hedgerows.
All the information on these courses and on some occasional cookery ones which I run myself are on our website: www.lepresbytere.net

-------------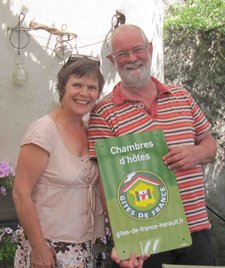 Martin Dwyer started cooking professionally over 40 years ago in the legendary "Snaffles Restaurant" in Dublin. After a time in a Relais Chateau in Anjou and in "The Wife of Bath" in Kent he opened his own much acclaimed restaurant, "Dwyers", in Waterford in 1989. In 2004 he sold this and moved south to France where he and his wife Síle bought and restored an old presbytery in a village in the Languedoc. They now run Le Presbytère as a French style Chambre d'Hôte. Martin however is far too passionate about food to give up cooking so they now enjoy serving dinner to their customers on the terrace of Le Presbytère on warm summer evenings. Martin runs occasional cookery courses in Le Presbytère and Síle's brother Colm does week long Nature Strolls discovering the Flora and Fauna of the Languedoc.

Le Presbytère can be seen at: www.lepresbytere.net;
email: martin@lepresbytere.net