An Irish Chef in France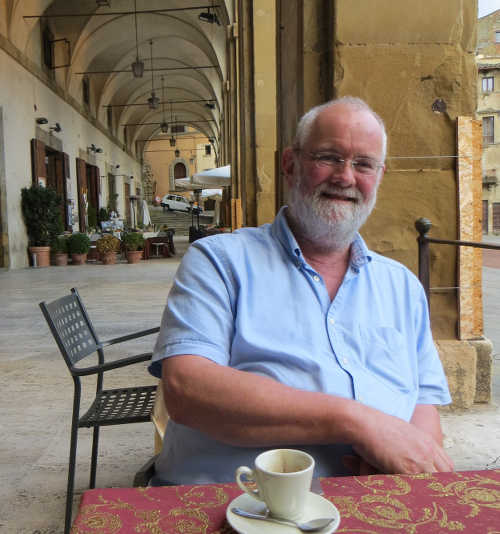 Euro-Toques chef Martin Dwyer, is much missed in Ireland since he and his wife Sile sold their eponymous restaurant in Waterford and moved to France. They now live in the Languedoc, where they take guests - and feed them very well.

This month Martin finds amusement in on the way things in another country can sometimes get lost in translation.
The most difficult thing of moving to a new country in one's sixties is, without doubt, learning the new language.
I had a lot of help when I made my move to France a few years ago. For one thing I had always had a great love for all things French, the songs, the literature and of course the food. Sile and I had worked in France in a Relais de Campagne in the seventies so I had a fairly good smattering of kitchen French (most of it not repeatable in polite society) but the most important card I held was having the good fortune to be accompanied by a wife fluent in the language.
Sile had learned French at the proper age, in her early teens, and had gone several times to France as an exchange school student and as an au pair and had later done a degree in French in UCD (while I was wasting my time studying English and History.) This was also a disadvantage, having a fluent wife who could sort out major problems has made me lazy about picking it up.
This, of course, has not stopped me managing to make quite a few howlers. I remember my amazement when I asked at the box office when the next shuttle bus was due the man behind the glass laughed so hard that he handed me on to his colleague who also dissolved into giggles when I made my request. It turned out that I had asked them when the next turnip was due, navet being the French for turnip which I had requested instead of a navette, a shuttle.
It worked outside France too, not having the most mechanical of minds I brought the car to a garage in France when, one holiday, it was difficult to start in the morning. They told me that my automatic choke (starter automatique) was sticking and showed me where to kick it to get it unstuck. Back in Ireland I explained to my own garage in Waterford that my automatic starter was they problem. That left him bewildered.
Mind you the French themselves don't always get things quite right. I was in Brussels at a Euro-Toques food conference a few years ago in the European Parliament (not the main chamber, a little one in the same building). The conference was principally in French but we were being given spontaneous translation by a group of three translators in a glass booth.
At one stage I heard an English speaking delegate say that "We must always insist that our vegetables are served in season." The translation, in French (to which I was listening as an exercise to relieve boredom) said that " Nos légumes doivent toujours être bien assaisonneé" which means that our vegetables should be always well seasoned with salt and pepper. (Then that same translator probably went down stairs to the main chamber and started an international crisis.)
The French also have quite a few English words which they get a little wrong, they translate a dinner jacket as Le Smoking, a savoury soda bread as Le Cake and a large wardrobe as Le Dressing.
We on the other hand frequently use "French" words which are not used the same way here. A street without continuation is an "Impasse" never a "Cul de Sac" and a "Gateau" refers usually to a plain cake or biscuit.
Sometimes one can actually see two mis-translations working together in tandem. On the Ferry Boats which shuttle across the Channel the cheaper of the two restaurants on board is called (in French) "Le Self Service", and in English "The Buffet".
There is however one aspect of Irish life which translates exactly in France ; they love to take the mick. This was brought home to me recently when I returned to my car in the supermarket carpark only to find an identical Renault Megane parked next to it. While I looked at both (trying to decide which was mine) an earnest Frenchman of my age ran up proffering keys. "Why don't you take mine and I take yours," he said. "Then we can also swap houses and even wives." At the look of profound disbelief on my face he just cracked up laughing. I had to join him - he was, I suddenly realised, just taking the mick.
-------------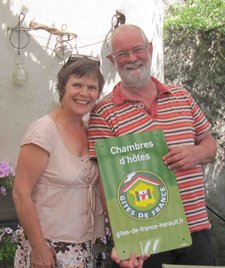 Martin Dwyer started cooking professionally over 40 years ago in the legendary "Snaffles Restaurant" in Dublin. After a time in a Relais Chateau in Anjou and in "The Wife of Bath" in Kent he opened his own much acclaimed restaurant, "Dwyers", in Waterford in 1989. In 2004 he sold this and moved south to France where he and his wife Síle bought and restored an old presbytery in a village in the Languedoc. They now run Le Presbytère as a French style Chambre d'Hôte. Martin however is far too passionate about food to give up cooking so they now enjoy serving dinner to their customers on the terrace of Le Presbytère on warm summer evenings. Martin runs occasional cookery courses in Le Presbytère and Síle's brother Colm does week long Nature Strolls discovering the Flora and Fauna of the Languedoc.

Le Presbytère can be seen at: www.lepresbytere.net;
email: martin@lepresbytere.net