An Irish Chef in France
Euro-Toques chef Martin Dwyer, is much missed in Ireland since he and his wife Sile sold their eponymous restaurant in Waterford and moved to France. They now live in the Languedoc, where they take guests - and feed them very well.
"Here is a piece for August about a very simple restaurant we ate in in the Aveyron. Common in France thirty years ago these experiences are quite rare now. The images show the progression of the very simple but delicious apricot tart."
I have been making Tarte Aux Abricots in various ways over many years. I have made them with Frangipane Crème, with Almonds, with Crème Patisserie. I have made them with cooked apricots with bottled ones and with tinned. Most were delicious.
Last week when we were coming back from a brief holiday in the Aveyron over the mountains we happened to get the 12.00 hungers (our appetites have now adapted to the strict French timetable of eating) near the small village of Pleasance.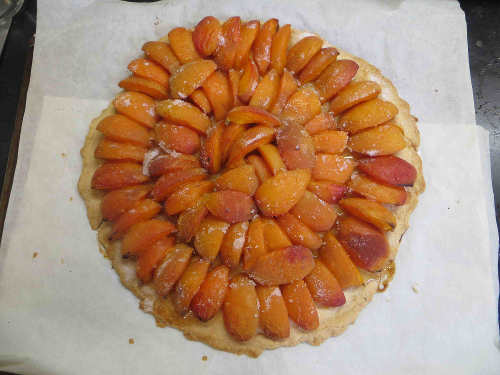 There was a café there which seemed to be doing terrific business judging from the cars parked outside the door, and indeed inside it was very full but Madame managed to find us a free table.
She told us they had no menu - we could just eat the Menu de Jour, basically what everyone else was eating and it would cost €13, including wine and coffee. Fine, we said.
The whole place was run by a family, Mama outside, Papa le Chef in the kitchen and a daughter and a son generally helping out. There were no roles as such though, Madame frequently disappeared into the kitchen and Monsieur just as frequently served at table - but no chaos here, each knew exactly what the other was at and the place ran very smoothly and quickly.
First course M. le Chef arrived out of the kitchen with a bowl of Tuna and Rice Salad which we helped ourselves from, not much to look at but quite delicious.
Next course was an equally generous Rabbit in Mustard sauce - with wonderful creamy mashed potatoes.
Then a generous cheese board was dropped at the table along with another basket of bread. Bear in mind this was costing €13 and we could have had wine included!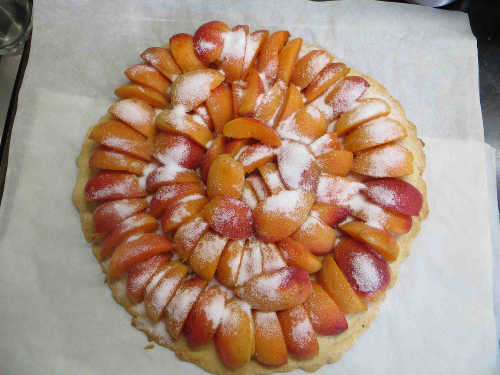 Then, after the cheese, Monsieur arrived out with a slice of his apricot tart. It was delicious and nicely summarises up old Escoffier's dictum to "Faites Simple". I tried cooking it last week myself and decided it was the very best way to cook an Apricot Tart.
The recipe is remarkably simple.
Bake a disk of shortcrust pastry until golden brown.
Cover with apricots, sprinkle with sugar.
Bake in a hot oven until it starts to get black at the edges (about 45 minutes)
Eat warm with Crème Anglaise or cream.
-------------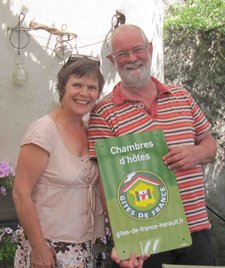 Martin Dwyer started cooking professionally over 40 years ago in the legendary "Snaffles Restaurant" in Dublin. After a time in a Relais Chateau in Anjou and in "The Wife of Bath" in Kent he opened his own much acclaimed restaurant, "Dwyers", in Waterford in 1989. In 2004 he sold this and moved south to France where he and his wife Síle bought and restored an old presbytery in a village in the Languedoc. They now run Le Presbytère as a French style Chambre d'Hôte. Martin however is far too passionate about food to give up cooking so they now enjoy serving dinner to their customers on the terrace of Le Presbytère on warm summer evenings. Martin runs occasional cookery courses in Le Presbytère and Síle's brother Colm does week long Nature Strolls discovering the Flora and Fauna of the Languedoc.

Le Presbytère can be seen at: www.lepresbytere.net;
email: martin@lepresbytere.net