Book Review - Celebrating Irish Salmon by Mairin Ui Chomain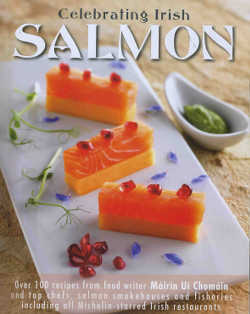 Celebrating Irish Salmon (Artisan House Editions, paperback; €20; available from bookshops, featured restaurants and online from www.artisanhouse.ie)
They came to the beautiful Lough Inagh Lodge Hotel in their hundreds to enjoy the December launch of Mairin Ui Chomain's new book, as they had done to Sallynne & Derry Clarke's iconic restaurant L'Ecrivain for the Dublin launch in November.
A first for the new Connemara based independent publishing house, Vincent Murphy and Mary Ruddy's Artisan House Editions, and - surprisingly - the first cookbook dedicated to Irish salmon, this little gem was already a huge success even before the launching formalities had been completed.
Mairin - Connemara born and the daughter of a ghillie - has salmon in her blood: her evocative Introduction includes the casual comment that "Wild salmon, trout and eel were the mainstay of our diet during the summer season." Happy days indeed, and serving her well again now with this new book, which will be sought out by the many who enjoy Ireland's most popular fish on a regular basis and who may be looking for new ways to cook it - especially fans of her other very successful speciality seafood books, Irish Mussel Cuisine and Irish Oyster Cuisine.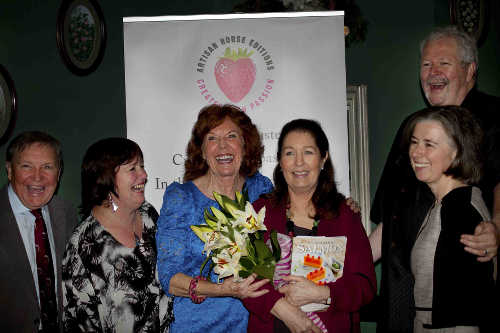 As might be expected of an experienced home economics teacher, TV and radio presenter and former Chairperson of the Irish Food Writers' Guild, the contents are exceptionally well balanced and carefully thought out. You'll find much of interest about the salmon (the Foreword is by salmon biologist Prof. Ken Whelan, well known to listeners of Mooney Goes Wild), useful basic preparation and cooking details, a great range of recipes and expert beverage notes by Betty Murphy and Peter Dunne.
About half of the 100+ recipes are Mairin's own, with the balance from some of Ireland's leading chefs, top producers and other specialist contributors. Smokers are well represented, with recipes from the likes of Burren Smokehouse, Connemara Smokehouse, Kenmare Select, and Ummera Smoked Products, the well known seaweed expert Prannie Rhatigan is a contributor too - and there's even a recipe from chef Enda McEvoy's much-anticipated new Galway restaurant, Loam (not yet open).
There's something for every occasion here and recipes are all very do-able, with Mairin's own recipes especially practical and the chef contributions well edited for times when a bit of a challenge is welcome in the kitchen.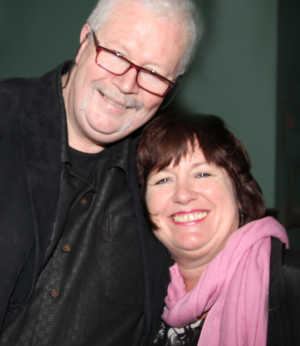 With photography by Walter Pfeiffer, Celebrating Irish Salmon was always going to be visually impressive, but it's also outstanding for high production values - and the fact that it's very much a west of Ireland affair, with the editorial team based in Letterfrack and printing by KPS Colour Print, just up the road in Co Mayo. Congratulations are due to all concerned, it's a great inaugural publication for Artisan House and sure to be the first of many.

COVER RECIPE: Wild Salmon Sashimi With Melon And Pomegranate
Pomegranates are among the most antioxidant-rich fruit in the world. They are very good for the heart and also increase your levels of serotonin (happy hormones). Besides, the red seeds look beautiful.
Serves 4
225 g / 8 oz wild salmon fillet, skinned
2 cantaloupe melons
1 pomegranate
12 pea shoots
6 edible flowers (e.g. borage, chive or wild garlic, depending on season)
wasabi (or hot horseradish)
Cut the melons into 12 delicate finger-size rectangles. Cut the raw salmon into similar sized pieces.
Using four rectangular plates, place three melon fingers on each plate and top with salmon fingers.
Arrange three pomegranate seeds on each salmon finger and arrange pea shoots and flowers between the fingers.
Place a teaspoon of wasabi on the side.
To drink: Try a sake such as Hoyo 'Genji' Sake, full of white flowers, peaches and apricots. A Riesling or a craft beer would also work well.