Book Review - Wild Food - Nature's Harvest - How to Gather Cook & Preserve by Biddy White Lennon and Evan Doyle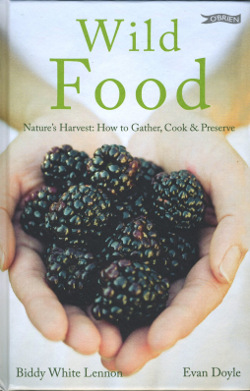 Georgina Campbell
It's generally a quiet time of year for new books but, in any case, everything else can go on the back burner this month as the big news in the Irish foodie world is the much anticipated arrival of Biddy White Lennon and Evan Doyle's foraging book, Wild Food - Nature's Harvest: How to Gather Cook & Preserve (O'Brien Press, hardback €16.99).
It's been a long time coming - appropriately enough, as Biddy (food writer) and Evan (hotelier/restaurateur) are both keen members of the Slow Food movement - but its gestation period appears to have been perfect, as it would be hard to imagine a more timely publication.
Since they started work on it several years ago the world has gone foraging mad, with fashionable restaurants employing full time foragers (something Evan says there was no interest in when he first sought a forager for The Strawberry Tree in Killarney two decades ago…) and half the country's kitchen staff wandering around beaches and country laneways in their whites. Which is all good stuff - aside from anything else it helps close the rural-urban divide which is at the root of so many of the problems the modern world faces.
While not a pocket book - many will be surprised to find that it's quite a chunky hardback - it's an attractive book, and tough enough to stand a lot of bashing around both the glovebox and the kitchen. Biddy says "It gives point to a walk to come home with something tasty to eat, to preserve and give as gifts" and, having guided you to the best wild foods to gather throughout the year, there's a goodly quotient of recipes to ensure you make the most of them when you get home.
Anyone who has followed Biddy's columns in, for example the Irish Farmers' Journal, or seen any of her other books, will know to expect a pleasingly straightforward and homely approach, and Evan Doyle's recipe contributions from Ireland's only certified organic restaurant, The Strawberry Tree at BrookLodge Hotel, Macreddin, Co Wicklow are also very do-able. But what sets this book apart from others covering similar territory is the passion shared by Biddy and Evan for their subject, and the way that they have - so appropriately - given it a special local Irish spin.
Following a cold February, the foraging season is just beginning to get into gear now, so this is a subject I'll enjoy coming back to in more detail in a month or two, together with some of the recipes.