Chocolate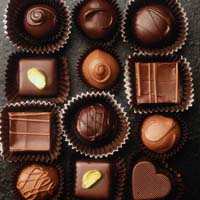 Quality chocolate production is perhaps an unexpected speciality for Ireland but, although the main ingredients are of course imported, it has become an important – and increasingly successful – area of artisan production throughout the country.

What's more, it's one of the few that seem to be recession-proof; we all need our little treats, apparently, and – unlike many of the things we had become used to in recent years - the feel-good factor induced by a good chocolate is not beyond reach, so sales are surging as never before.

Google 'Irish chocolates' and you will be amazed at the number of speciality brands that come up – alongside the best-known names such as Butlers (Dublin), Lily O'Briens (Kildare) and Lir (Kerry), you'll find many others dedicated to quality (many of them endorsed by prestigious awards) including Aine (Co Cavan), Gallweys (Waterford) and Danucci (Louth) and small highly specialised producers like Wilde (Clare), ChocOneill (Longford), Eve (Cork), Lorge (Kerry) and Skelligs (made in remote Ballinskelligs, on the Ring of Kerry, and renowned for their beautiful hand painted wooden boxes).

These, and many more – the list could be very long – are producing beautiful confectionery to a very high standard, so the message is: when looking for that chocolate treat, make sure you Buy Irish!

What is It?

Chocolate is a product of the seed or 'bean' of the cacao tree, which is native to Central and South America. The kernels are ground, releasing the fat known as 'cocoa butter' and producing cocoa solids which, when cooled and hardened, becomes unsweetened chocolate; the amount of cocoa butter in chocolate products is a guide to quality – the higher the percentage, the better the chocolate is likely to be.

Valrhona, keenly sought by patissiers for its purity, is known as 'the Ferrari of chocolates' and available up to 85% cocoa butter. Sugar is added to cocoa solids to make 'plain chocolate', milk (fresh, dried or condensed) is added to produce 'milk chocolate', and white chocolate is made from cocoa butter (no cocoa solids).

Where Can I Get It?

Many chocolate brands in a wide range of grades are easily available – interest in quality chocolate has grown so much in recent years that even the top brands, such as Valrhona and Green & Black's, are easily available in various grades from specialist food stores and some of the better supermarkets.

What Can I Do With It?

Good quality plain chocolate is very versatile in the kitchen, making an excellent flavouring for everything from cakes, biscuits, icings and sauces to specialist desserts, ice creams and handmade chocolates – professional chocolatiers would use 'chocolate couverture' (chocolate with a very high cocoa butter content and long shelf life) for covering their chocolates, but good quality plain chocolate is fine for home cooks.

Although we generally think of chocolate in sweet dishes and confectionery, unsweetened chocolate (or cocoa powder) is used in savoury dishes, especially sauces for game, and sometimes seen on restaurant menus. Making our own chocolates at home can be fun – and few can resist a rich chocolate cake or well-made dessert.

For anyone who thinks they may have an allergy, lookout for Celtic Chocolate, a quality range made in Co Meath; it includes 'Fine Dark Chocolate' a cocoa-rich chocolate which is dairy-free making it suitable for vegans, vegetarians and anyone on a dairy-free diet and – their latest product – a dairy free white chocolate.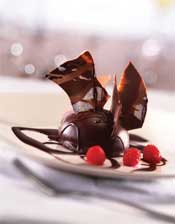 Recipe for DUNBRODY KISS

This is the signature dessert at the romantic Dunbrody House Hotel (with cookery school and spa) at Arthurstown, Co Wexford. A perfect finale for a special meal, the recipe from TV chef / proprietor Kevin Dundon really isn't that difficult to make. It is an intensely chocolatey experience and never fails to impress - just make sure you use the best possible quality chocolate.

Kevin says "There is no doubt in my mind that there is something about chocolate that is addictive - it contains several stimulants, including caffeine and pleasure-inducing endorphins - no wonder it tastes so good!"

Click for recipe