Cookery Feature - Alternative Christmas Recipes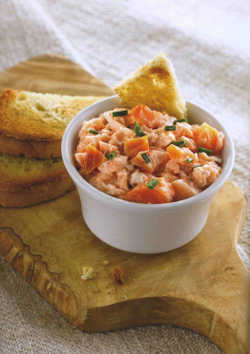 Georgina Campbell
Some alternative recipes for Christmas or any other special dinner. Vegetarians can also visit www.veggiechristmas.org for the Vegetarian Society's range of appealing meat-free dishes from around the world.
STARTERS
The enduring popularity of smoked salmon confirms its reputation as the perfect starter and these two beautifully simple dishes from from Mairin Ui Chomain's new book Celebrating Irish Salmon (Artisan House, €20) offer two styles, while being equally convenient for advance preparation. Wine suggestions are made for each recipe in the book.
Rustic Potted Salmon
serves 6
450 g / 1 lb cooked fresh salmon, finely flaked
225 g / 8oz smoked salmon, finely chopped
2 teaspoons crème fraiche
4 teaspoons creamed horseradish
2 lemons, juice only
2 teaspoons chives, roughly chopped
salt and pepper
By hand, fold all the ingredients together except salt and pepper.
Ensure you keep the texture rough. Taste and season as required.
Cover and chill for at least 2 hours.
Serve with toasted sourdough bread.
Suggested wine: Verdejo, Tortora, Spain. This has all the citrus flavours and mineral complexities required to compete with the horseradish component of this rustic pâté.
Smoked Salmon Pâté
serves 4
225 g / 8 oz smoked salmon
2 teaspoons horseradish, ready prepared
1 lemon, zest and juice
50 g / 2 oz soft cheese
pinch black pepper
Salad
225 g / 8 oz finely sliced cucumber, de-seeded
1 tablespoon chopped dill
1 tablespoon caster sugar
1 tablespoon white wine vinegar.
Blend the first five ingredients and chill well
Mix the four salad ingredients and chill until serving.
Slice the pâté and serve on salad bed, or on Melba toast with salad to accompany.
Suggested wine: Vinho Verde, Espigueiro, Muros Antigos, Portugal. Soft pear and apple fruits are gentle and light for the delicate pâté and sweetish cucumber. A light spritz on the palate leaves you ready for more.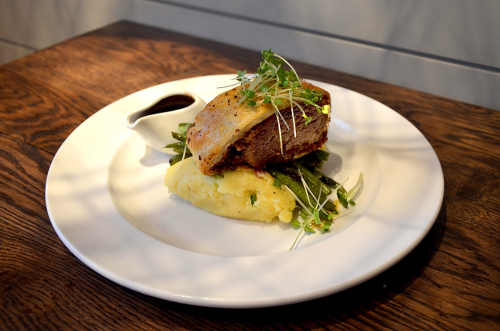 MAIN COURSE
Beef Wellington With Horseradish Mash, Sautéed Green Beans And Red Wine Jus.
This classic main course is from Leona Robinson, Head Chef at one of Cork city's most exciting restaurants, Electric on the South Mall.
serves 8

For the Beef Wellington:
1 whole beef fillet, trimmed and seared
1 large sheet of puff pastry
100g chicken liver paté
100g duxelle (sautéed mixture of chopped mushrooms, onions & shallots)
Spread the paté out over the sheet of puff pastry and spread the duxelle out evenly over the paté.
Place the fillet at the edge of the pastry and roll from one side to the other ensuring it is a tight wrap.
Seal the ends by pressing the excess pastry together, egg wash the surface of the pastry (ie brush with a mixture of lightly beaten egg and water).
To cook: At Electric they cook the wellington in individual portions ie, cut a slice roughly around 7oz, place on an oiled baking tray and cook in a very hot preheated oven for 15 minutes.
Alternatively it can be cooked in one piece. Lay the pastry parcel on an oiled baking tray, brush with remaining egg wash, score pastry lightly in diagonal lines with a sharp knife and put into the very hot oven (preheated to 475ºF /240º/gas mark 9), immediately reducing to 425°F/210º/gas mark 7.
After 10 minutes, reduce the heat again to 400°F/200º/gas mark 6 and cook for a further 20-25 minutes, until a meat thermometer reads 135°F/60ºC (medium rare).
Rest on a carving board for 10 minutes before serving.
Meanwhile prepare the vegetables and jus.
For the Horseradish Mash
2kg potatoes, peeled
½ lb butter
300mls cream
2tbsps horseradish cream
Seasoning.
Steam the potatoes until soft
Bring the cream and butter to the boil
Put the potatoes through a mouli
Add the cream mixture along with the horseradish cream and seasoning to taste.

For the green beans
1kg green beans
A good knob of butter
Seasoning.
Steam the green beans for 3-4 minutes
Refresh in cold water
To serve: panfry in the butter with the seasoning.
For the red wine jus
1litre beef stock
1 litre red wine
Seasoning
2 tbsp Worcestershire sauce
1 tbsp red currant jelly.
To make the jus, put the stock and wine into a pot and bring to the boil
Reduce to a simmer and let simmer until reduced by half, when it should be a little thicker. Add the redcurrant jelly, Worcestershire sauce and seasoning to taste.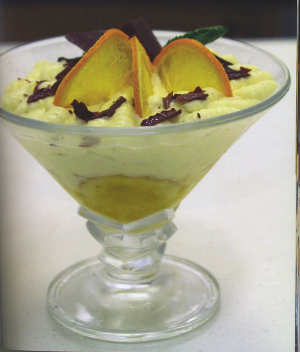 DESSERTS
An appealing dessert that could make a lighter alternative to the traditional Christmas sweet dishes is this Coppa Filo, or "Grandmama Filo's glass cup" contributed to Marco Roccasalvo's second Campo de' Fiori Cookbook Buon Appetito by his friend Marina Manna.
Edited by Lizzie Gore-Grimes and with photography by Harry Weir, this lovely friendly book from the owner-chef of the deservedly popular restaurant Campo de' Fiori, in Bray, is available online from www.campodefiori.ie; price €20,with €1 from each sale going to the charity the Irish Institute of Clinical Neuroscience (IICN) to fund brain research.
Marina tells me, "My earliest food memories are linked to my dearly beloved grandmother Filomena, mother of my equally dearly beloved mother. When I was a child, I often went to visit my grandparents on a Saturday and I would stay over in their Roman apartment until Sunday. One of my favourite pastimes was hanging around the kitchen with my grandma, a real master of the kitchen. My passion for food comes from her. Back in the day, we are talking over 40 years ago now, recipes were relatively easy and were made with fresh ingredients full of flavour. Being self-taught, I think I still have the same attitude in the kitchen, aiming for high quality and simple techniques. The recipe that follows is simple and easy to prepare and if you use first class ingredients and add a dash of love, you're guaranteed to succeed."
Serves 6
For the creme patissiere
500ml whole milk
125g cream
120g sugar
½ vanilla pod, cut in half lengthways
125g egg yolks
35g cornstarch
For the base
2 large bananas
2 tbsp orange liqueur such as Aurum or Cointreau
For the cream
200g cream
10g sugar
For the candied peel
1 orange
3tbsp sugar
For the garnish
50g dark chocolate flakes, optional
Method
To prepare the creme patissiere, use a stainless steel heavy-bottomed pan; add in the milk, cream, 60g sugar and vanilla pod and bring up to the boil.
Beat the egg yolks with the remaining 60g of sugar and sift in the cornstarch. Pour in the hot milk and stir quickly as you go.
Pour everything back into your stainless steel pot and bring back up to the boil again. Then reduce and simmer for a couple of minutes. Pour the pastry cream into a stainless steel bowl, cover with clingfilm and leave to cool, then refrigerate.
To prepare the base, cut the bananas into rondelles, place them in a bowl, pour over the orange liqueur and leave to rest, covered, in the refrigerator.
To prepare the candied peel, peel the orange carefully, avoiding the white pith which is bitter, and then cut the peel into thin strips.
Place a non-stick saucepan over a medium heat and add 3 tablespoons of sugar and 1 tablespoon of water, mix to combine and then add the orange peel and cook until the orange peel is candied. When ready place on oven paper to cool.
When the pastry cream (creme patissiere) and candied orange peel are cool, whip the cream with the sugar an gently fold the whipped cream into the creme patissiere.
You can now assemble your dessert. I generally use a glass cup. Start with some bananas at the bottom, the layer of creme patissiere.
Garnish with candied orange and place in the refrigerator until you are ready to serve.
To finish, sprinkle over with some dark chocolate flakes.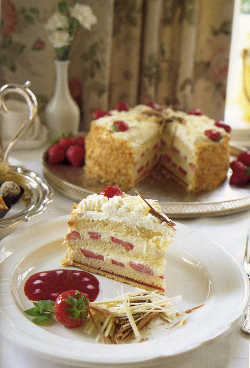 Strawberry Kirsch Cake
This luscious confection from Barberstown Castle, Co. Kildare was a guest recipe in my vintage cookbook, The Best of Irish Breads & Baking (Epicure Press paperback, €15).
Very versatile, it works equally well as a dessert or to serve with tea or coffee, and the fruits used can be varied as available. With a festive topping it would make a lovely Christmas alternative for people who don't like rich fruit cakes and plum puddings. If making the sponge cake from scratch it would be easier to scale down to an 8" or 9" tin size.
1 x 10-inch/25cm basic sponge cake
1 x 10"/25 cm loose-based cake tin
8 oz/225g sweet flan pastry (see below)
2 oz/50g strawberry jam, preferably home-made
25 strawberries
flaked almonds, toasted and lightly crushed, to decorate
Kirsch Whipped Cream (see below)
On the morning before required for serving at dinner, bake or buy the sponge cake and make this Sweet Flan Pastry. This is the classic hand-made method, but it could also be made in a food processor.
9 oz/250g/heaped 2 cups plain (all-purpose) flour
41/2 oz/125g butter
21/2 oz/60g caster sugar
1 egg or 2 yolks, beaten
2 tsp lemon juice (or water)
Weigh ingredients accurately. Sift the flour into a bowl. Cut butter into small pieces and rub lightly into the flour, incorporating as much air as possible. Add the sugar and mix well.
Make a well in the centre, then add the beaten egg and lemon juice. Mix with a knife until the dough clings together. Chill.
Before assembly, prepare the Kirsch Whipped Cream
3 egg yolks
15 oz/425g caster sugar
1 pint/600 ml cream, whipped
3 leaves gelatine (or 1 sachet powdered gelatine)
4 ½ fl oz/120 ml dry white wine
1 fl oz/25 ml/I US tbsp kirsch
Whisk the egg yolks and sugar until light and fluffy. Fold in the whipped cream. In a small pan, soften the gelatine in the white wine and add the kirsch. Then heat gently to dissolve.
Put a little of the cream and egg yolk mixture into a small bowl or jug and quickly mix the gelatine mixture into it.
Then, working fast, mix this into the rest of the whipped yolks and cream.
Use as required to layer with the sponge cake and strawberries, as described.
To assemble:
Preheat a fairly hot oven, 375°F/190°C/gas mark 5.
Roll the prepared pastry out thinly, to about 1/3 mm thick, and use to line the base of the cake tin. Bake blind in the preheated oven for 10 minutes. Allow to cool, then spread the jam on top.
Cut the sponge into three layers and place one on top of the jam. Set a few of the strawberries aside for decoration. Slice the rest and arrange about half of them on the first layer of sponge.
Spread about a quarter of the kirsch cream over the strawberries. Repeat with another layer of sponge, strawberries and kirsch cream. Then put the third layer of sponge on top and leave to set for 2 hours.
To serve, decorate the top and sides with the remaining whipped sweetened cream. Coat the sides with toasted almonds and decorate the top with the reserved strawberries.