Cookery Feature - Cooking with a Legend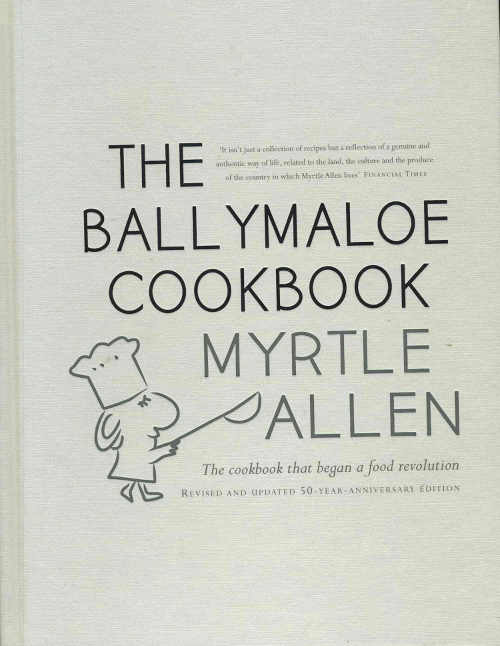 Side by side on my desk are two books: the first edition of The Ballymaloe Cookbook by Myrtle Allen, published in 1977 by Agri Books - publishers of the Irish Farmers' Journal, where many of Myrtle's articles and recipes appeared - and the new, revised and updated edition The Ballymaloe Cookbook, The Cookbook that Began a Food Revolution, by Myrtle Allen (Gill & Macmillan, hardback, €27.99), which was published in May 2014 to celebrate Myrtle Allen's 90th birthday and the 50th anniversary of her Ballymaloe restaurant, The Yeats Room.
Modest in size and extent, there are just 175 pages in the original book and no colour photographs, although each chapter begins with a black and white photo - mainly rural, and with a wistful tone even in those days - and, as well as occasional diagrams (carrageen moss, for example - no the 'new foragers' did not invent it - or how to make an ice bowl), the text is sprinkled with the witty line drawings by Mel Calman that so perfectly reflect Myrtle Allen's inimitable way of saying the sometimes surprising things that needed to be said.
Insightful and full of practical wisdom, it is an all-time favourite of mine and one of the few always kept to hand for over 35 years.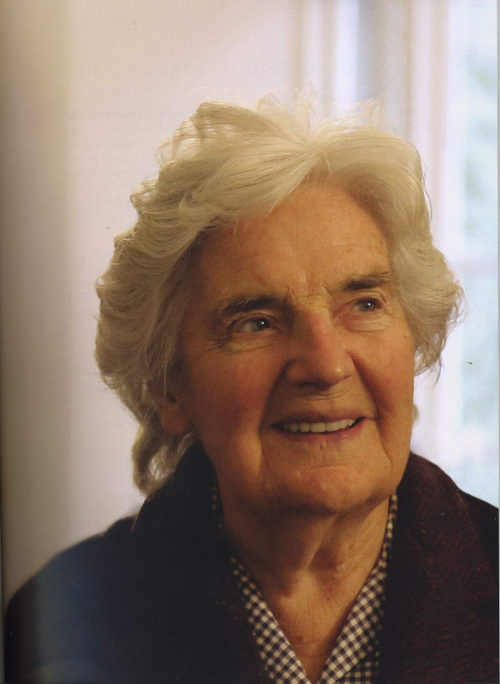 The new edition lends due gravitas to the original, setting it in context and - through carefully extended recipe content, colour photography (by Joanne Murphy and others) and rather more information about Myrtle and Ballymaloe - respectfully introducing it to a new generation of admirers.
It may not be the same book as the 1977 edition - but, like an old house that has been sensitively extended, it has retained the essential quality of the original while growing into a larger and, perhaps, even more useful production.
The directness of Myrtle's voice is as powerful as ever and, far from being just 'a collection of recipes', The Ballymaloe Cookbook is about pleasurable learning, and its central message on food quality and sourcing remains even mores relevant today than when it was first published.
That said, the recipes themselves are terrific, and it's a great read too. And, Myrtle being a natural teacher, even the inexperienced cook will be rewarded by success when cooking from this classic.
It should be on every wedding list - and, if every secondary school could introduce its teenage students to The Ballymaloe Cookbook (together with hands on cooking), the health and wellbeing of the nation would be assured.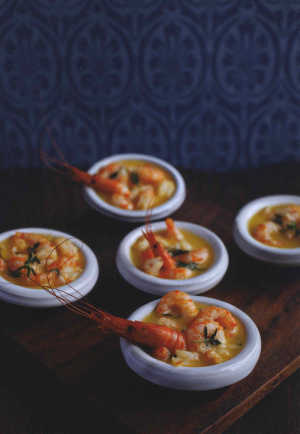 Potted Shrimps or Lobster
"A fish pate or potted fish makes a wonderfully easy lunch or supper dish.
Packed into tiny individual pots, a selection of any three makes a stunning dinner party starter. They are not suitable for picnics unless packed in a chilled container, as the butter goes soft."
Serves 4 as a first course
½ clove garlic, salt and pepper, 60-85g (2-3oz, 4-6 tablespoons) butter, 1 teaspoon thyme leaves, 110g (4oz) shelled shrimps or diced lobster meat, 1-2 teaspoons lemon juice
Crush the garlic to a paste with a little salt. Bring the butter to the boil with the thyme leaves and garlic.
Add the shrimps or lobster and simmer together for 3-5 minutes. Season carefully with salt and pepper and 1 or 2 teaspoons of lemon juice.
Pack into pots and run more melted butter over the top.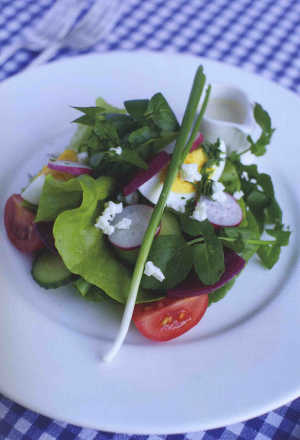 Traditional Salad
"The traditional salad was and still is standard fare for Sunday evening suppers. It accompanied cold meat, probably left over from the midday joint. No dressing goes better with it than Lydia Strangman's, sister of my husband's elderly farming partner, an unmarried Quaker lady of strict principles, who spent her life painting and making a beautiful garden."
Arrange lettuce leaves like a rose in a deep bowl - biggest leaves on the outside, small leaves in the centre. Scatter some or all of the following between the leaves; quartered hard-boiled eggs, quartered tomatoes, slices f cooked beetroot, slices of cucumber, cress, watercress, mustard leaves.
Serve with Lydia's cream dressing (below).
Lydia's Cream Dressing
"Oil was not considered as a food in the average Irish household during the first half of the last century. There was always a small glass bttle of rancid olive oil in our house, but it was kept in the medicine cupboard and used for sunburn. Cream dressings were served with salads."
2 eggs, 1 tablespoon soft brown sugar, 1 level teaspoon dry mustard, pinch of salt, 60-120 ml (2-4 fl oz, ¼-½cup) cream, 1 tablespoon brown malt vinegar.
Hard boil the eggs. Bring a small saucepan of water to the boil. Gently slide in the eggs and hoil tor 10 minutes (12 if they are very fresh).
Strain off the hot water and cover with cold water. Peel when cold.
Cut the eggs in half and sieve the yolks into a bowl. Add the sugar, the mustard and a pinch of salt.
Blend the cream and the vinegar. Chop the egg whites and add some to the sauce. Keep the rest to scatter over the salad.
Cover the dressing until needed.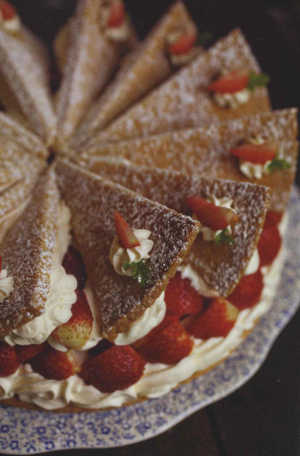 Strawberry Shortcake
"The shortcake mixture makes a good biscuit to go with morning coffee or fruit fools. It was first made for us by one of my children's friends when I decided to let them all loose in the kitchen on a wet Sunday afternoon. No wonder that I so firmly believe in having children in the kitchen, except at certain moments!"
serves 6
110g (4oz, 1½ cups) unsalted butter, 170g (6oz, 1¼ cups) plain flour, 55g (2oz, ¼ cup) caster sugar, 250ml (8fl oz, 1 cup) sweetened whipped cream, 225g (8oz) strawberries, 1 teaspoon icing sugar
To make shortcake, rub the butter into the flour and add the sugar. Gather the mixture together and knead well.
Roll into two circles approx. 18cm (7in) in diameter and 5mm (¼ in) thick.
Bake in a moderate oven, l80°C/350°F/gas 4, until pale brown, 15 minutes approx.
Remove and cool on a rack.
One circle should be marked with a knife into wedges while still warm, to aid cutting the cake later.
Sandwich with sweetened whipped cream and halved strawberries.
Sieve icing sugar over top.
Variation: Jane's Biscuits
Make the pastry as above and roll out as for shortcake. Cut with a 6cm (2½in) round cutter or heart-shaped cutter and bake as directed.