Cookery Feature - Easter Feasting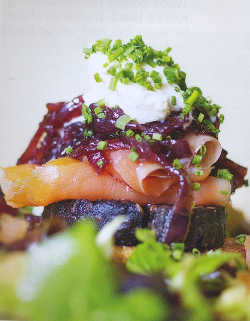 Georgina Campbell
Why not push out the boat this year and indulge in some Irish spring lamb for a special Easter meal? Although I generally prefer to wait until the roasting joints are bigger, more flavoursome (and better value) later in the year, a very late Easter brings more choice of local foods as the season is more advanced - and, while very wet, the mild winter and early spring has allowed good growth recently and there may also be more early vegetables than usual to enjoy.
This month's recipes combine to make a menu with a pleasing mixture of old and new traditions.
STARTER:

Achill Island organic smoked salmon with Kelly's black pudding, red onion marmalade and creme fraiche, with warm boxty
Fish and black pudding make a time honoured combination, as in this appealing and simple recipe from the Kelly's of Newport book, The Proof is in the Pudding, supplied by Euro-Toques chef Frankie Mallon, of the popular Westport restaurant An Port Mór.
Frankie has a natural respect for seasonal foods and was among the first to showcase the best in an area that is now hailed as one of Ireland's most interesting food regions.
4 pieces of boxty (see below)
400g of smoked salmon
400g of black pudding
400g of red onion marmalade
100ml of creme fraiche
50g of chopped chives
mixed salad leaves
Place the boxty in the centre of a serving dish. Pan fry the black pudding for 2 minutes on each side and place on top of the boxty
Place the smoked salmon on the black pudding. Warm the red onion marmalade in a small pan and place a tablespoon on top of the smoked salmon.
Mix the creme fraiche with the chopped chives and spoon on top of the red onion marmalade. Dress the salad leaves with a little vinaigrette and arrange around the plate and serve.
*Boxty is a potato speciality of north-west Ireland and is made in-house at An Port Mor; this recipe for boxty pancakes ("boxty on the pan") is from The Best of Irish Breads & Baking. The quantities are only a starting point as the recipe is endlessly variable - the milk and flour can be adjusted depending on how thin you like your pancake and cooked mashed potato can also be included, but enough milk must always be added to form a dropping consistency. This quantity will make more than enough for the smoked salmon starter above but any left over can be used another time - delicious with free range rashers for breakfast.
Makes about 4 pancakes, depending on the size of pan used.

l lb/450g potatoes
About 1/4 pint/150 ml milk
2-3 oz/50-75g flour
Salt to taste.
Peel and chop the potatoes, then process in a blender or food processor until the potato is thoroughly liquidised. Add flour and enough milk to give a dropping consistency. Season to taste with salt.
Heat a little butter or dripping on a griddle or cast-iron frying pan. Pour about a quarter of the mixture onto the pan - if the consistency is correct it will spread evenly over the pan. Cook over moderate heat for about 5 minutes on each side, depending on the thickness of the cake.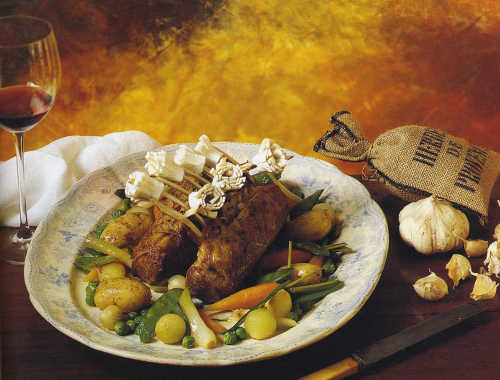 MAIN COURSE:

Guard of Honour with Button Onions and Spring Vegetables
An updated classic from Meals For All Seasons. Apart from poultry, lamb is the most traditional festive meat for Easter and a dramatic presentation such as this is perfect to herald the change of season.
My father used to plant potatoes in the green house at Christmas for the Easter feast, and they were always the most delicious of the year.
Serves 6-8
2 fair ends of lamb (8 cutlets each)
Sea salt & freshly ground black pepper
2 oz/50g white fat or dripping
2 lb/900g button onions or shallots
2 lb/900g peas or mangetout
½ teaspoon caster sugar
2 lb/900g young carrots
New potatoes to accompany (if available)
Get the butcher to chine the joints and remove the fat and skin from the top 2"/5 cm of the rib bones. Preheat a moderate oven, 350°F. 180°C, Gas mark 4.
Arrange the two joints, skin side outwards, with the cutlet bones interlacing the top like a guard of honour. Tie with cotton string between every two or three cutlets and sprinkle with salt and pepper. Wrap foil around the cutlet bones to prevent them from charring. Weigh the joint and calculate the cooking time, allowing 20 minutes per lb/450g and 20 minutes over.
Melt the lard or dripping in a roasting tin, add the meat and put in the centre of the oven.
Meanwhile, peel the onions or shallots: put them into a large pan of boiling water, bring back up to the boil and blanch for about 30 seconds; at the sink, tip into a colander and cool under the cold tap, then trim the stalk and root and slip off the skins with your fingers, like peeling tomatoes.
Leave the onions or shallots whole and add to a fresh pan of lightly salted boiling water; cover and simmer for 20 minutes, then drain and keep hot.
Put the peas or topped and tailed mangetout into a pan with the sugar and barely enough water to cover. Bring to the boil, simmer until just tender, then drain and mix with the onions.
Likewise, scrape the carrots and trim, leaving a little of the green stalk on. Put into a pan with a little water and cook until just tender, then drain and mix with the other vegetables.
When the joint is cooked, remove from the roasting tin, string and foil and dress each bone with a cutlet frill. Pour of fat from the roasting tin and either make a thickened gravy, or pan juices and any sediment and serve them in a sauce boat.
Arrange the vegetables around the meat and serve with the gravy, mint jelly and potatoes — if you can get new potatoes grown under glass Easter, they are a real treat, otherwise a garlicky Potato Gratin is a delicious alternative.
Variation: Guard of Honour can also be served as a stuffed roast by filling the cavity with any suitable stuffing mixture which will stretch the meat a little for hungry diners. The same recipe can be also be adapted to make a simpler Rack of Lamb.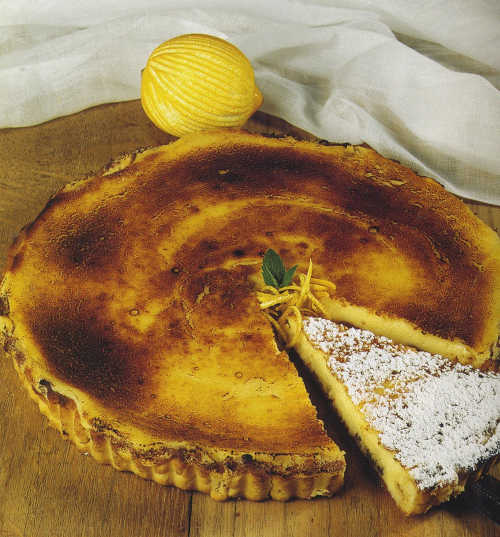 DESSERT:

Tangy Lemon Tart (Tarte au Citron)
This makes a lovely dinner party dessert at any time of year but, with its golden colour and zingy flavour, it is perfect for an Easter meal. Although rich, this is a particularly easy version as the shell does not need to be pre-baked before filling and the filling is simple to make. Like other tarts, it is best eaten on the day of making, but it can be prepared ahead and gently re-warmed.
Serves 8-10
Pastry:
7oz/200g plain flour
Pinch of salt
4oz/l00g butter, preferably unsalted, at room temperature
2 level tablespoons caster sugar
1 small egg, lightly beaten
A little very cold water, if necessary
Filling:
2 large, juicy lemons
2 large eggs or 4 yolks
4 oz/l00g caster sugar
2 oz/50g ground almonds
4 oz/l00g butter, preferably unsalted, well softened
¼ pint/150 ml double cream
Icing sugar for dusting.
Sift the flour and salt into a mixing bowl or processor, cut in the butter and rub in/process to make a mixture like fine breadcrumbs. Using a fork if making by hand, work in the sugar, the lightly beaten egg and, if necessary, a little very cold water to make a smooth dough.
Roll into a ball, wrap in clingfilm and chill for an hour before use, if possible.
When ready to cook, roll fairly thinly and use to line a 10"/25 cm loose-bottomed tin. Prick the base lightly with a fork and leave in the fridge while you prepare the filling.
Preheat a very moderate oven, 325°F, 170°C, Gas mark 3.
Grate the zest from one of the lemons; squeeze the juice from both and strain. Using an electric mixer if possible, whisk together the eggs and sugar until very light and fluffy, add the ground almonds, the softened butter, the cream, lemon juice and zest.
Whisk together gently until the mixture is smooth and creamy, but take care not to overbeat as it may curdle. Pour into the pastry case and bake in the preheated oven for about 40 minutes, or until the filling is set and a light golden brown.
Serve warm or cold, dusted with icing sugar.
If you have some berries from last summer left in the freezer this is the ideal time to use them up, as a berry compote pairs nicely with this - along with some chilled and slightly sweetened whipped cream on the side.
And to round off your meal? What else but some gorgeous Irish handmade chocolates or an Easter egg with your coffee.