Cookery Feature - Master It With Rory O'Connell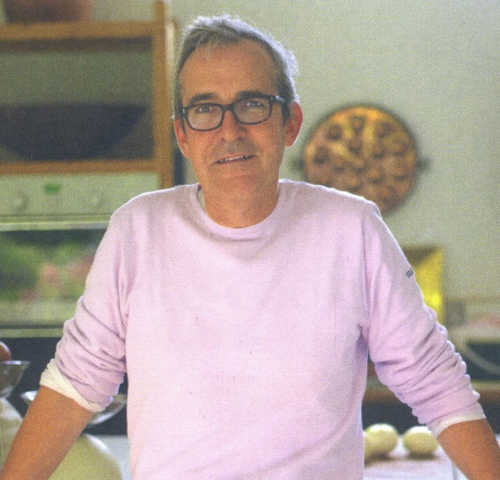 Rory O'Connell has long been one of my favourite chefs, and he was our Chef of the Year in 2002. Although not as well known to the general public as his sister Darina, he co-founded the Ballymaloe Cookery School (where he still teaches as well as giving bespoke classes at his own farmhouse home nearby), and his many achievements include a memorable ten year stint as head chef at Ballymaloe House - where he originally trained, under the guidance of that other great teacher, Myrtle Allen.
'Shop well - eat well' is the motto of this creative, down to earth and yet and meticulous chef, and his book 'Master It, How to cook today' (Fourth Estate, hardback, 562pp; photography Laura Hynd; £25/€30 approx) is a fulsome expression of those values, while also offering a practical hands on cookery course which guarantees success if his instructions - which are much more than mere recipes - are accurately followed.
With this book beside you, you will feel as if the master himself is in the kitchen, explaining and demonstrating each ingredient and each dish. It is a singularly unhurried work - you would be hard pushed to find a recipe of less than three pages (which explains the extent of this chunky book), but that is not because it is complicated, or unnecessarily wordy, but because Rory thinks of everything that you should know before beginning, and during every stage of, each dish.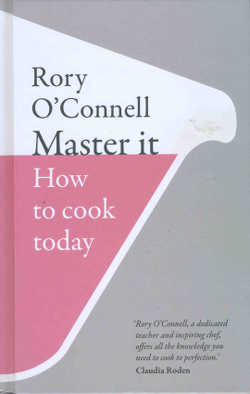 Many of the recipes are classical - although often with Rory's own improvements - but, unlike so many cookbooks on the market today, this is an original work and a reassuring companion.
One has the sense of the great love Rory feels for his ingredients - especially, perhaps, vegetables and garden produce generally - and the enjoyment and satisfaction he feels in every stage of the cooking process, even down to "ticking things off your list as you go, a simple pleasure that I enjoy greatly", and laying out the measured ingredients in orderly little bowls.
"This not a 'chuck it in and see how it goes' book," he says, "…Food is too precious and expensive for that sort of game of chance. So many times, I have witnessed the wide-eyed amazement and delight of a cook who, when finally cajoled into reading, weighing, heating and timing a set of ingredients, has produced a dish that has previously eluded them."
A glorious celebration of the treasure that is good food, and an infallible guide to the techniques necessary for confident and successful cooking, this is one of the great kitchen companions.
RECIPES: Fish fillets baked 'au gratin'
Keys to success
• Measure all the ingredients accurately, so as to ensure the correct amount of sauce and flavourings for the amount of fish being cooked.
• The cooked gratin should be a rich golden colour and bubbling hot when ready to be served.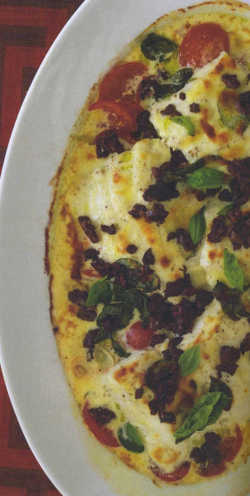 Gratin of hake with tomatoes, basil, olives and Parmesan
The firm texture of hake is perfect for this dish, although cod, pollock and salmon are also good here. Really ripe tomatoes are essential to add sweetness and depth of flavour to the sauce.
The final addition to the dish of the strong-tasting chopped olive and basil pulls the flavours together.
The cooked gratin should arrive at the table bubbling hot, with a rich golden colour.
The ingredients
• Hake is a firm-textured, white-fleshed fish with great flavour. Freshness, as ever, is the key to a delicious result.
• Fat, black and briny Kalamata olives are the preferred choice for this dish.
Serves 4
1 teaspoons olive oil, plus 2 tablespoons
600g ripe tomatoes, peeled and sliced 5mm thick
Maldon sea salt and freshly ground black pepper
1 large clove of garlic, peeled and very thinly sliced
4 x 50g pieces of hake fillet, skin removed
10 basil leaves
100ml regular or double cream
50g Parmesan
16 fat black olives, such as Kalamata, stones removed and finely chopped
8 small basil leaves, for serving
Preheat the oven to 180°C/350°F/gas 4.
Rub an ovenproof gratin dish with the z teaspoons of olive oil. Place the sliced tomatoes in the dish and season with salt and pepper.
Sprinkle with the sliced garlic. Lay the pieces offish on next. Tear the basil leaves and scatter over the fish.
Whisk the cream and Parmesan together and season to taste with salt and pepper. Spoon the cream directly over the fish.
The dish can now be cooked immediately or covered and refrigerated for up to 2 hours. To cook, place in the preheated oven and bake 10-15 minutes, until the fish is just cooked through and the tomatoes have become a bubbling light sauce with a golden hue.
Mix the chopped olives with the remaining 2 tablespoons of olive oil and drizzle over the dish.
Scatter the small basil leaves over and serve.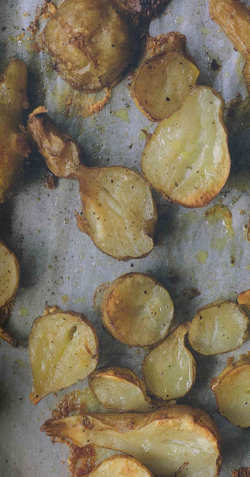 Roast Jerusalem artichokes
Jerusalem artichokes are a wonderful winter vegetable. In appearance they are somewhat similar to potatoes, but with knobbly bits which are tedious to peel.
They make an excellent soup and puree, and pair particularly well with shellfish, especially mussels and scallops. They are also great with pork, duck, goose, pheasant and venison.
Here they are simply roasted with olive oil, salt and pepper. The olive oil can be replaced with duck, goose or pork fat. I strongly advise using a sheet of baking parchment under the artichokes when roasting, as otherwise the crispy cooked skin will stick to the roasting pan and will not end up on your plate, which is where you want that golden deliciousness.
The ingredients
• The artichokes when really freshly harvested do not have to be peeled. This is ideal, because most of the vitamins are just under the skin, but if they are a couple of days old, you will definitely have to make that slightly purgatorial journey. 'Offer it up', as the saying goes, and if you don't know what that expression means, just disregard my rantings as those of an older generation.
• The artichokes have a tendency to cook unevenly, so test several pieces when determining whether they are ready.
• The choice of fat here is yours, but whichever you choose, use just enough to glaze the vegetables lightly.
Serves 4
8 artichokes, allowing 2 artichokes per person
2 tablespoons olive oil or duck, pork or goose fat
Maldon sea salt and freshly ground black pepper
Preheat the oven to 200°C/400°F/gas 6.
Scrub and if necessary peel the artichokes and cut each one in half lengthways. Dry with a tea towel and place in a bowl. Add the oil or fat and toss well. Season with salt and pepper.
Line a baking tray with baking parchment and arrange the artichokes in a single layer and if possible not touching, as this encourages the skins to colour and caramelise.
Place in the preheated oven and roast for 30-50 minutes, until the vegetables are tender and very well coloured. The tips can be as dark as hazelnut skins. If the artichokes are not colouring properly, turn up the oven by 20° for the last 10 minutes of cooking.
By now they will not look pretty in the conventional sense of the word, but it is amazing when something tastes good how one's eye looks at these things in a different way.
Serve immediately.
Variation: Roast Jerusalem artichokes with roast hazelnuts and rocket leaves
Prepare the artichokes as above. Add 2 tablespoons of roasted, skinned and chopped hazelnuts to the cooked artichokes, then fold in a handful of rocker leaves and allow to wilt into the hot cooked vegetables.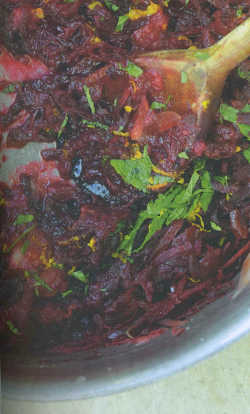 Beetroot, red onion, orange and mint compote
This compote is delicious served as a vegetable accompaniment to a plain roast duck or pork. I also serve it with homemade sausages or pork burgers and it is delicious on hot, olive-oil-grilled bread, which has been buttered with a soft goat's cheese.
The ingredients
• Ruby, golden or Chioggia beets will do here.
• The sour Bramley cooking apple works well with the beetroot, and collapses to a fluff when cooked.
Serves 6-8
4 tablespoons olive oil
100g red onions, peeled and thinly sliced
450g ruby beetroot, peeled and coarsely grated
450g Bramley cooking apples, peeled, cored and cut into quarters
Maldon sea salt and freshly ground black pepper
Zest and juice of 1/2 an orange
2 tablespoons chopped mint
1 tablespoon red wine vinegar or lemon juice
Heat 2 tablespoons of the olive oil in a stainless steel saucepan. Add the sliced onions and toss in the oil. Cover with greaseproof paper and a tight-fitting saucepan lid and sweat on a low heat for about 10 minutes, or until the onions have softened.
Add the beetroot and the apples and mix well. Season with salt and pepper and continue cooking, covered as before, on a low heat until the apples collapse and the beetroot softens somewhat. This takes about 10 minutes.
Add the orange zest and juice and the chopped mint. Mix well and correct the seasoning, adding a little red wine vinegar or lemon juice
to taste. The compote can be put aside to be reheated later or indeed can be served at room temperature.
Reheat on a gentle heat, adding a tablespoon of water if it is inclined to stick to the pan. Finally, drizzle with the remaining olive oil and serve.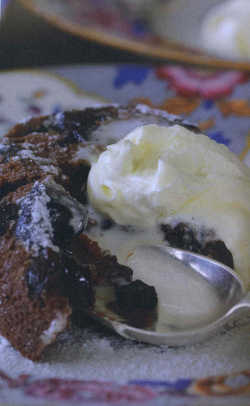 Chocolate, prune and Armagnac puddings with chocolate sauce
These puddings are delicious and without doubt made for chocolate lovers. Although not molten in the centre, they are soft and yielding.
The combination of ingredients is a classic one but has timeless appeal. The cooked puddings will sit happily in a warm oven for at least an hour before serving, and indeed could be made ahead of time, allowed to cool and reheated in a bain-marie in a warm oven.
The prunes in the recipe can be replaced with cherries, a delicious variation, in which case I would soak. them in kirsch. Cognac can replace the slightly dryer Armagnac with the prunes.
The pudding can be cooked in a large dish, or in individual ramekins or even teacups.
The ingredients
• Best-quality chocolate, 62% cocoa solids, is best for this pudding. I use Valrhona.

• Prunes vary in quality, so look out for juicy-looking ones with their stones still in. I get the ones known as Agen prunes, grown in the Aquitaine region in the south-west of France. The same variety is grown successfully in California as well.

• Armagnac, a brandy from the Armagnac region, which is close to Aquitaine, is dryer than the brandy from Cognac and seems to have
an affinity with the flavour of the prunes, though either will do.
• Cream of tartar, or tartaric acid, adds stability to the beaten egg whites, resulting in a more luscious texture in the cooked pudding.
Serves 10
THE PRUNES
225g prunes, weighed after removing the stones
4 tablespoons Armagnac or brandy
THE PUDDING
150g best-quality chocolate, 62% cocoa solids
150g unsalted butter
l50ml warm water
110g caster sugar
1 teaspoon vanilla extract
4 eggs
110g plain white flour
Pinch of cream of tartar

TO SERVE
A dusting of icing sugar
Softly whipped cream
Put the prunes into a bowl with the brandy and leave to soak overnight.
Preheat the oven to zoo°C/40o°F/gas 6 and get ready either a 2 litre ovenproof pie or gratin dish, or ten 200ml ramekins or teacups of a
similar volume.
If you plan to serve the individual puddings unmoulded from their containers, you will need to paint them with melted butter before adding the mixture. You will also need a roasting tin about 4cm deep, large enough to accommodate the ramekins or dish.
Cut the chocolate into small pieces and put it into a Pyrex bowl with the butter. Place over a saucepan of cold water, making sure the bottom of the bowl does not touch the water. Place on a low heat - don't let the water do more than simmer.
While the chocolate is melting, tear or chop the Armagnac-soaked prunes into smaller pieces, about 1cm, and either divide them between the ramekins or spread them over the base of the large dish. If there is some Armagnac that has not soaked into the prunes, save it for adding to the cream later.
When the chocolate is nearly melted, remove the bowl from the saucepan and stir with a flexible rubber spatula to blend the chocolate with the butter. Add the water, sugar and vanilla and mix with a whisk until smooth.
Separate the eggs, placing the whites in a spotlessly clean bowl for whisking later. Whisk the yolks into the chocolate mixture, followed by the sieved flour.
Whisk the egg whites with a pinch of cream of tartar until holding soft but definite peaks. Do not allow them to over-whip and take on a grainy appearance.
Stir a quarter of the egg white into the chocolate mixture and fold in the remainder with a heavy flexible spatula, making sure no lumps of egg white remain unblended.
Divide the mixture between the ramekins, or put it all into the one dish, and immediately place in the roasting tin. Pour boiling water into the tin, to come halfway up the sides of the ramekins or dish.
Cook in the oven for 10 minutes, then lower the temperature to 160°C/325°F/gas 3 for a further 10 minutes if using individual dishes or a further 10 minutes for a large dish. The puddings will appear cooked on top but will feel a little soft and molten in the centre.
Remove the roasting tin carefully from the oven and allow the puddings to sit for at least 10 minutes before serving.
The individual puddings can be turned out on to warmed plates for serving. The large dish can be brought to the table as it is.
Regardless, I dust the puddings with a little sieved icing sugar just before serving.
Pass softly whipped cream separately. I sometimes serve chocolate sauce with these as well.