Cookery Feature - Use Your Loaf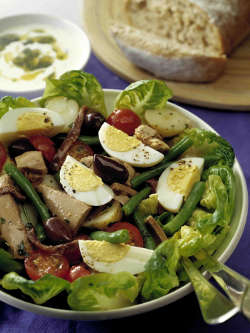 Georgina Campbell
The Gathering is one thing - the sort of get togethers that are pre-planned and organised to within an inch of their lives - but there's no time like high summer for 'unexpected guests' to turn up on the doorstep looking hungry.
This is when ordinary everyday groceries and freezer staples come into their own. With fridge basics like cheese and eggs; store cupboard items such as canned tomatoes, pulses and fish; a freezer stocked with a few meats (a roasting joint or chicken, rashers and sausages, some casserole cuts), a couple of packs of smoked fish and shellfish, frozen pastry, breads and fruits all things are possible.
Along with fresh seasonal fruit & veg, they are quick and easy to transform into tasty meals for hungry friends.
Nicoise Salad
It's hard to beat eggs when you need a quick and easy meal in a hurry and if you have some tinned tuna and anchovies in the larder this Nicoise Salad makes a main course for four or starters for eight in 15 minutes flat. Serve plated, or in one large salad bowl.

500g (1 lb 2oz) small potatoes, boiled and chopped
225g (8 oz) green beans, lightly boiled
200g can tuna, flaked
12 cherry tomatoes cut in half
4 eggs, boiled for 10 minutes, cooled in cold water and peeled
A handful of black olives
4 anchovy fillets cut in half lengthways
1 cos lettuce or mixed leaves
Dressing:
3 tbsp. sunflower oil
1 tbsp. wine vinegar
1 tbsp. Dijon mustard
Salt and pepper
2 tbsp. mayonnaise
1 tbsp. basil, finely chopped
Mix the oil, vinegar, mustard and seasoning together.
To assemble the salad, place the potatoes, green beans, tuna, tomatoes and leaves in a large bowl, mix with half the dressing, divide between four large or eight small plates.
Cut the eggs in four and divide between the plates, along with the black olives. Mix the remaining dressing with the mayonnaise and the basil.
Drizzle the dressing over and top with the anchovy strips. Serve with crusty bread.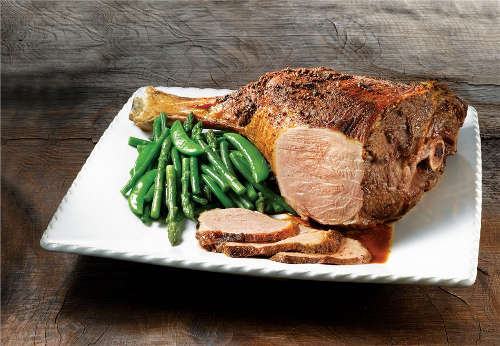 Roast Leg of Lamb with Spicy Topping
Roasts are not just for Sunday - juicy roast meat or poultry is perfect for a crowd at any time and this spicy Bord Bia variation on traditional roast lamb suits dinner at least as well as lunch.
Cooking time is about an hour and a half, so the cook has time to mingle with guests while it's in the oven.
Start a day ahead, if possible - mix the spice mixture and rub over the lamb, leave in the fridge overnight.
Serves: 10-12

1 good-sized leg of lamb approx. 2 ½kgs
Salt and freshly-ground black pepper
Spice Mixture Ingredients:
1 tbsp. ground turmeric
1 tbsp. ground cumin
Half teasp. chilli flakes
1 tsp. cayenne
1 tsp. ground ginger
Half teasp. cinnamon
1 lemon, rind and juice
1 tbsp. honey
1 tbsp. chopped ginger

Heat the oven to Gas Mark 5, 190°C (375°F).
Remove the lamb from the fridge 20-30 minutes before cooking to allow it to come to room temperature.
Place the lamb in a roasting tin, season, then place – uncovered - in the oven and roast for 1¼ hours. The lamb will be cooked medium at this stage. (Roast some potatoes and red onions alongside the lamb for the last 50 minutes.)
Remove from the oven, wrap loosely in foil and allow to rest for 15 minutes before carving.
Meanwhile, steam a mixture of green vegetables such as beans, mange tout and asparagus. Season with a little salt and black pepper and stir through a little softened butter. Serve the sliced meat and vegetables together with the roasting juices.
Variation: Use the same topping on butterflied leg of lamb and barbecue for 40 minutes.
Bread - ordinary or artisan, depending on your preference and availability - is always great standby and it's well worth keeping several different types in the freezer for meals in a hurry.
And that was the message from Irish Pride when they launched their new Slimsters low calorie range recently - cleverly timed to coincide with The Gathering, they commissioned food writer Marilyn Bright to devise a range of recipes demonstrating the versatility of bread, including this Salsa Piccante, a zesty Italian style sauce combining sunny Mediterranean flavours; gives a lift to chicken, fish or vegetables and no cooking required.
125g fresh breadcrumbs using any bread of your choice
4 anchovy fillets (from a tin)
1 clove garlic - chopped
2 tbsp parsley - chopped
1 tbsp capers
50g pinenuts
5 tbsp wine vinegar
100ml extra virgin olive oil
225g fresh ripe tomatoes, seeded and chopped
salt, pepper.
Combine anchovies, garlic, parsley, capers and pine nuts in a food processor and blend to a coarse paste. Add breadcrumbs, vinegar and olive oil and blend until well mixed.
Finally stir in chopped tomatoes and blend very briefl¬y to retain the slightly coarse texture.
Season to taste and serve with hot or cold foods.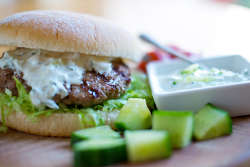 Greek Style Lamb Burgers with Floury Baps
A good burger is always welcome and lamb is especially flavoursome, especially when served with a refreshing tzatziki sauce.

450g lean minced lamb
1tbsp chopped fresh herbs, eg rosemary, thyme and oregano
1 or 2 cloves of garlic, crushed
juice of ½ lemon
salt, freshly ground black pepper.
Tzatziki Sauce:
½ cucumber - deseeded and grated
125ml Greek style natural yogurt
1 clove garlic - crushed
2 tsp ¬finely chopped fresh mint
2 tsp white wine vinegar, pinch of salt.
Combine the lamb with fresh herbs, garlic and lemon juice. Season to taste, form into burgers, and refrigerate until ready to cook.
Make the sauce by combining all listed ingredients.
Grill or pan fry burgers until done and serve on Floury Baps with tzatziki sauce and salad leaves.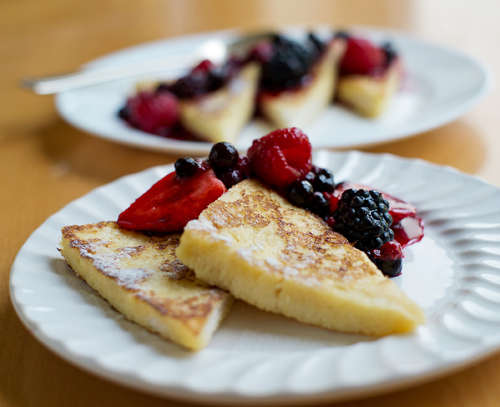 French toast with summer berries
This breakfast or brunch favourite doubles as a quick dessert when dressed up with fresh or frozen berries. Day-old thick sliced pan is perfect for this.
Serves 4.
6 slices day-old toasting bread
2 eggs
200ml milk
1 tbsp sugar
1/2 tsp vanilla essence (optional)
Butter and oil to fry
2 cups fresh or frozen berries
icing sugar to garnish
Trim crusts and cut bread into quarters. Beat together the eggs, milk, sugar and vanilla if using.
Dip each slice into the mixture. Heat a little butter and oil in a large frying pan and fry dipped bread on both sides until golden. Transfer to warm serving plates and garnish with berries and sprinkling of icing sugar.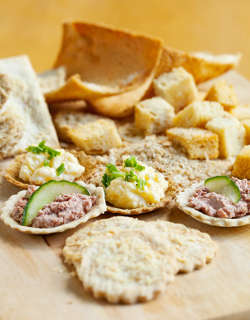 USING YOUR LOAF
There's no need to waste any bit of your favourite loaf as everything from crusts to unused ends has dozens of uses for crafty cooks.
Breadcrumbs
Crusts, loaf ends and trimmings can be processed and frozen fresh for up to 3 months, ready to use for stuffings, toppings for baked dishes or in recipes for meatloaf or burgers.
For long-keeping dry breadcrumbs, spread processed breadcrumbs on a baking tray and dry in a low oven. Completely dried, these can be stored in an air tight tin for a few weeks.
Croutons
Crisp croutons for soups and salads can be pan-fried or oven-baked to give them their crunch. Use a serrated bread knife to cut bread into cubes. Fry in a little butter or good olive oil, stirring constantly over a medium heat until golden brown.
For baking croutons, brush bread lightly with melted butter or olive oil before cutting into cubes. Spread on a baking tray and bake in a medium oven, 180ºC/350ºF for about 15 minutes, until croutons are crisp and golden.
Melba Toast
Professional looking melba toast thins to accompany soups and creamy dips are easy to make in advance. Lightly toast sliced bread, then use a serrated br ead knife to remove crusts. Run the blade between the toasted surfaces and then dry them out in a moderate oven until completely crisp and curled up.
Quick Crispbreads
Trim crusts from sliced bread, then roll out with a rolling pin. Cut into fingers or other shapes, place on a baking tray and brush lightly with melted butter or good oil. Bake in a moderate to low oven until golden brown. Vary crispbreads with toppings of parmesan cheese, finely chopped herbs or sesame seeds sprinkled on before baking.
Canapé Bases
Use a biscuit cutter to cut rounds from sliced bread. Press into shallow tartlet or muffin tins. Brush with a little oil or melted butter and bake in a moderate oven until crisp and golden. Brush with a little oil or melted butter.