In Season - Wild Mushrooms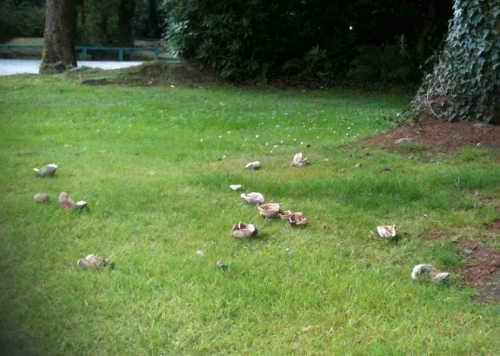 Weather conditions in the late summer and early autumn this year have been ideal for fungi, which are prolific everywhere in our hedgerows, fields and woodlands, often well ahead of their normal season.
Mixed woodland is ideal for foraging for fungi, especially where there are beech trees, and many desirable edible varieties thrive here. The Boletus family, for example, notably B. edulis (the penny bun, porcino or cep), which is a prize find.
Biddy White Lennon and Evan Doyle's book Wild Food (O'Brien Press) is useful for identifying and making use of some of the edible fungi most commonly found in Ireland - St George's Mushroom (mid spring-summer), chanterelle (late summer-autumn), field mushroom (late summer-early autumn), and cep or penny bun (late summer-autumn) - while Richard Mabey's classic Food For Free (Collins) covers a wide range of those found in the UK and Ireland, with the little 'backpack size' edition especially useful.
I wished I had it with me recently when visiting Beech Hill Country House Hotel, Derry, as the range and quantity of fungi in their 33 acre wooded grounds was a wonderful surprise.
Guided mushroom hunts are offered in many areas, one of the longest established being the Annual Mushroom hunt at Longueville House (www.longuevillehouse.ie), Mallow, Co Cork, which takes place on two days - Sunday 06th & 20th October 2013 - and includes the 'Legendary Luncheon' prepared by proprietor-chef William O'Callaghan, and no doubt washed down with some of the excellent Longueville House Cider.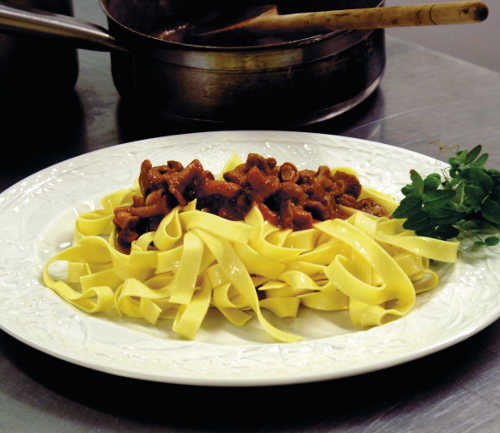 This recipe for Wild Chanterelle Goulash is from The Strawberry Tree Restaurant at BrookLodge, which specialises in organic and wild foods and features in Biddy White Lennon and Evan Doyle's book Wild Food (O'Brien Press).
In season from July-November, bright yellow chanterelles are easily spotted in clusters in woodland, notably in forests with birch, beech and mossy coniferous areas. Good in potato, egg and bacon dishes, they keep for couple of days in the fridge and can be dried or preserved in oil.
1kg wild chanterelles
2 organic onions, finely diced
2 organic red peppers, diced
100g organic streaky bacon or pancetta, diced
1 organic garlic clove, finely chopped
2 tbsp organic tomato purée
1 rounded tbsp sweet paprika powder
300ml organic vegetable or chicken stock
A splash of organic white wine vinegar
50ml organic cream
½ bunch parsley, chopped
Organic crème fraiche
Sea salt and black pepper
Organic rapeseed oil for frying
Brush or wash the chanterelles very quickly under running water, pat dry.
Heat some oil in a pan and fry the mushrooms quickly, put in a sieve set over a bowl and save the poured-off liquid.
Fry the diced onions over medium heat until golden, add the peppers, garlic and bacon and fry for another 5 minutes. Reduce the heat, put the tomato purée in and stir well, avoid burning the purée. Add the paprika powder and then deglaze it with the vinegar.
Pour the stock and the saved liquid from frying the chanterelles and cook it gently for 15−20 minutes. Add the cream, season with salt and pepper and blitz in a processor.
Strain through a sieve into a pot. Put the chanterelles back in the sauce and cook for a few more minutes.
HOW TO FINISH
Fold in the chopped parsley and season to taste. Garnish with, or fold in, a dollop of crème fraiche
WHAT YOU GET
Is a summer-special goulash with all the flavour of the chanterelle. Perfect served as its original decreed, with bread dumplings, or maybe with pasta or rice instead. As a supper with friends or even a TV snack. Just spoon over a slice of fresh grilled bread, and enjoy.