Just Ask Restaurant of the Month for February - Grangecon Café
The "Just Ask!" Restaurant of the Month winner for February is Grangecon Café in Blessington Co Wicklow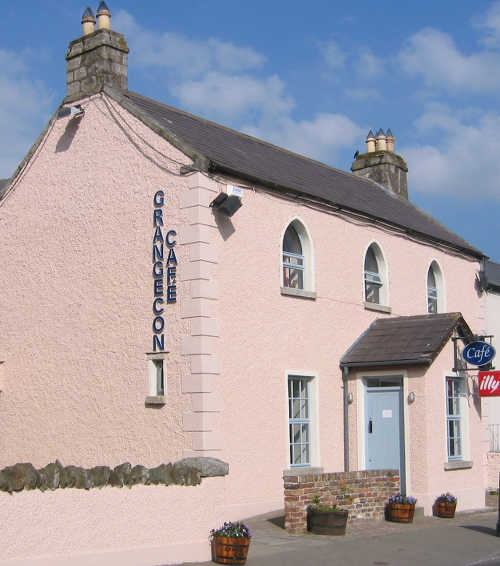 Jenny and Richard Street first opened for business in the charming little village of Grangecon, where they quickly built up a reputation for the excellence of their simple, wholesome food, attracting travellers who were happy to go out of their way for the pleasure of a meal here - so it made sense to keep the name when they relocated to the bustle of Blessington.
Here, they are in an old building - a former schoolhouse that has been given new life by a lovely renovation job - but the fundamentals have remained unchanged: the stated aim has always been "to provide you with a really good food stop", and this they continue to do brilliantly.
There is a true food philosophy at work here: "We are passionate about buying the best local produce and try hard to support the best Irish producers," they state, and this is borne out in the quality of their cooking and the suppliers who they are glad to credit as the foundation of their good food.
These include Doyles of Dunlavin, who supply beef and lamb from their own farm and superb corned beef and cured ham; Crowe Farm who supply pork, dry cured bacon and free range sausage meat and also Inch House pudding; Crimmins Butchers, Blessington (beef and lamb).
Poultry comes from Bertram and Celine Salter of Carlow Foods (only free range chicken is used in the café) and also from Ummera Smoke House, West Cork, who supply their outstanding smoked chicken breasts and also smoked organic salmon, while Jenny Young of nearby Castlefarm supplies organic hen and duck eggs.
"Fabulously fresh fish" and smoked mackerel come from East Coast Seafood in Naas, and Sheridans Cheesemongers supply cheeses in prime condition - St.Tola organic goats cheese features regularly on menus. Vegetables and saladings are valued equally, with Castleruddery Organic Farm supplying salad stuffs, leaves and all the seasonal vegetables) and Eddie Whelan of Dunlavin also supplying quality fruit and vegetables.
The drinks list reflects the same philosophy, with delicious chilled Crinnaghtaun apple juice from Cappoquin offered - and you might try the local Craigies Cider, made by renowned wine man Simon Tyrrell and Jenny's brother, Angus Craigie, and available from Hennessy's just around the corner.
The menu is fairly brief, but that's the beauty of it, allowing the cooking to be this good, and flavours superb.
The café is Richard and Jenny Street's main business here, but they also sell some speciality foods and produce freshly-cooked meals (fresh and frozen) that are a boon to take home on a busy day - and a takeaway menu offers snacks and many of the café staples too.
A magic little place, if only there were more like it.

SAMPLE MENUS

GRANGECON CAFÉ MENU
(check the blackboard for daily specials)
Home made soup (served with soda bread and butter) 5.75
Sausage roll (homemade puff pastry, free range sausage meat) sm/ lg 5.50 / 6.95
Red pepper & goats cheese tart (red pepper jam, basil & St. Tola goats cheese on a puff pastry base, served with organic leaves) 8.95
Quiche Lorraine (slow cooked ham hock, cheddar cheese, Castlefarm organic eggs & cream, rich & delicious) served with a small side salad 9.95
Shepherd pie (minced lamb, slow cooked with carrots, nutmeg, passata and chicken stock, topped with soft creamy mashed potatoes) 9.95
Warm goats cheeese salad (St. Tola organic goats cheese grilled on a garlic crouton served with salad leaves and roasted hazelnuts) 10.55
Tuna salad (Ortiz tuna, tomato, Castlefarm egg, salad potato 9.95 calamata olives and salad leaves)
sandwiches made with freshly baked white yeast bread, or open on organic brown soda bread
Ham, Dubliner cheddar cheese, lettuce and chutney 7.95
Ummera smoked chicken with sun dried tomatoes, lettuce and mayo 8.95
Ardsallagh Goat's Cheese, roasted peppers and mixed leaves 8.95
Corned beef with wholegrain mustard and lettuce 8.95
Ortiz Tuna, tomato, lettuce and mayo 8.95
Kids plain ham or cheese 4.95
side salads: green salad 5.50 / coleslaw 5.50 / mixed salad 4.50
extras: bread 1.50 /Castlefarm egg 1.50 / olives 1.50 / sun dried tomatoes 1.50 artichokes 5.00/tuna 5.00 / roasted peppers 5.00 / St.Tola feta5.00 / ham 5.00
Half portion of all dishes charged at 75% of the full price
Mlena's roasted almond nougat 1.95
Flapjack 2.00
Scone (with butter and Jam / cream and jam) 3.50
Tea brack (served with butter) 2.95
Chocolate brownie 3.95
Apple tart (with cream) 4.95
Chocolate cake 4.50
Home made lemonade 2.50
Mineral water stilt or sparkling* 2.95
Club orange* 2.95
Crinnaghtaun apple juice'* 3.25
Crinnaghtaun apple juice (large bottle)* 6.50
Fentimans ginger beer* 3.25

Tea 2.50
Coffee reg 2.50 lrg 3.50
Cappuccino reg 2.85 lrg 3.85
Latte reg 2.85 lrg 3.85
Mocha reg 2.85 lrg 3.85
Hot chocolate 3.00
Espresso reg 2.50 lrg 3.50
glass of milk 1.65

We are passionate about buying the best local produce and try hard to support the best Irish producers. Here is a list of some of our suppliers:
Castleruddery Organic Farm (salad stuffs, leaves & all our seasonal vegetables)
Doyles of Dunlavin (superb corned beef&cured ham, beef & lamb from their own farm)
Crowe Farm; free range sausage meat, Inch House pudding, dry cured bacon & pork)
Jenny Young of Castlefarm (organic hen & duck eggs for our lunch specials)
Bertram & Celine Salter of Carlow Foods (we only use free range chicken in the café)
St. Tola organic goats cheese
Sheridans Cheesemongers
Ummera Smoke House (smoked chicken breasts & smoked organic salmon)
East Coast Seafood, Naas (smoked mackerel, fabulously fresh fish)
Crimmins Butchers, Blessington (beef& lamb)
Eddie Whelan, Dunlavin (fruit & vegetables)
All the prices above include VAT@ 9% *includes VAT(@)25%
FREEZER FOODS
Shepherds pie (g) 6.95
minced lamb cooked with carrots, nutmeg, passata & chicken stock, (topped with soft creamy mashed potatoes)
Tagine of lamb with prunes (g) 8.50
(shouldor of lamb slowly cooked with honey, spices, saffron & prunes)
Chicken pie 8.50
(gently poached free range chicken cooked with pancetta, carrots,leeks & a lightly thickened broth, topped with home made puff pastry)
Chicken with preserved lemons & olives (g) 7.95
(free range chicken legs cooked with tomato, saffron, kalamata olives & preserved lemon)
Beef lasagne 7.95
(slow cooked bolognese layered with cheese sauce and lasagne sheets & topped with parmesan)
Mozzarella stuffed meatballs (g) 7.95
(minced beef onion, garlic & parsley stuffed with Toonsbridge buffalo mozzarella in tomato &basil sauce, perfect with a pile of spaghetti)
Steak & kidney pie 8.50
(rib steak beef kidneys, onions, carrots, celery & chicken stock, cooked till tender, lightly thickened & topped with puff pastry)
Fish pie 8.50
(cod, natural smoked haddock, Castlefarm egg, parsley & white sauce all topped with mashed spud)
Smoked haddock fish rolls 6.50
with tartare sauce 8.50
Vegetarian moussaka 7.95
(aubergines, red peppers & lentils du puy stewed with red wine. tomato & spices & topped with a Toonsbridge ricotta crust)
Butternut & chickpea curry (g) 6.50
(ginger, garlic, chilli & & spices, roasted butternut, chickpeas & homemade passata)
Vegetable chilli (g) 6.50
(courgettes, peppers, kidney beans, onion, garlic, roasted cumin, tomatoes & red wine)
(g) Gluten Free
(Please give at least one week's notice to ensure the availability of any of the above dishes, they are all perfect tor simple entertaining or nutritious family food)
SWEET TREATS
(these made to order so notice must be given)
Apple tart (serves 4-6) 7.95
Lemon tart (8 inch) 15.00
(home made lemon curd cooked inside almond pastry, rich, lemony & delicious)
Pear & almond tart (8 inch) 15.00
Chocolate cake (7 inch) 15.00
(chocolate sponge sandwiched with vanilla butter icing, covered with dark chocolate icing)
writing on cake 2.50
Carrot cake (9 inch) 17.50
Baked cheesecake (8 inch) (g) 17.50
fruit compote 6.50
Date cake (9 inch) (g) 24.00
medjoul dates, ground almonds, raw cane sugar & free range eggs)
Chocolate & almond cake (8 inch) (g) 24.00
Pavlova (10 inches/serves 8) 30.00
(delicious marshmallowy, vanilla meringue sandwiched with cream and seasonal fruit or lemon curd)
Tea brack 5.95
(delicious with a cup of tea and totally fat free!)
TAKE AWAY SANDWICHES
WHITE YEAST BREAD or open on BROWN SODA BREAD
Ham, cheese, chutney & lettuce 5.25
Kilmora Irish emmental, leaves & tomato 5.25
Ummera smoked chicken, sundried tomatoes, lettuce end mayo 6.25
Ortiz tuna, tomato, lettuce & mayo 6.25
Ardsallagh goats cheese, roasted peppers, leavos & olive oil (no butter) 6.25
Tapenade, mixed leaves, tomato & extra virgin olive oil (no butter) 6.25
Half sandwiches 3.95
Kid's sanwiches 3.95
WHOLEGRAIN MUSTARD, HOME MADE MAYO,
CROSSOGUE CHUTNEY & BEETROOT RELISH
available with any sandwich, just ask!
Soda bread 4.00
(organic Ballybrado wholemeal flour, organic plain Doves flour, buttermilk, salt and bread soda)
Organic yeast bread 4.00
(organic strong Doves flour, water, olive oil, salt, yeast & a hint odf muscovado sugar)
Foccaccia
(Italian style flat bread made with Doves strong white flour, extra virgin olive oil, Maldon salt & yeast) 1.00/ portion
CAFÉ SPECIALS TO GO
Home made soup 3.95
with 1 slice bread 4.50
with 2 slices bread 5.00
Sausage roll sm/lrg 2.25/4.50
(free range sausage meat from Crowe's farm inside our own home made puff pastry)
Red pepper & goats cheese tart 4.95
with leaves 6.95
(sweet pepper jam, basil and St Tola goats cheese on a puff pastry base)
Quiche lorraine (1 slice) 4.50
with mixed salad 7.50
(ham hock, cheddar, free range egg custard, baked off in a ahortcrust base)
7 Inch (serves 3-4) 15.00
Spinach & feta filo pie 7.95
with leaves 9.95
(spinach, St. Tola organic feta cheese, onion, garlic, eggs, nutmeg and parmesan )
SMALL SALADS
Coleslaw
(organic white cabbage, grated carrot & mayo) 2.50
Mixed salad 3.50
(seasonal salad, lettuce, tomato, cucumber)
Castlefarm egg salad 4.50
(seasonal greens, tomato, cucumber, hard boiled egg & mayo)
St. Tola feta salad 4.95
(tomato, feta, kalamata olives, cucumber, leaves, and extra virgin olive oil)
Bread (1 slice/2 slices) .55/1.10
LARGE SALADS
Ortiz tuna salad 6.50
(lettuce, tuna, tomato, salad potato, Castlefarm egg and olives)
Cafe salad special 6.50
CAFE SPECIALS TO GO
(prices are per portion)
Scone 1.25
Scone with jam & butter 2.00
Flapjack 1.50
Chocolate chip cookie 1.75
Chocolate brownie 2.50
Apple tart 3.00
Chocolate cake 3.00
Carrot cake 3.50
Date cake (g) 2.95
Chocolate & almond cake (g) 3.50
Baked cheese cake (g) 3.50
Meringue with fruit & cream (g) 3.95
Home made lemonade 2.50
Mineral water 1.55
Crinnaghtaun apple juice 2.50
Fentimans ginger beer 2.50
tea 2.00
single shot/double shot
coffee 2.50 3.00
cappuccino 2.75 3.25
latte 2.75 3.25
hot chocolate 3.00
GRANGECON CAFÉ & FOODSTORE
BLESSINGTON,
CO. WICKLOW.
Tel: 045 857892
Opening Hours:
Tuesday - Saturday
9.00a.m.-4.00p.m.


----------

VIEW ALL JUST ASK RESTAURANT OF THE MONTH WINNERS
---

"Just Ask!" is a public awareness campaign that aims to encourage consumers when eating out to look for information on where the food (particularly meat) on their plate comes from, and encourages chefs to provide this information on their menus. The programme supports both large and smaller artisan suppliers, encouraging both Irish diners and visitors from abroad to support restaurants that are in turn supporting their suppliers.

Here at Georgina Campbell Guides we have always been avid supporters of the 'eat local' concept, and we always enjoy reading menus that have a real sense of place. The dining experience is greatly enriched by knowing that the food on your plate is inspired by the produce and traditions of the area, and sourced nearby – and we would love to see more chefs sharing that precious information with their guests.

If you are a visitor to the area, learning a little about local food and the people who produce it adds a special extra dimension to the visit – and, for residents, it reinforces a natural pride in the good things of their locality and makes a meal all the more enjoyable.

So, we are delighted by the high standard of menus that continue to be submitted for our ' "Just Ask!" Restaurant of the Month Competition', menus that really speak of the best of Irish foods – and the dedication of both the people who make them, and the chefs who select them to create wonderful dishes with real Irish flavour for our enjoyment.