Just Ask Restaurant of the Month for May - Wildes at the Lodge
The "Just Ask!" Restaurant of the Month winner for May is Wilde's at the Lodge, Lisloughrey Lodge, Cong, Co Mayo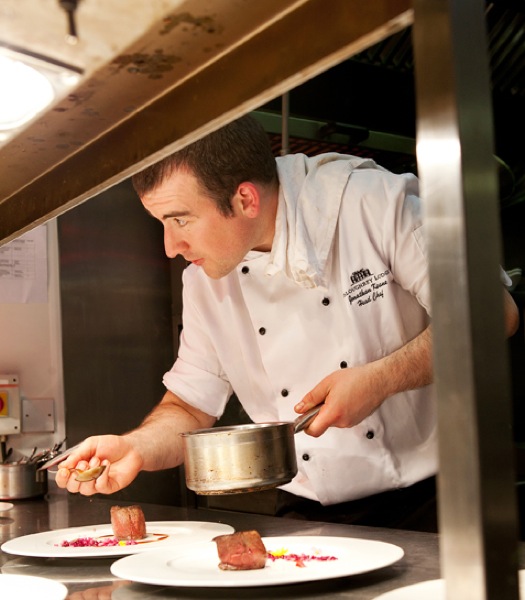 Set in the grounds of Ashford Castle, Lisloughrey Lodge enjoys one of the most beautiful locations in Ireland, with views down Lough Corrib. The hotel was developed during the boom and a modern approach was taken, but it has since changed management and, while still contemporary, the elegance of the beautiful old house at its heart has been restored.
The first floor restaurant, Wilde's at the Lodge, is named after local legend Sir William Wilde, father of Oscar, and it makes an atmospheric setting for an unusually interesting meal.
The talented and inventive Head Chef, Jonathan Keane, grew up in Connemara and a love of the great West of Ireland foods clearly informs his cooking. Menus inspired by the availability of local produce change with the seasons, adding an extra dimension to the dining experience as - through each dish and his suppliers list (see below) - Jonathan introduces guests to his chosen ingredients from land and sea, and the people who produce or supply them.
The style is quite simple with no unnecessary cheffy flourishes - the message is in the ingredients. Starters, for example, may include Killeen Parcel, which is made with goats cheese supplied by Killeen Farmhouse Cheese of Ballinasloe, Co Galway, along with Mulranny honey, plums, and leaves from organic supplier Reek View Farm, at Westport. You'll also find a gorgeous paté from Kate McCormack's in Westport, featuring perhaps in a fun starter the Westport Lolly, with rhubarb providing welcome sharpness and pecans for texture.
Killary Fjord Shellfish provide mussels from Ireland's only fjord, while other fish and seafood comes mainly from Gannet Fishmongers in Galway who, for example, supply the wild halibut for another lovely starter, in which the pan-seared fish is served with an intriguing combination of pickled beetroot, parsnip and caper.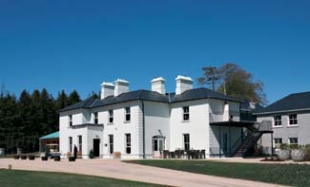 A favourite ingredient is M.A.S.S. (Mayo Atlantic Sea Spray) lamb, which is the local variation on the pré-salé (salt meadow) lamb so popular in France and cannily marketed as 'the taste of the West of Ireland, seasoned by nature!'.
It's supplied by legendary butcher Kellys of Newport, along with other meats including his famous black pudding and speciality sausages, some of which have seaweed in the mix - try the Wilde's M.A.S.S. shoulder of lamb, perhaps, a unique dish cooked in coca cola, with dillisk sausage, roast garlic and horseradish mash...
And vegetarians will love the care and creativity applied to their special dishes too - the tellingly named Kinlough Forest Rigatoni, for example, showcases the wild mushrooms and herbs that Jonathan and his team go out to forage for themselves.
And, although there's a fair share of decadent desserts, creations based on foraged and other seasonal fruits will be appreciated by those who like a more refreshing finale to their meal - and, of course, some carefully selected Irish farmhouse cheeses too.
* The bar food menu at The Quay Bar at the Lodge offers an inviting range of dishes, from Lisloughrey Lodge Chowder with homemade soda bread to speciality sandwiches and hot dishes, including a rib-eye steak, all based on carefully sourced ingredients.
SAMPLE MENUS

MENU OF DISCOVERY
FIRST
SOUP
(carrot, ginger)
KILLEEN PARCEL
(goats cheese, mulranny honey plum, organic leaves)
WESTPORT LOLLY
(kate mc cormacks pate, rhubarb, pecan)
KILLARY FJORD MUSSELS
(coconut, chili, ginger, horseradish)
PAN SEARED WILD HALIBUT
(pickled beetroot, parsnip, caper)
MIDDLE
HOME SALT COD
(berries, herbs, citrus, truffle)
SEABASS
(fennel, pea, rhubarb, thyme)
KINLOUGH FOREST RIGATONI
(wild mushroom, herb pesto, parmesan)
M.A.S.S. LAMB
(shoulder in coca cola, dillisk sausage, roast garlic, coriander mash)
BEEF AND GUINNESS
(blade, nettle risotto, truffled leeks)
ATHENRY PASTURE-REARED CHICKEN
(whitebean cassoulet, celeriac, horseradish, jus)
LAST
CHOCOLATE
(72% fondant, black olive, ice cream, salt)
LEMON
(meringue tart, sorbet, panna cotta)
BAILEYS
(brulee, parfait, custard)
AUTUMN
(blackberry, apple, panna cotta, jelly, muffin, jam, basil)
CHEESE
(blue, brie, smoked, goats)
All our meat and fish is locally sourced. All our vegetables are supplied by our organic supplier, Reek View Farm, Westport, and all our wild flowers and nuts are foraged by me and my team. Jonathan Keane.
Killeen Farmhouse Cheese, Ballinasloe – Goats Cheese
Kellys Of Newport, - Black Pudding And Lamb
Killary Fjord Shellfish, - Leenane
Clew Bay Scallops, Westport
Gannets Seafood, Galway
Murrevagh Honey, Mulranny
Westport Grove Marmalade
Kate Mccormacks & Sons, Westport
Sunday Lunch Menu
Starters
Carrot and Orange Soup
Smoked Chicken Caesar Salad with Croutons, Parmesan, Wonton Basket
Baked Fish Cake with Citrus scented Leaves and Rhubarb Coulis
Kate McCormack's Pate with Mustard Fruit and Scone
Main Courses
Pan Roast Clare Island Salmon with Fennel Puree, Asparagus, Mussel and Clam Butter
Baked Breast of Chicken wrapped in Bacon, Black Pudding Mash and Rich Onion Gravy
Rigatoni Pasta with Wild Mushrooms, Nettle Pesto and Parmesan Cream
Arthur Guinness Feather Blade of Beef, Truffle Gratin, buttered Leeks and Pepper Sauce
Kelly's of Newport Lamb and Dillisk Sausage, Mustard Colcannon Thyme Jus
Desserts
Strawberry Cheesecake with Strawberry and Lemon Ice Cream
Chocolate Brownie with Vanilla Ice Cream
Apple Crumble with Gorse Flower Custard
Selection of Ice Cream
Freshly Brewed Tea or Coffee
2 Course Sunday Lunch 20 € 3 Course Sunday Lunch 25 €
All Beef, Lamb, Pork and Poultry are 100% Irish.
Our Dishes may contain traces of Allergens

----------

VIEW ALL JUST ASK RESTAURANT OF THE MONTH WINNERS
---

"Just Ask!" is a public awareness campaign that aims to encourage consumers when eating out to look for information on where the food (particularly meat) on their plate comes from, and encourages chefs to provide this information on their menus. The programme supports both large and smaller artisan suppliers, encouraging both Irish diners and visitors from abroad to support restaurants that are in turn supporting their suppliers.

Here at Georgina Campbell Guides we have always been avid supporters of the 'eat local' concept, and we always enjoy reading menus that have a real sense of place. The dining experience is greatly enriched by knowing that the food on your plate is inspired by the produce and traditions of the area, and sourced nearby – and we would love to see more chefs sharing that precious information with their guests.

If you are a visitor to the area, learning a little about local food and the people who produce it adds a special extra dimension to the visit – and, for residents, it reinforces a natural pride in the good things of their locality and makes a meal all the more enjoyable.

So, we are delighted by the high standard of menus that continue to be submitted for our ' "Just Ask!" Restaurant of the Month Competition', menus that really speak of the best of Irish foods – and the dedication of both the people who make them, and the chefs who select them to create wonderful dishes with real Irish flavour for our enjoyment.