Just Ask Restaurant of the Month for September - Kilkenny Design Centre Restaurant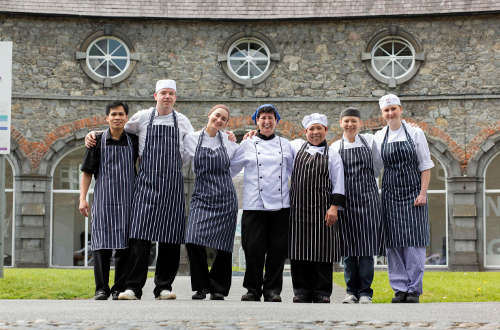 With the seventh Savour Kilkenny Food Festival coming up (24-28 October 2013; www.savourkilkenny.com), there's no better time to visit the Marble City - and no better place to eat than the Kilkenny Design Centre, just across the road from Kilkenny Castle. It has long been a favourite destination for lovers of good food and that's down to the committed leadership of Kathleen Moran, proprietor since the centre opened in 1989.
Together with a strong team, some of whom have worked with her for over twenty years, she's always proud to shout about the good food of Ireland and - increasingly, as the range of foods produced in this richly productive area has grown - that of the locality.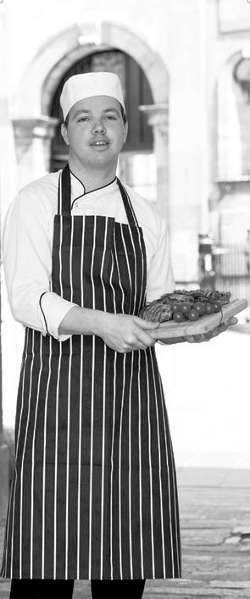 For many years this atmospheric restaurant in the former stables of Kilkenny Castle was a daytime venue, known especially for great baking and homely specialities like their famous chicken and broccoli crumble which is made with the local Lavistown cheese, and they gradually built up a foodhall offering artisan produce, food gifts and light bites. More recently, they took a leap of faith and opened an elegant evening restaurant (Thu-Sat), with chef Paul Cullen at the helm in the kitchen, and it has proved a huge success.
Local foods are central to the ethos at Kilkenny Design, where butcher Paddy White, greengrocer Thos Farrell, and Fishmans Market are among the suppliers credited. Menus tie in with Kilkenny Food Trail producers in delicious dishes with a local flavour such as Mileeven Honey (Mileeven Honey Glazed Pork Belly), Knockdrinna Cheese (Knockdrinna Goats Cheese Tartlet), Highbank Orchards (Fillet of pork with apple stuffing, smoked bacon and cabbage in filo, pickled apples and Highbank Orchard Cider sauce) and Cramer's Grove Ice cream (Paul's Chocolate Fondant with Cramer's Grove Ice Cream)...
The food concept at the Kilkenny Design is strong and genuine; it has evolved slowly and organically over a long period - the 25th anniversary comes up next year, and they deserve every success for the next quarter of a century too.
SAMPLE MENU - Evening Menu
The room in which you are sitting was built in the 1760s as grain stores for the Earl of Ormonde's horses. The Kilkenny Design Centre was originally part of a large complex of buildings attached to the castle that housed a dairy, stables, coach houses and accommodation for grooms. In the 1960s the buildings were refurbished by award-winning architect Niall Montgomery. Since 1989 the building has been home to Kilkenny Design Centre – offering an unrivalled selection of Irish handcrafted and international gifts and award-winning food.
Starters
Homemade soup of the evening gf v €6
Asparagus salad with wild mushrooms, a Scotch egg and hollandaise sauce on organic mixed leaves gf v €7.50
Warm duck confit salad with crispy vegetables, orange and a soya & balsamic dressing gf €8
Kilmore Quay potted prawn & crabmeat with pecan and apple salad gf €8.50
Glazed Duncannon scallops with tempura of Clonakilty black pudding and cauliflower purée €8.50
Knockdrinna goatscheese parcels served on beetroot risotto with chilli and lime €8
Speciality House Breads
Guinness and treacle brown soda bread
Herb, garlic and Irish cheddar yeast bread
We cook everything in house
Our main local suppliers:
Paddy White butcher, Thos Farrell greengrocer, Pat Hartley fishmonger.
Our menu has been inspired by a wealth of local artisan producers such as Milleeven Honey, Knockdrinna Cheese, Inistioge Preserves, Highbank Orchards and Cramer's Grove Ice cream.
Main Courses
Herb potato pancake with wild mushrooms, Knockdrinna goatscheese, baby spinach and roast cherry tomato sauce v €15.50
Mango marinated supreme of chicken with chargrilled vegetables and tomato parmesan cream topped with crispy bacon gf €18
Fillet of pork with apple stuffing, smoked bacon and cabbage in filo, pickled apples and Highbank Orchard Cider sauce €18
Pan fried sea bass with pineapple salsa, asparagus, crispy chorizo and roasted red pepper purée gf €18.50
Herb-breaded rack of Wexford lamb with sautéed greens, confit potato stack and mint pesto €22
Trio of Irish fish – spring water battered cod with chunky chips and pea purée, pan-fried monkfish wrapped in Parma ham, smoked haddock with champ and a poached quail egg €23.50
Paddy White's rib-eye steak €21.50
Paddy White's aged 8oz fillet steak €24.50
Both grilled and topped with stuffed crispy mushroom, onion and smoked bacon marmalade and chunky chips gf

each table will be served a bowl of potatoes additional side orders –
chunky chips €2.75
mixed organic leaf salad €2.75
mixed seasonal vegetables €2.75
Desserts
Paul's chocolate fondant with Cramer's Grove pistachio ice-cream and a pistachio tuile v €7
Cappuccino crème brulée served with a hazelnut cream doughnut v €7
Blackberry & Jameson tart with a lemon cream v €7
Classic baked Alaska with apple sorbet and popping candy crème anglaise v €7
Peach marquise with mango ginger salsa and peach schnapps jelly gf €7
Vanilla pancake with balsamic mint strawberries and champagne sabayon v €7
Early Bird Special 6.00pm-6.45pm
Choose any 2 courses €22.50*
Choose any 3 courses €26.50*
* there will be a €5 supplement with the Beef Fillet and Trio of Fish
Children's Menu
€8.50 (if you have someone with you who is under 8 – just ask!)

gf indicates dishes that can be prepared as gluten free, on request
v indicates vegetarian dishes
Any service or tips are received entirely by staff

----------

VIEW ALL JUST ASK RESTAURANT OF THE MONTH WINNERS
---

"Just Ask!" is a public awareness campaign that aims to encourage consumers when eating out to look for information on where the food (particularly meat) on their plate comes from, and encourages chefs to provide this information on their menus. The programme supports both large and smaller artisan suppliers, encouraging both Irish diners and visitors from abroad to support restaurants that are in turn supporting their suppliers.

Here at Georgina Campbell Guides we have always been avid supporters of the 'eat local' concept, and we always enjoy reading menus that have a real sense of place. The dining experience is greatly enriched by knowing that the food on your plate is inspired by the produce and traditions of the area, and sourced nearby – and we would love to see more chefs sharing that precious information with their guests.

If you are a visitor to the area, learning a little about local food and the people who produce it adds a special extra dimension to the visit – and, for residents, it reinforces a natural pride in the good things of their locality and makes a meal all the more enjoyable.

So, we are delighted by the high standard of menus that continue to be submitted for our ' "Just Ask!" Restaurant of the Month Competition', menus that really speak of the best of Irish foods – and the dedication of both the people who make them, and the chefs who select them to create wonderful dishes with real Irish flavour for our enjoyment.